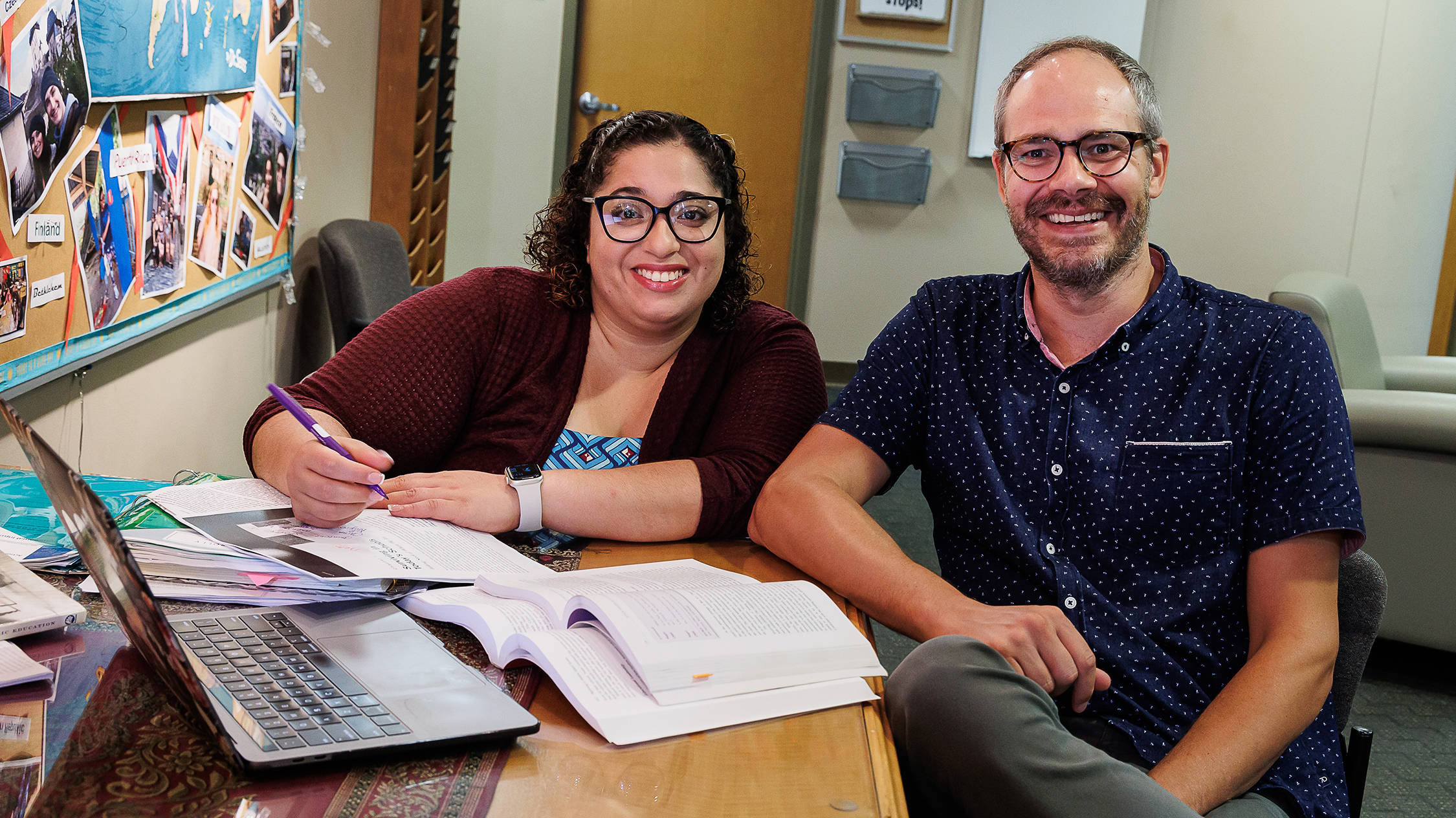 Abby Rolly '23 is one of 12 children. Her parents are native Puerto Ricans. The family moved to Bronx, New York, less than a year before Rolly was born, and the journeying continued: "We bounced between Bethlehem, Pennsylvania, and New Jersey," says Rolly. "Eventually, we moved to Puerto Rico, where I completed eighth and ninth grade." Then it was off to Ashtabula, Ohio, where Rolly attended Lakeside High School. As a senior, she participated in a post-secondary enrollment program and completed her freshman year of college at Kent State University. Rolly's mom obtained a GED, but her father did not finish middle school. Rolly is the only member of her family to go to college. Inside Moravian asked about her experience as a first-generation student.
What effect, if any, did all that moving have on you as you were growing up?
I received a pretty decent education and was given great opportunities to begin my undergraduate education. As I progressed through my college experience, I realized that many of those opportunities were dependent on the location and socioeconomic factors in the area. This, along with many other situations I witnessed, inspired me to further my education, focusing on social justice and issues of equity and specifically how these concepts affect the education of people of color.
You are the first in your family to attend college, what made you decide you wanted to pursue higher education?
Life was not easy when I was growing up. There were many difficult situations to navigate. My family and I agreed about religion and where my life should go. Whether or not I should attend college was heavily debated. I realized I had more liberal views than my family and wanted the opportunity to explore a world where people respected each other's humanity and celebrated one another's differences. I decided that getting a college education would help widen my view of the world. There was so much I wanted to know, and getting a college education was a step in the right direction toward self-exploration.
Why did you choose Moravian?
I transferred to Moravian after receiving my associate's degree in secondary education at Northampton Community College. Moravian had a program that would let me continue learning best practices in education and would position me to get my teaching certification. I was also beyond blessed to receive advice every step of the way. A pathway was made for me–that continues to change as my situation changes–to ensure that I am successful and best prepared for my future.
Would you say you were more apprehensive about attending college than your friends whose family members are college grads or in college?
I was terrified. I knew I wanted college to be a part of my life story, but I had no idea what to do. I think that the initial period when I was preparing to navigate the admissions process was an experience that taught me to ask questions and tap into resources and people to help me through those uncharted waters. I always tell new students, "Now is the time to ask questions. There are people at your college who get paid to help you with these issues. If you don't ask, they'll assume you understand."
What was the hardest thing you faced in the early weeks of your first semester?
During my senior year of high school, which was my freshman year of college, I went through a period of culture shock. I was accepted into the program because my academic record was very good. Looking back, I think that success was partly due to the rigid structure and format of my K-12 education. When I discovered some of the differences between high school and college—for example, absences aren't reported to parents, professors don't badger you to turn in assignments, and so forth—I fell off the academic wagon. I wish someone would have told me that being smart isn't the whole key to success at this level. Intrinsic motivation is just as important as being "book-smart."
How has Moravian helped you learn the ropes of being a college student and integrate into the community?
I've been to several different institutions of higher learning in the course of my education, and Moravian has been the one that actually feels like a community. Regardless of what room or building I am in, I can find someone that shares a common interest with me, and I make a friend that will remain a part of my circle throughout my time at Moravian. I have never made friends as effortlessly as I have here. There is a niche for everyone. Here, you will find your pack.
What is your major and what drew you to that academic pursuit?
My major is English, with a secondary education certification. I've known for a long time that I wanted to teach, but I was not sure what. I chose English because, as a student, my literature and writing courses were the ones that exposed me to new ways of thinking. It was in English classes that I began to get to know who I could be. I am also strongly drawn to issues of equity and social justice. I would be very proud to help people navigate their own journeys.
What activities are you involved in?
I am currently working as the staff assistant for Writing at Moravian [WAM] and the Department of English and Writing Arts. The faculty I work with has helped me learn how much work is invested in providing the best education and resources for students. I really enjoyed helping organize WAM's Month on Writing this year!
Tell us about one of the best experiences you've had at Moravian?
My first Heritage Day at Moravian helped me understand how someone could be so proud to be a member of a college community. I never understood the school spirit and pride surrounding college experiences. Why do people see it so differently than previous educational experiences? It finally dawned on me as I helped paint the blacktop of a community middle school. Those kindergarteners would not know that we were there—or that we had done the decorating—but it was not about receiving recognition. I was proud to know that I had done something positive for my community as part of my community.
What have you learned about yourself during your time at Moravian?
My education at Moravian will always be very special to me. It was here that I learned to work through my social anxiety, take on leadership positions, integrate different aspects of my identity, and truly be proud of who I am and where I am from. I would never have guessed that I would have done half of the things I've accomplished during my time at Moravian. Being here—in this community of supportive faculty, staff, and students—has helped me learn to accept and love who I am.
What advice would you give to other first-generation students about entering college?
Ask questions. Get help. Let someone know when you're not okay. You earned your spot here. Do not let anyone ever influence you to question whether you deserve it or not.