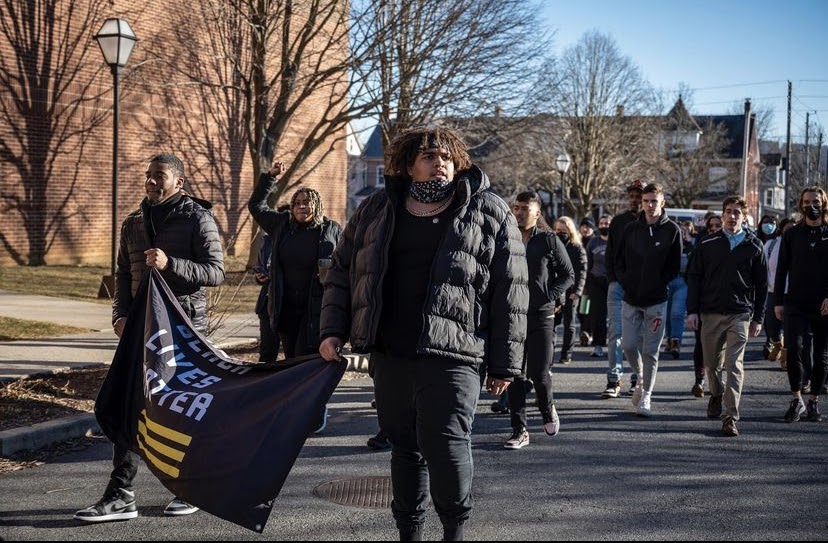 Jai Fentress '25 grew up in Wilmington, Delaware. His mother is Puerto Rican, and his father is African American. He isn't the first in his family to attend college, but he's made it the farthest of anyone. "And I plan to be the first in my family to obtain a college degree," he says.
Why did you choose Moravian?
I chose Moravian because of financial aid and the opportunity to play football.
Would you say you were more apprehensive about attending college than your friends whose family members are college grads or in college?
I did not feel apprehensive. If anything, I was more motivated to achieve, as I have an opportunity to accomplish and be a role model for individuals like myself.
What was the hardest thing you faced in the early weeks of your first semester?
I had a hard time adjusting to the pace and managing my time to balance my social, athletic, and academic life. I believe that I got too caught up socializing and enjoying college life and did not maximize my time the way I should have.
How has Moravian helped you learn the ropes of being a college student and integrate into the Moravian community?
Moravian is a smaller school, so being able to network and establish relationships with faculty and staff is much easier than it would be at a large university. There is a strong support system at Moravian, especially within the Office of Diversity, Equity and Inclusion.
What is your major or academic interest?
I am majoring in political science and minoring in media studies as I plan to get involved in broadcasting and journalism after college.
In what activities do you participate?
As well as being a member of Moravian's football team, I am the treasurer of the Black Student Union on campus.
Tell us about one of the best experiences you've had at Moravian?
My best experience was being a part of the Black Lives Matter March this past February. The experience was not only memorable but worthwhile in terms of activism and spreading a message throughout campus.
What have you learned about yourself during your time at Moravian?
I have learned how to manage my time, how to be better organized, and how to navigate the world more professionally.
What advice would you give to other first-generation students about entering college?
My advice is to get involved on campus. You will have a better chance of integrating into the community, and you will meet some amazing people along the way, the same as I did when I joined the Black Student Union.