Moravian University announces Dr. James Scifers has been named Associate Provost and Dean of the College of Health Sciences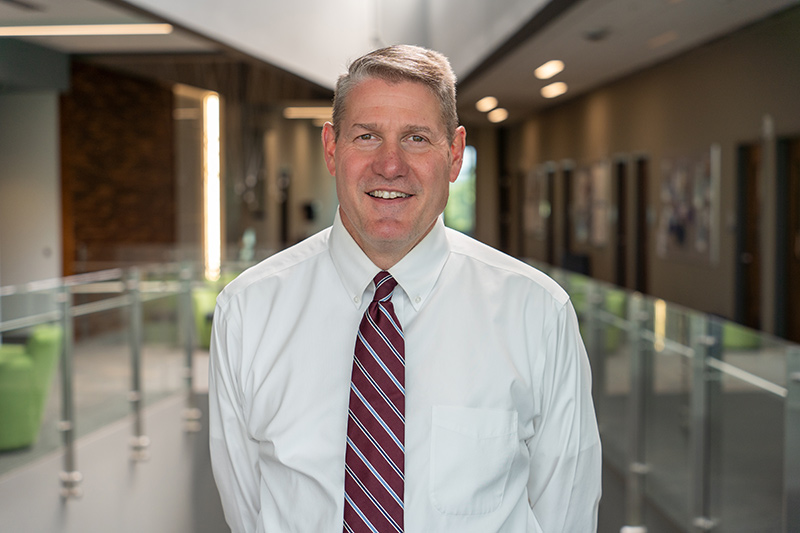 Scifers has led Moravian's Rehabilitation Sciences program since 2016
BETHLEHEM, PA, August 9, 2022: Today, Moravian University announced that Dr. James Scifers has been named Associate Provost and Dean of the new College of Health Sciences at Moravian University, overseeing the Helen S. Breidegam School of Nursing and Public Health, the School of Rehabilitation Sciences, and the School of Behavioral and Community Health. The Moravian University College of Health Sciences was formed as a result of the 2021 transition to university status and allows dean-level faculty to lead newly formed colleges and schools within the university structure. Dr. Scifers has led Moravian's Rehabilitation Sciences program since 2016.
Dr. Scifers holds a Bachelor of Science in Athletic Training from East Stroudsburg University, a Master of Physical Therapy degree from Emory University, and a Doctor of Science in Physical Therapy from the University of Maryland-Baltimore. "James is the ideal person to lead the newly formed College of Health Sciences," said Carol Traupmann-Carr, provost of Moravian University. "His experience building our successful Rehabilitation Sciences program from the ground up in a manner that embeds inter-professional learning across all programs has had a real, meaningful impact on our students, our faculty, and future patients. It's that innovative, interdisciplinary thinking that made him the perfect candidate"
In addition to Dr. Scifers appointment to Dean, Dr. Louise Keegan has been named Associate Dean of the School of Rehabilitation Sciences. Keegan has led the highly successful Speech-Language Pathology program at Moravian since 2017. Dr. Keegan's previous experience includes serving as the Undergraduate Program Director of Communication Sciences and Disorders at Appalachian State University in North Carolina
Replacing Dr. Keegan as the Program Director of the M.S. Speech-Language Pathology program will be Dr. Eric Sanders. Dr. Sanders has been at Moravian since 2018. Dr. Sanders' clinical experience includes six years practicing as a speech-language pathologist in the Miami-Dade County Public Schools, including three as an augmentative and alternative communication (AAC) specialist.
The Master of Science in Athletic Training (MSAT) program will also have a new Program Director in Dr. David Wilkenfeld. Dr. Wilkenfeld, who served as the Director of Clinical Education for the MSAT Program since 2017, takes over for Dr. James Scifers. Dr. Wilkenfeld has expertise in performing arts medicine and was named an Athletic Trainer of the Year in 2016 by the North Carolina Athletic Trainers' Association.
Media contact:
Moravian University
Michael Corr
Assistant Vice President of Marketing and Communications
corrm@moravian.edu
610.861.1365
About Moravian
University Moravian University is the nation's sixth-oldest university, located in Bethlehem, Pennsylvania, and offers undergraduate and graduate degrees that blend liberal arts with professional programs. For more than 275 years, the Moravian University degree has been preparing students for reflective lives, fulfilling careers, and transformative leadership in a world of change. Moravian University is a member of The New American Colleges and Universities (NAC&U), a national consortium of selective, small to mid-size independent colleges and universities dedicated to the purposeful integration of liberal education, professional studies, and civic engagement. Visit moravian.edu to learn more about how the Moravian University focus on education for all prepares its students for life-long success.
###