Following the Way of Light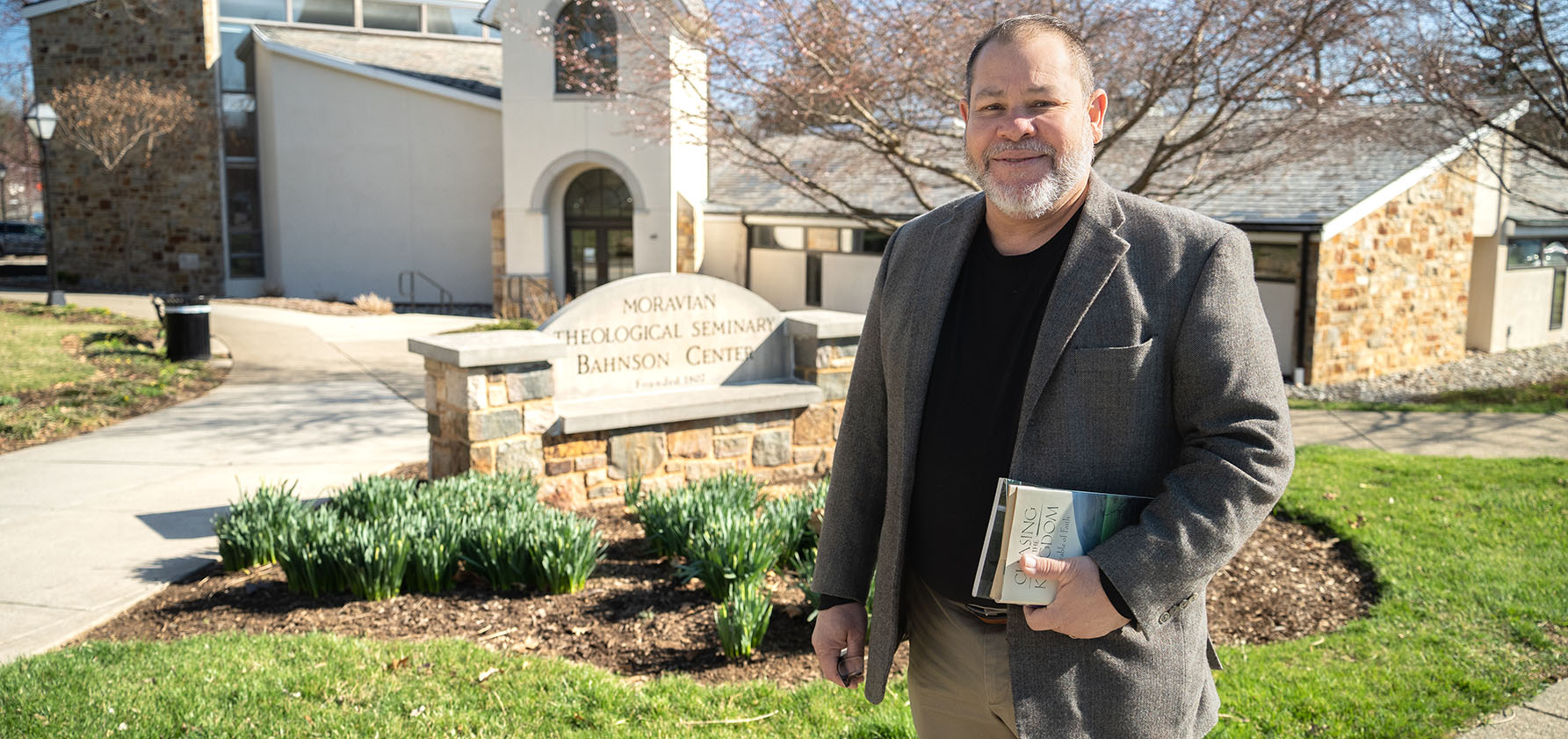 Manfredo Martinez Luna is studying for a Master of Divinity degree at the Moravian Theological Seminary. Scholarship funding has made his academic journey possible. We asked Martinez Luna to share his journey with us.
Tell us where you grew up and what your early life was like.
I am puertorriqueño, Puerto Rican, born in the city of Ponce and raised in the city of Salinas, both in the southern part of my beloved island. Salinas is a coastal city known for its fishing and exquisite seafood restaurants. It is also the site of the great sugar cane plantations of the past, overseen first by the Spanish and then by North American investors.
I am the eldest of eight siblings of both parents, and I enjoyed a happy childhood. I completed my primary and high school studies in the public education system in Salinas and earned my associate degree in electrical engineering at the University of Puerto Rico. I was interested in this discipline at an early age, and I became an electrician.
After my Christian conversion experience, I entered the Interamerican University of Puerto Rico where I completed my bachelor's degree in religion. I felt the call to ministry in the Methodist Church Conference of Puerto Rico and served as a licensed pastor for 10 years in different congregations.
My very beloved family includes my wife, Ninette Melero, and my adorable children: Soleil, Jared, and Josue. All are adults and college graduates. I also have the joy of four grandchildren. All serve God.
Why did you decide to come to Moravian?
I chose to study at Moravian Theological Seminary for multiple reasons. First, it is a personal aspiration to grow and mature in my faith through better experiences in the rereading of the sacred scriptures and exposing myself to the historical development of the church in terms of doctrines, liturgies, and ethical responsibility.
Also, I wish to respond responsibly to the understanding of God's call from the United Methodist denomination in which I serve as a licensed pastor. Within the structure of the United Methodist Church a Master of Divinity degree is required for ordination.
Of course, I chose Moravian for its quality and academic excellence.
What experiences have you had at Moravian Theological Seminary that have been particularly memorable or special?
Each course in the seminary offers memorable experiences, and I do not exaggerate. I would also like to share that the academic excellence of both the administrative staff and the professors offers the student an environment of inclusion and hospitality that, in my opinion, is very relevant.
My first language is Spanish, and the beginning of my academic journey was very difficult. I even considered quitting my studies on several occasions. But after having been exposed to the excellence of learning techniques, participating in a confluence of critical thoughts from different ethical and theological perspectives, and using technology to enrich investigative capacity, I understood that it was necessary to persevere and not lose this great opportunity. At present, I am close to completing the academic requirements for my graduation, and I am very happy with what I have achieved.
How important has your scholarship been to your Moravian experience?
I am grateful to those people who provide us with financial support. Without their good faith, for many of us, the opportunity to achieve our personal and ministerial goals would not really be possible. I represent the citizens who dream of a better world, without academic or social barriers, willing to work for the Kingdom of God in the here and now. I am a person who belongs to a minority group that strives to receive an education that in turn can significantly impact communities and families that are socioeconomically disadvantaged, providing hope and motivating improvement as a human being. I represent those who strive to overcome obstacles and show that it is never too late to achieve their dream of obtaining an academic degree. I represent people who, having felt the need of others, one day understood that they were called by God. This demands trained, competent, and committed ministers to correctly trace the Word in the search for happiness, dignity, and equitable justice for all—a sign of the Kingdom of God.
What do you hope to do after you graduate?
At the Moravian Seminary, I have tasted the waters of knowing and how to know. I am equipped to provide a better ministerial service. I shared with one of my professors how the members of my congregation have noticed my intellectual growth and depth of faith. Some of them have felt the desire to venture into theological studies. Once I have completed my degree at the seminary, my goal is to be ordained as a priest for the denomination to which I belong and to continue serving as pastor. I want to get involved in projects that contribute to the quality of life of minority groups, and I wish to continue studying to obtain a doctoral degree in theology.