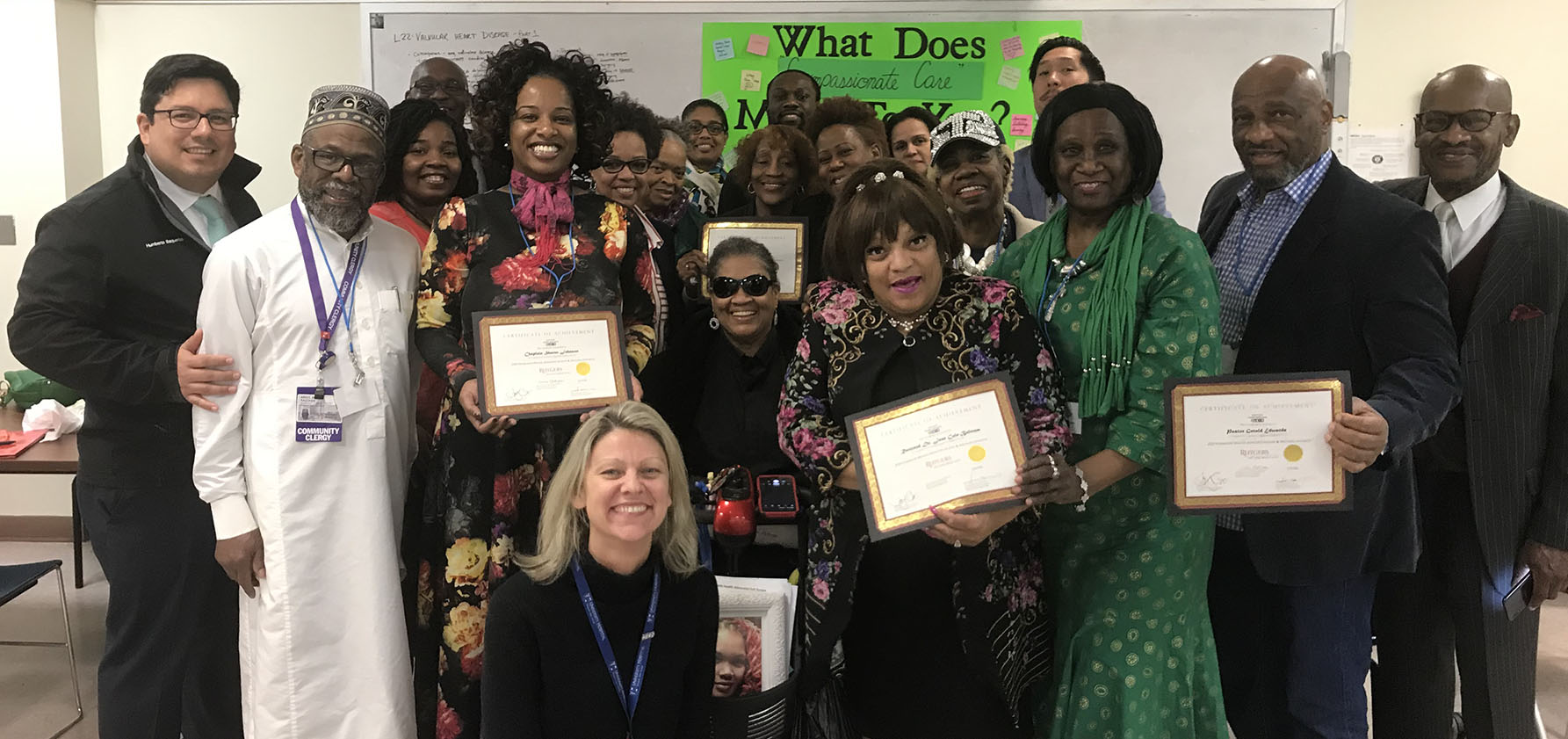 Photo: Helen Kurczynski (kneeling) in a group photo taken with her team of community clergy at University Hospital in Newark, New Jersey.
For someone taking his or her last few breaths, just a glimpse of a loved one can provide comfort. In the past two years under the pandemic, far too many individuals have spent their last moments alone, with only medical professionals and hospital equipment at their sides. Thanks to Helen Kurczynski S'17, Director of Chaplaincy Services at University Hospital in Newark, New Jersey, some of those patients received a bit of solace, whether it came from her at their side or from their loved ones, virtually.
"It was an incredibly dark time," Kurczynski says about the peak of the COVID-19 pandemic. "I have never worked so hard in my life. The experiences were unimaginable, and the days blurred one into the next."
University Hospital was one of just a few hospitals across the country where Spiritual Care was deemed essential, so Kurczynski could physically sit with COVID patients and provide spiritual care all hours of the day and night. She calls the amount of death she was called to minister to daily, "unfathomable." Some days, she was present at the bedside of several patients who passed.
To help combat the loneliness hospitalized Covid patients endured, Kurczynski set up iPads and video conferences at their bedsides so they could talk with their families. In most cases, she stayed in the room for the virtual visit, answering the spiritual and faith-based needs of both the patient and the family.
By no means did this virtual connection always have a happy ending.
"On more than one occasion, I'd arrive to connect a family by video with their loved one, and the patient would have just died," Kurczynski recalls. She says the cries and screams of pain as a family laid eyes on their loved one in the ICU for the first time will remain etched in her heart forever.
"But the privilege of being there to be their conduit was humbling," she says.
Kurczynski credits her dedicated team of interns, volunteer clergy, and medical-student volunteers with helping her get through that dark period. The University Hospital staff itself was hit hard by COVID. Over the past two years, 13 staff members died from the virus.
A Nontraditional Path
When she came to Moravian Theological Seminary (MTS), Kurczynski was a "nontraditional" seminary student. "I'm a Buddhist, and I wanted to become a chaplain. Most seminaries didn't know what do with me and were unwilling to explore," she says. Moravian was ready.
Kurczynski found Moravian Theological Seminary to be upbeat and enthusiastic about her background and future goals. She remembers her counselor saying, "I'm not sure how this will all come together, but I know we will find a way."
That was all she needed to hear. "I didn't need answers, I knew my path was a little different, and I was looking for a partner."
Moravian became that partner, while she was in school and after. Helen continues to be involved as an Moravian Theological Seminary board member. "My commitment to MTS has always been very meaningful to me," says Kurczynski, "and I was honored to be asked to return to serve on the board."