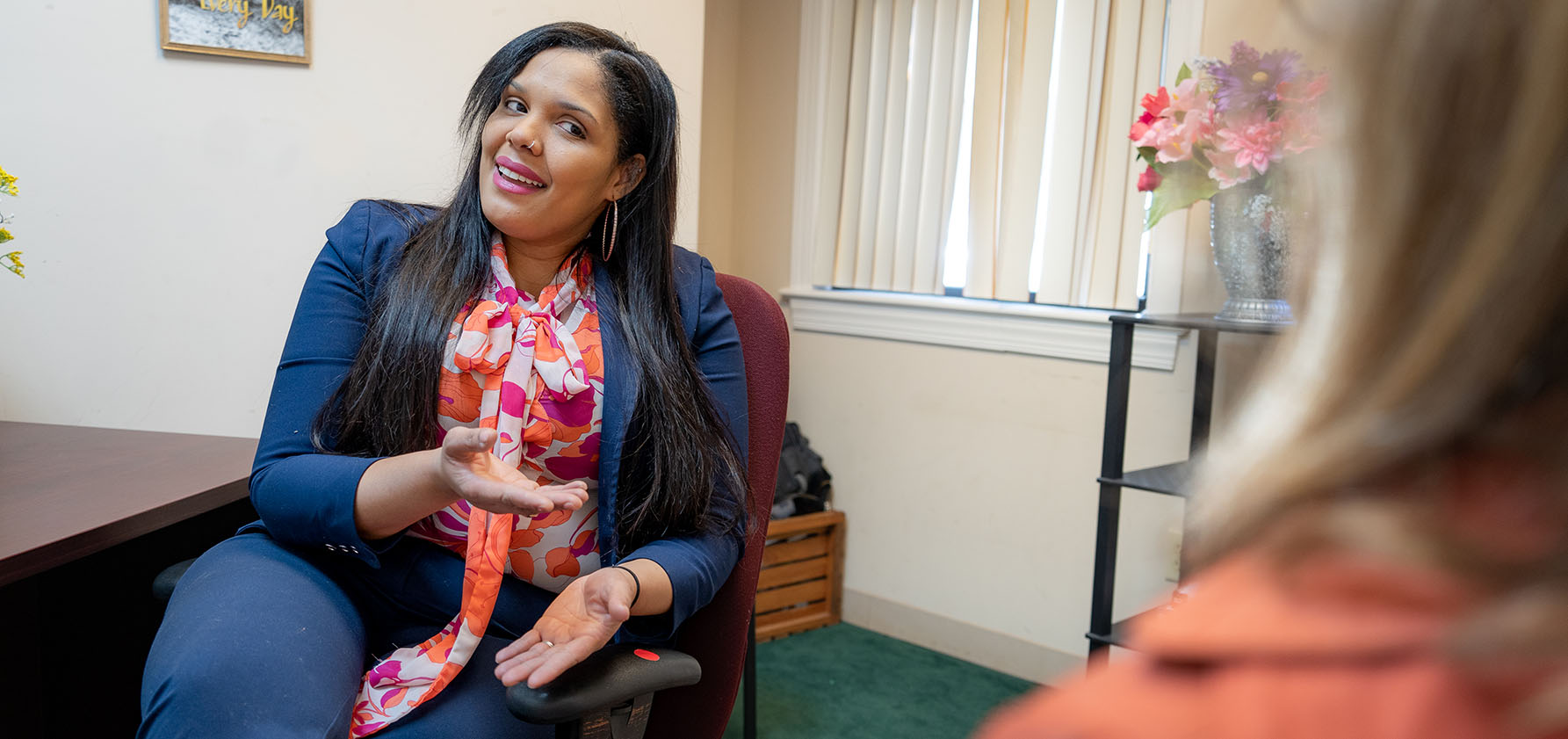 Rasbell Espiritu '17, S'21 grew up in the Dominican Republic where the culture does not respect mental disorders or believe in therapy. So, it's a bit of a surprise that Espiritu and her entire family pursued careers in counseling and clinical therapy. "In the Dominican Republic, if there is any mental disorder, the person is labeled as crazy, regardless of what that disorder might be," says Espiritu, who moved to the United States at age 15.
Espiritu chose Moravian after hearing her good friend rave about the school and the education she was receiving. Coming from a family of counselors and therapists, Espiritu decided to pursue psychology and found that it was the right fit for her, too.
Rasbell loved Moravian just as much as her friend and stayed to get her master's degree in counseling at Moravian Theological Seminary. "I have always had my own relationship with God, separate from the church or Christianity," she says. "From my understanding and in my experience, I have discovered that people find hope in their personal and religious beliefs. I had to expand my understanding of other religions, so I found the seminary training and clinical part of the mental health treatment process to be the perfect combination," she says.
When she graduated, she decided to put her skills to use where she felt they were needed the most—drug and alcohol counseling in the Hispanic community in Allentown. Rasbell says she gained a clearer picture of the injustice experienced by minorities from the sociology course "Power," taught by associate professor of anthropology Akbar Keshodkar. "That class taught me a lot about justice, injustice, equity, and inequity among certain populations, and it opened my eyes to ways of educating these communities about resources they can take advantage of before they get to a darker place," she says.
She adds that there is a shortage of good counselors who treat patients humanely in the drug and alcohol treatment field, especially among Hispanic population. And she says because drug and alcohol abuse and mental health disorders so often go hand-in-hand, dual treatment programs work best. "When we treat only the drug and alcohol problem, we aren't doing enough," she says
Espiritu currently works at Omni Health Services as a clinical counselor serving a diverse population of consumers. "Moravian's clinical counseling program equipped me with valuable skills to make a profound impact on the lives of not only my consumers but also their families and community," says Espiritu. "It is fulfilling and rewarding to be able to help people navigate through difficult situations. Dr. Santiago from the clinical counseling program was, and continues to be, a great mentor. Seeing an independent, strong, and dedicated professor give her students hope in improving our mental health system, reminded me why I am forever thankful to be part of Moravian."
As fulfilling as the work is, it also takes a toll says Espiritu. "You must constantly remind yourself of who you are, what your purpose is, and the services you bring to your clients," she says. Rasbell gets through the challenging moments by focusing on her patients' improvements, even if they are slow and small. "I remind them that if they start at a 10 (in terms of crisis) but in a week or two—or even a month—we are at a 9.5, that is improvement and progress," she says.
She adds that the biggest hurdles in the drug and alcohol counseling arena often lie in administration. "Sometimes patients are seen as numbers and not as human beings who are struggling mentally," she says. "When I give them quality services, and I see improvement, and they see it in themselves, it changes their perspective and purpose. That is so rewarding to see."