Blake Schuck, Class of 2022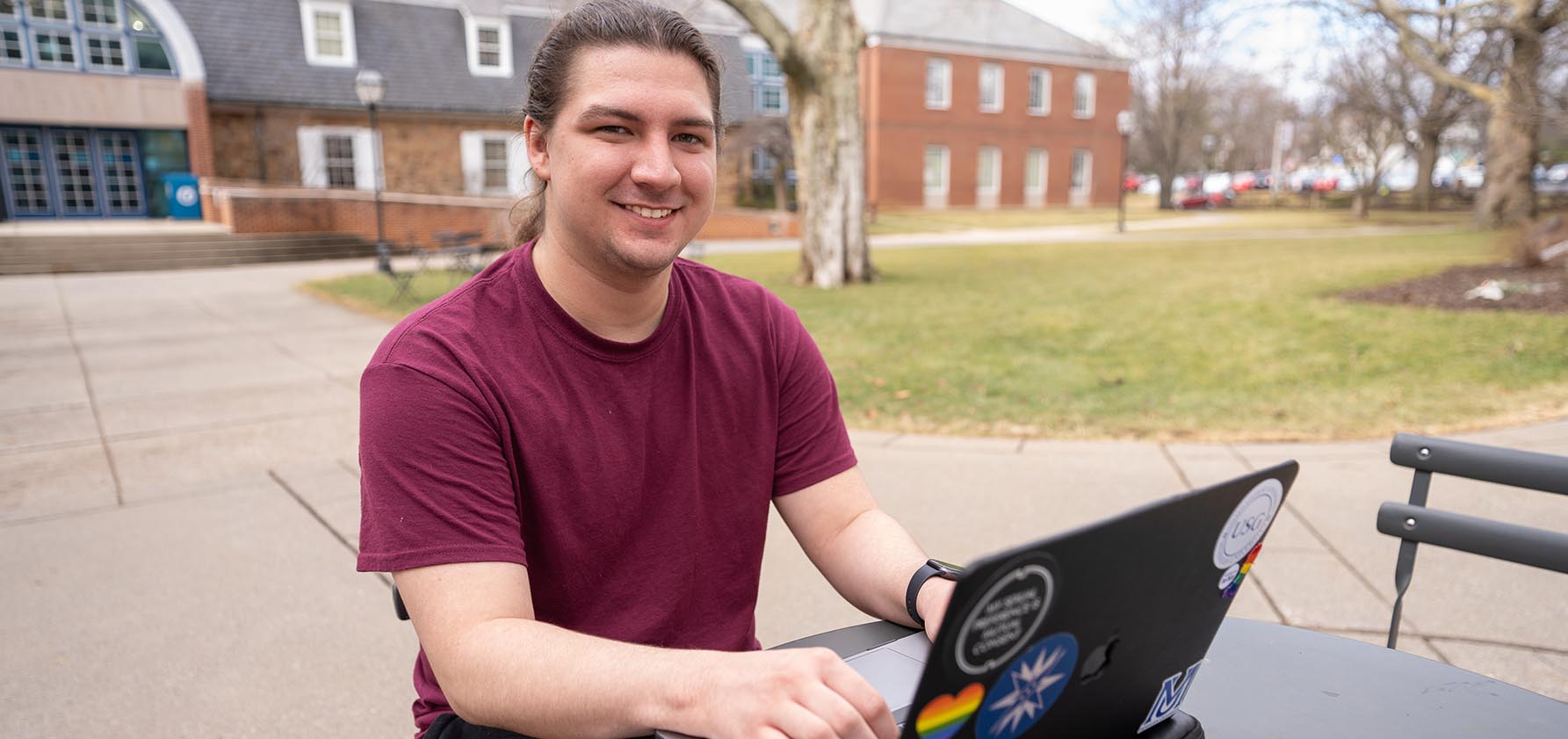 I am majoring in health sciences in the speech-language pathology track and minoring in Spanish and psychology. During high school, I developed a passion for combining the sciences and the humanities, and after being involved in a plethora of activities and taking a wide variety of classes, I found that I was very interested in neurological function and the impact that language has on neurological processes. As such, I came into Moravian as a neuroscience major. I quickly realized that I needed to incorporate my passion for languages into my major. I discovered the speech-language pathology track in health sciences, and I made the switch.
What activities are you involved in?
After shadowing several speech-language pathologists, I got a job at Success Rehabilitation, where I currently work as a direct support professional helping individuals with their daily activities. So far, this has been an amazing experience, and I get to work directly with clients with traumatic brain injuries to help them with communication rehabilitation.
I have served on student government for three years, most recently as president. It was an amazing experience, as I was directly involved in the betterment of our community. I am a HUB desk manager, VP of Spanish Club, and a Student Alumni Representative. Off campus, I love to give back to the community through volunteer work. I serve as a translator and an instructor for introductory Spanish courses.
What's next after you graduate?
I have been accepted into Moravian's master of science program in speech-language pathology, and I have been offered a position as a research assistant. I will continue working at Success Rehabilitation and plan to work as an SLP clinician in a population similar to the one I currently work with—traumatic and acquired brain injuries. The experience and knowledge I gain as a research assistant will benefit my goal to obtain my PhD and become a professor. I love helping people, so this field is definitely for me, and I am excited to see what this next chapter in my life will hold.
Tell us about one of the best experiences you've had at Moravian University?
Last semester I was chosen to speak on behalf of my class at the Giving Society's Dinner. During this formal ceremony, hundreds of donors and students gather to celebrate the many and generous gifts to our university, which make a university education possible for many students‑myself included. I would have never been able to study abroad (and therefore advance my Spanish) or live on campus had it not been for these kind donors. Speaking at this event gave me the opportunity to thank the donors for their generosity.
Tell us something you discovered about yourself since you've been at Moravian?
I discovered that life is tough, but no matter the circumstances, you can always pull through. I have encountered considerable challenges throughout my time at Moravian, however, I always made it through, and now I am less than 100 days away from graduating.
Share something about yourself that may surprise people.
Considering how much I love languages, this may not come as a surprise, but I like to share that I am bilingual in English and Spanish, and currently studying and have foundational communication skills in Czech, French, American Sign Language, and German.
What is your favorite spot on campus?
The grounds surrounding Benigna on south campus. It is such a relaxing place for so many different activities. During the warmer months, I often find myself in this area either studying, working on assignments, eating a meal, relaxing on the hammocks, or just catching up with some friends.
What is your favorite college tradition and why?
Singing our alma mater at events. There is just something about all of us singing together, celebrating Moravian as one, that makes me so grateful and nostalgic. I do miss our old alma mater, as there was something about Hailing MC that we just don't have with the new alma mater.
What is your favorite thing to do when you're not studying and why?
When I am not studying, I enjoy learning new things out of pure interest. I'm a nerd at heart, and I love to dabble in different topics depending on my interest on that day. Whether that be astronomy, Russian, South American politics, or chemical analysis, my mind is always trying to learn new things.
Blake Schuck is from Slatington, Pennsylvania.