Vincent Leone'14 Serves Up Risotto Recipe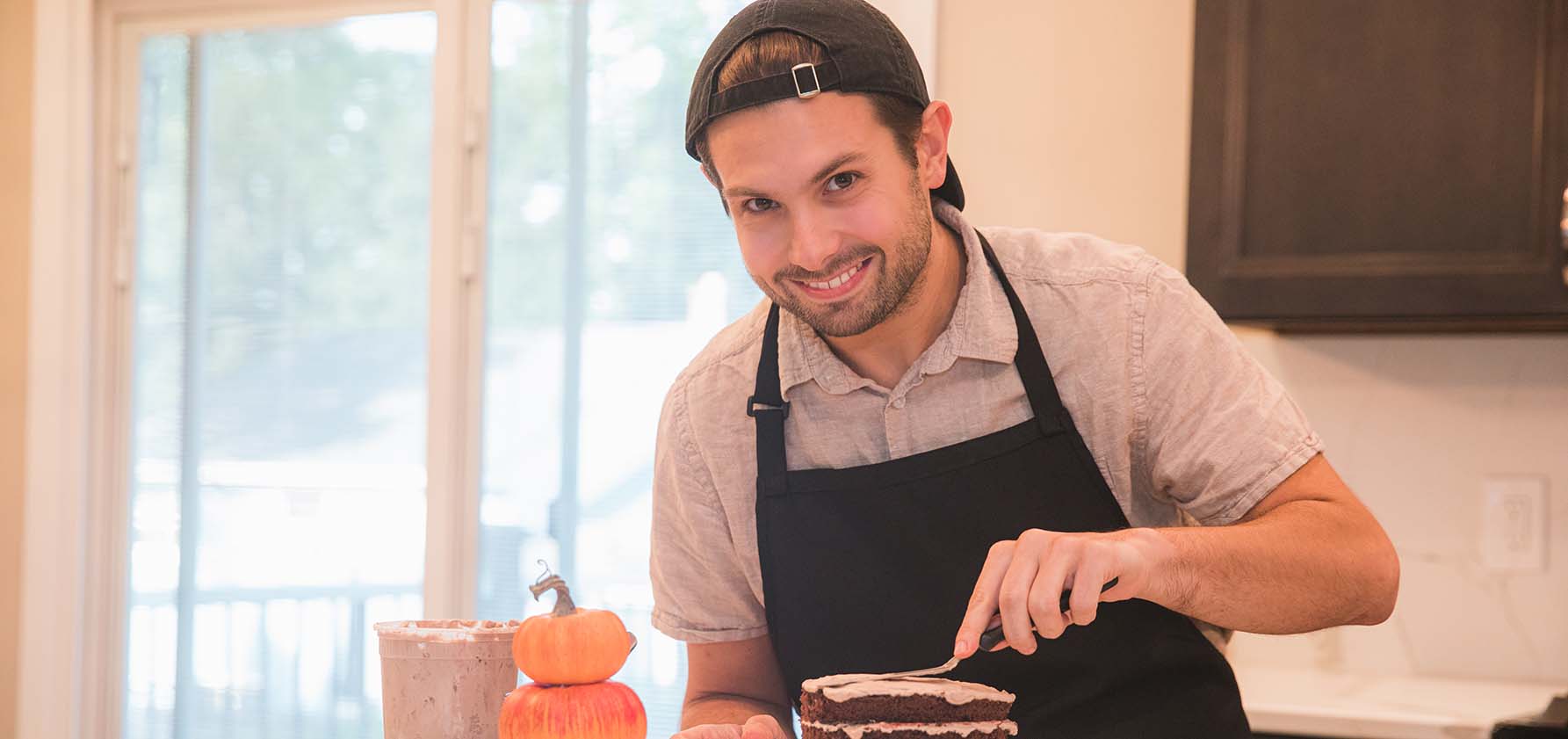 Vincent Leone '14, a pastry chef with the Harvest Restaurant Group in New Jersey, is also master of main dishes. He shares his recipe "Roasted Butternut Squash Risotto." Leone earned a BS in business management and worked for a financial institution for five years before he was let go after a buyout. "I always had a passion for cooking and baking, so I took my severance pay and enrolled in the Institute of Culinary Education," he says. You'll find his recipe for pumpkin cake in the fall 2021 issue of Moravian University Magazine.
Roasted Butternut Squash Risotto
Enjoy at Thanksgiving or with any fall dinner or brunch.
Serves 4.
Ingredients
Butternut Squash Purée
1 butternut squash
olive oil, as needed
½ C heavy cream
4 T unsalted butter
salt, to taste
pepper, to taste
Risotto
3 C chicken, beef, or vegetable stock
olive oil, as needed
1 shallot, minced
8 oz Arborio rice
¼ C white wine
2 T unsalted butter
1 oz fresh Parmesan cheese, grated
salt, to taste
pepper, to taste
Directions
Preheat oven to 425°F
For Purée
1. Peel squash, cut in half, and remove seeds. Slice into chunks and place in a bowl.Toss with olive oil and season with salt and pepper.
2. Line a sheet pan with parchment paper and spread squash evenly over surface. Roast in oven until squash is fork tender, 30 to 40 minutes.
3. While squash is roasting, heat cream and butter in saucepan until butter has melted.
4. Place squash and heated cream and butter in blender and blend until smooth. Season with salt and pepper to taste.
For Risotto
1. Heat stock to a simmer and keep warm.
2. Heat olive oil in a medium sauté pan, add shallot, and sauté over low heat. Do not allow the shallot to brown.
3. Add the rice and stir to coat well in the olive oil. Toast the rice but do not allow it to brown.
4. Add the wine and cook until it has been absorbed into the rice (be careful when adding wine because it can catch fire)
5. Add the stock, ½ C at a time, stirring constantly. Wait until the stock has been absorbed before adding the next ½ C. Continue until rice has been cooked but not overcooked; rice should be tender but still firm (you may not use all of the stock)
6. Once rice is cooked, turn off heat and add 2T of butternut squash puree or more if desired for a sweeter taste. Add butter and parmesan cheese and stir. Risotto should be moist and creamy, but not runny. Season with salt and pepper to taste.