Mikela Ortwein, Class of 2023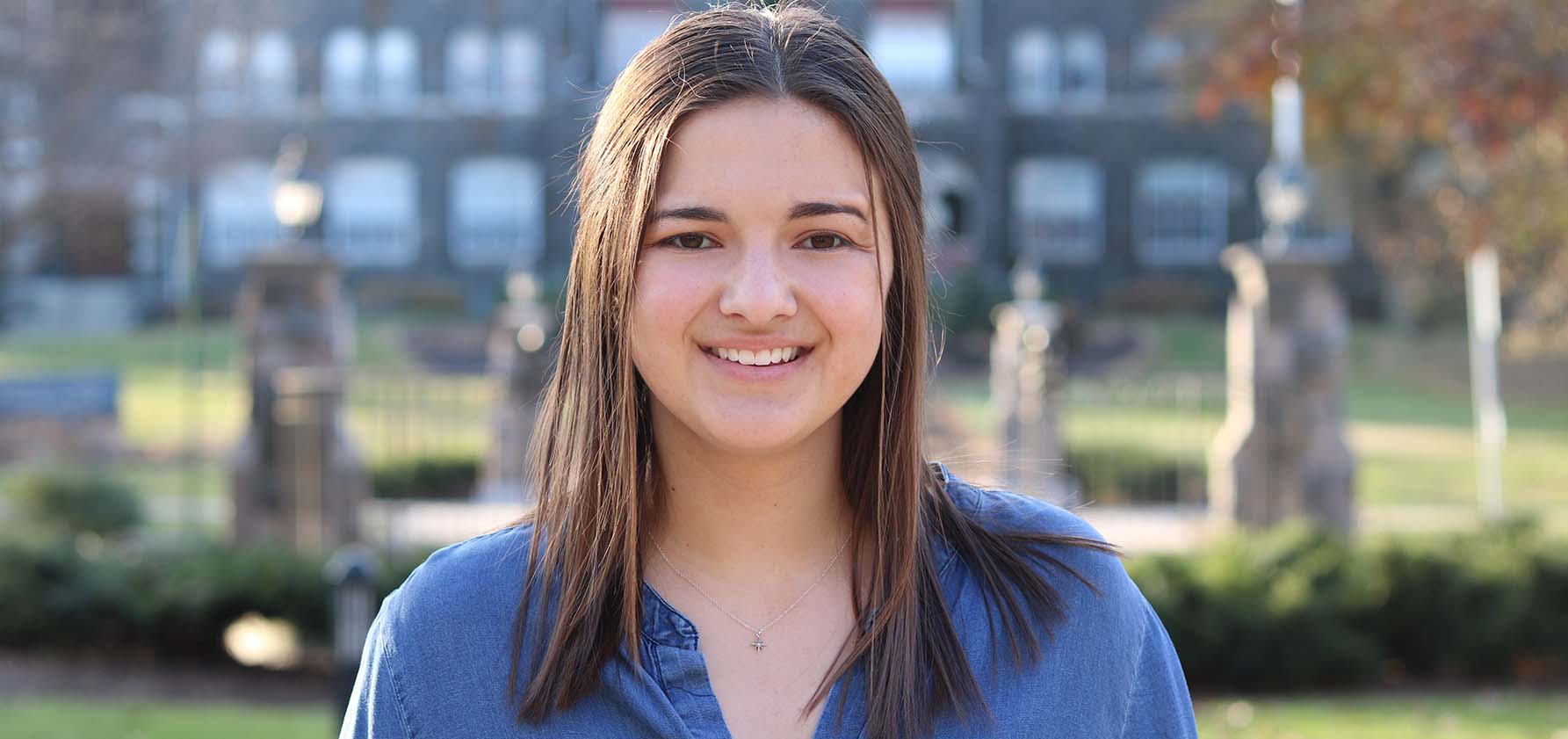 My major is English, and I am getting certified to teach middle-level education. Ever since I was a little girl, I wanted to teach because I was raised by two educators, and I was exposed to life in the classroom at a young age. I spent August sharpening pencils and putting up bulletin boards for as long as I can remember. Choosing middle-level education was easy because that's when students need you the most. In the end, all that I want to do is make a difference like my teachers did for me.
What activities do you enjoy?
Campus involvement is extremely important to me. I am a first-year resident advisor, an undergraduate recruitment intern for admissions, Vespers co-head sacristan, Alpha Sigma Alpha executive board member, 26-Point Ambassador, a Student Alumni Representative (STAR), and a member of Kappa Delta Pi, the education honors society.
Tell us about one of the best experiences you've had at Moravian University?
Moravian's Vespers Services are a school tradition, and I was lucky enough to be a part of all six of these nights as a first-year student. Our chaplain, Rev. Jennika Borger, has been one of my lifelines since I came to Moravian, and she asked me to help each night. Saying yes was a no-brainer. While I prepped candles and opened doors during the service, I made new friends and deepened my existing friendships, but this wasn't even the best part. Seeing alumni and community members return to help and hearing their stories made every moment of volunteering worthwhile. Laughing and singing and spending time with people I care about during that weekend is something that I will never forget. Currently, I am preparing for this year's Vespers Services, and I am so excited to experience those six nights again.
Share something about yourself that may surprise people.
I am a huge Harry Potter fan. When I was in fourth grade, I read all seven novels. Also, I have been to Harry Potter World at Universal in Orlando twice. I would go back in a heartbeat. My favorite Harry Potter book is definitely the fifth book. Hermione Granger is my favorite character, and I am a proud Slytherin to the end.
What is your favorite thing to do when you're not studying and why?
When I am not studying, you can usually find me on my way to the closest Dunkin' Donuts with my friends. Listening to music, catching up, and singing at the top of our lungs while drinking our coffee is the best stress reliever. On the rare occasion that my friends are not up for this trip, I will take it by myself. No matter what, there is coffee involved.
What is the best advice you have ever received or a quote that stays with you?
There is not one specific piece of advice that sticks with me. Right before I graduated high school, one of my favorite teachers handed me a letter with a list of random pieces of advice having to do with boys, careers, and everything in between that she wished she knew when she was my age. This letter offers me advice for just about everything I go through.
Share something that makes you feel happy.
My family has a lakefront cabin on Lake Wallenpaupack that has been in the family for more than 70 years. Nothing makes me happier than being up at the lake. Our community is full of fantastic people, there isn't a bad view, nap weather never leaves, and everyone always makes food. Sitting down by the water and reading at the lake makes me the happiest. I even got a tattoo for this place so that it is always with me.
Where did you grow up?
I have lived in Bethlehem my whole life, and my family began right here when my parents met in high school. While I love to travel and explore new places, I know that Bethlehem will always be my home.