Carl Salter, Professor of Chemistry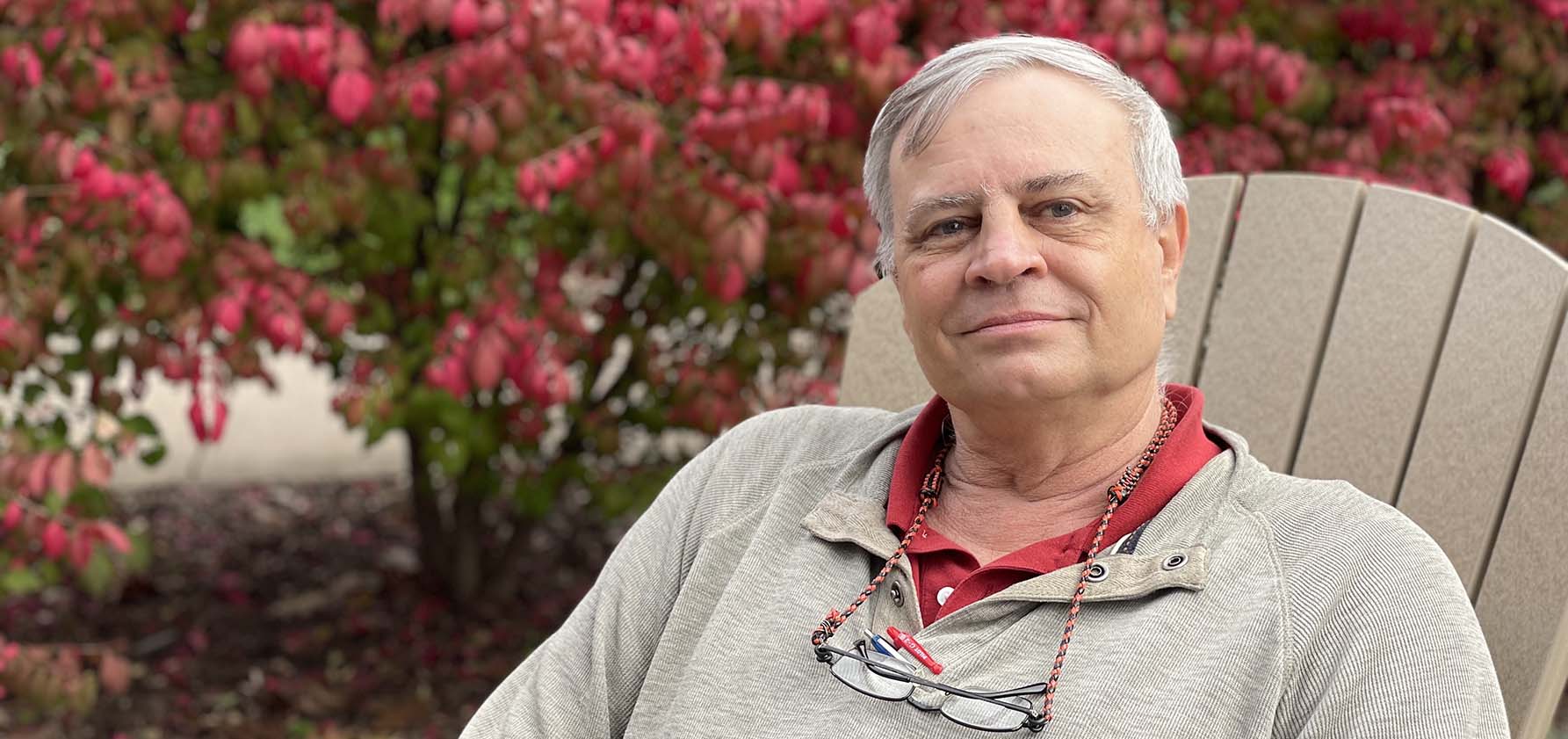 In the 1960's, with space rockets and communication satellites and nuclear energy, there were plenty of cultural lures for physics and chemistry. I remember the first book I checked out of the school library when I was in second grade: It was filled with pictures of tiny red balls bouncing around inside balloons, jars, and salt shakers. That was the first time I had ever heard of atoms.
Where did you earn your higher-ed degrees?
I did my undergraduate work at Spring Hill College, a Jesuit school in my hometown of Mobile, Alabama, and my graduate work at Vanderbilt University in Nashville.
What are your research interests and why are you drawn to them?
Light and color. Most of what we know about the universe comes to us via the interaction of light and matter. That interaction manifests itself in many ways, both most vividly through color. Over the years I have studied chemicals with intense colors or that react to emit colored light or that change their color depending on the liquid in which they are dissolved. My first publication at Moravian described experiments to show how light sticks work. Color is always fascinating and draws in students.
Share something about yourself that people may not know.
I was born in England. My parents are both from Alabama, but they met at an Air Force base in Oxfordshire. Alas, I have no childhood memories of England, because when I was three months old, my parents returned to the United States.
My favorite thing to do when I am away from campus is ______.
Cook because I find it very relaxing. And I enjoy cooking for guests.
What book, film, song, or piece of art has so touched you that you find it enduring/unforgettable?
David Lean's Lawrence of Arabia. I was so taken by the film that I read T. E. Lawrence's Seven Pillars of Wisdom just to find out which film scenes were true and which were fiction.
I can never resist a good ________.
Old movie! Westerns, film noir, or musicals, whatever.
Name someone who inspires you and tell us why?
That's really tough, but there's one popularizer of science who I wish was better known: Philip Morrison. His PBS series The Ring of Truth is a beautiful ode to experiment as a means of learning about the world.
What is the best advice you have ever received or a quote that stays with you?
Now that's easy, because it's both advice and a quote. On my first day at Spring Hill, I happened to walk past the office door of my economics professor. The door was bare except for a nameplate and one tiny index card, on which was typed: "It is important that students bring a certain ragamuffin, barefoot irreverence to their studies; they are not here to worship what is known but to question it." —Jacob Bronowski, The Ascent of Man. Pretty amazing advice to receive just before my first college class!
Share something that makes you happy.
Fall colors.