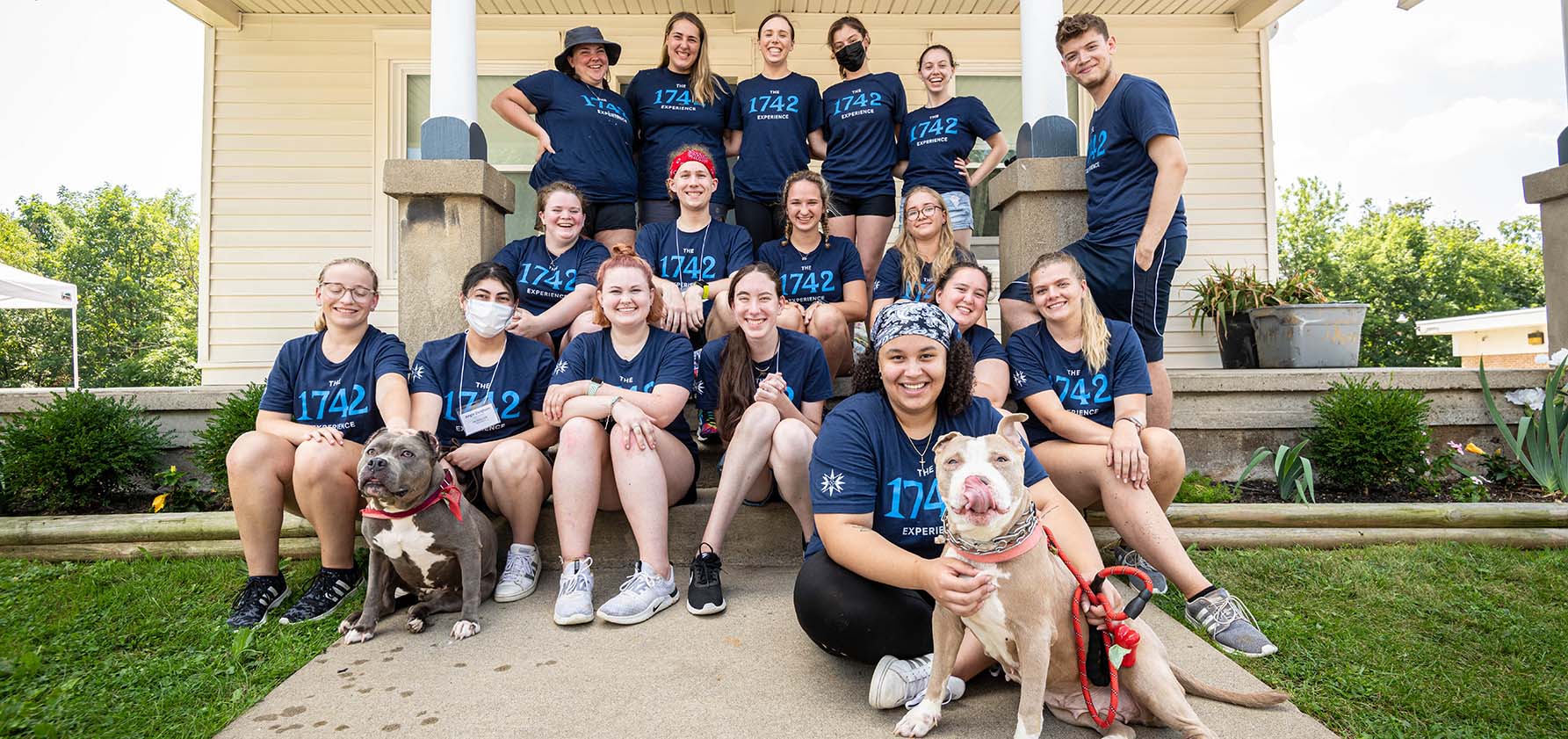 This year is the 10th anniversary of a very special program at Moravian University: the 1742 Experience, run out of the university's Center for Career and Civic Engagement.
Originally created in 2011 by former Director of Leadership Development Katie Dantsin in what was then known as The Center for Leadership and Service, the program engages first-year students in service at a nonprofit in what will become their new long-term neighborhood.
Gillian Sharkey, director of civic engagement, has been overseeing the program since 2014, but she's quick to note that everything is coordinated and led by upper-level students who serve as mentors and guides to their first-year teams.
"This is a student-driven, student-led program," Sharkey says, "and I'm really proud of that. All summer the team leaders meet with me every week for two hours and plan everything for the incoming class: They make the suggestions for where they want to go for service; they plan all of the icebreakers and team-builders; they create the menu for how they want to be fed. And then on the first day, they run the show."
Though Dantsin originally created the 1742 Experience as an opportunity to have a first-year student service program, the center's team quickly realized the ancillary benefits of having smaller groups of students come to campus before the official beginning of the fall semester.
The program eases the transition to campus life. Before 1,800 people arrive, 200 first-year students are on campus, and they're getting deep dive tours of exactly where their classes are, what it's like to shower in flip flops and sleep in a strange place, and they enjoy a week of being in the college environment before the pressure of classes starts.
One of the more intangible benefits of the program is that it provides a sense of belonging that first-year orientation doesn't. For Madison Van Duzer '22, a senior psychology major, that was an important benefit of participation.
"I didn't know anybody," Van Duzer said. "So when I heard about the program, the idea of familiarizing myself with the area and meeting people along the way really attracted me to the program."
After participating in The 1742 Experience, Van Duzer—who helped sand and paint benches for no-kill shelter Peaceable Kingdom and organized a clothing closet at William Penn Elementary during her 1742 Experience—went on to serve as the 1742 fellow in the Center for Career in Civic Engagement, responsible for planning service events during the academic year. In 2019, she became a team leader.
"College is a scary transition for a lot of first-years, so we want them to feel welcomed," Van Duzer says. "I would tell anyone who is considering the 1742 Experience just to fill out an application and see where it goes. It's really a great way to establish yourself on campus before being thrown into classes.
Photos from top to bottom: volunteering at the Humane Society of Lehigh County, at Second Harvest Food Bank, and William Penn Elementary School.