MFA Program Celebrates First Graduates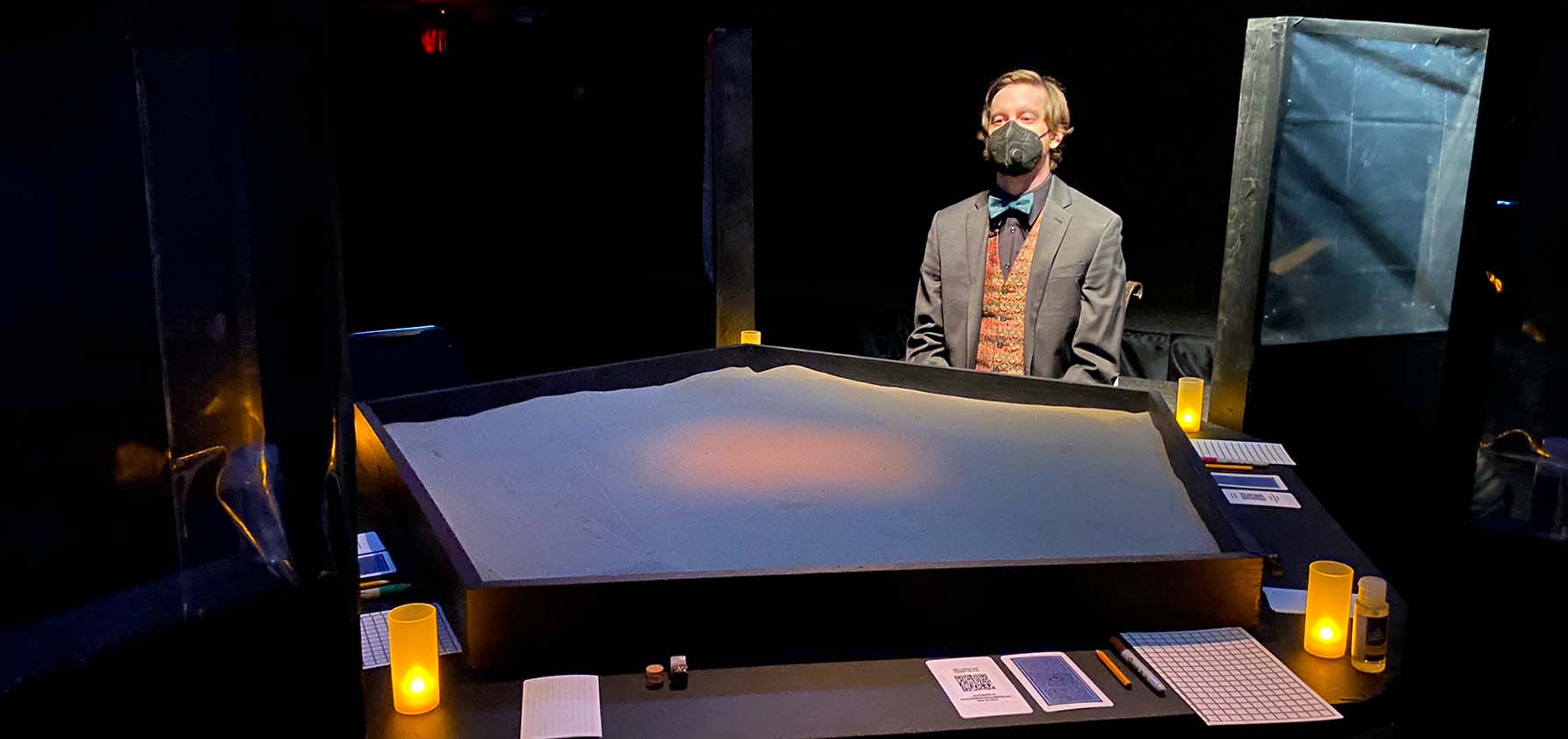 A scene from Sean Patrick Cassidy's production of The Ghosts of Leap Castle, the thesis project for Cassidy's MFA in Theater Performance.
On July 29, 2021, a private graduation celebration was held for Sean Patrick Cassidy and Adam Ercolani, the first cohort to earn a master of fine art (MFA) degree in performance creation from Moravian University.
Moravian University in partnership with Bethlehem's Touchstone Theatre designed this program for artists who want to conceive and create their own performances. Part arts incubator, part apprenticeship, students develop original solo and ensemble performances in both production and lab settings.
"When most people hear the word performance, they think of live theater like Rent and South Pacific, but what we do in performance creation and applied theater is collaborate as artists to create original work using many different artistic practices," says Cassidy. Performance can take on almost any form and topic, including identity, conservation, nature, wellness, therapy, and politics.
"The reason a master's degree in performance creation was so attractive to me from the get-go," says Ercolani, "was that I knew I would enjoy the process of not only understanding how performance exists but also of using my creative voice to build my own pieces from the ground up."
The program is a partnership between creation and practicality. It is both a sandbox, where students explore and find what they like to do best within performance, and an internship, where they learn the business, from the menial day-to-day tasks to writing grants, getting funding, and marketing the theater and its productions. In addition, they teach theater in the community and get hands-on experience in arts administration and production. Students are embedded in Touchstone Theatre for the entire program and can add professional credits to their resumes alongside their education.
Through their dynamic two years at Touchstone, Ercolani and Cassidy—both trained actors—zeroed in on their passions. "I went from being strictly a musical theater actor, where it was a matter of auditioning for a role, to being heavily involved in bringing together an idea and the people to help me develop that idea," Ercolani says. "I'm maintaining my creative control while letting other performers have the spotlight. I can't imagine ever going back," he says. Ercolani also found a passion for teaching. "I have had the opportunity to teach a few K-5 programs for Touchstone. I never thought I had the skillset or the wherewithal to teach, but I'm making it happen, and it was one of my favorite things to do each week," he says.
Cassidy also found himself moving away from acting. He was drawn to performance design and production work. He discovered a passion for visual arts when COVID forced Touchstone to move some of their performances online.
To complete their degree, Ercolani and Cassidy had to envision and produce a thesis project in performance creation. Cassidy's production explored wellness. "I am interested in drama therapy and the scholarly side of productions that center on a psychological process or therapeutic practice," he says. "My thesis performance, called The Ghosts of Leap Castle, engaged the audience in an exploration of the repressed self through play and board games."
Ercolani ventured into political theater for his performance, An Imagined America. "I wanted to bring people's attention to the way marginalized communities are forced to exist in a society that benefits me as a white male and not as a queer person," he says. He did this by taking original source material from political speeches delivered in recent history and having his performers—drag queens of color who identify as LBGTQIA+—lip synch to the audio and then take over in their own voices and interject personal comments in real time. He brought the performance to Allentown's Bradbury-Sullivan Center in April 2021.
With the MFA under his belt, Ercolani will stay at Touchstone as a Development and Marketing Associate, while continuing to work on upcoming shows. He will also serve as a production manager for artists in residence at Lehigh University.
Cassidy continues to create wellness programs and interactive experiences for the modern theater audience and plans to continue some of the film work he's been able to develop.
No matter what they pursue, James P. Jordan, director of the MFA in Performance Creation, hopes these students follow their hearts. "I hope they find whatever enlightenment and happiness they want in life and achieve success with it," he says.
Clearly, Ercolani and Cassidy are off to a great start.