Raquel Lopez de Boer, Class of 2021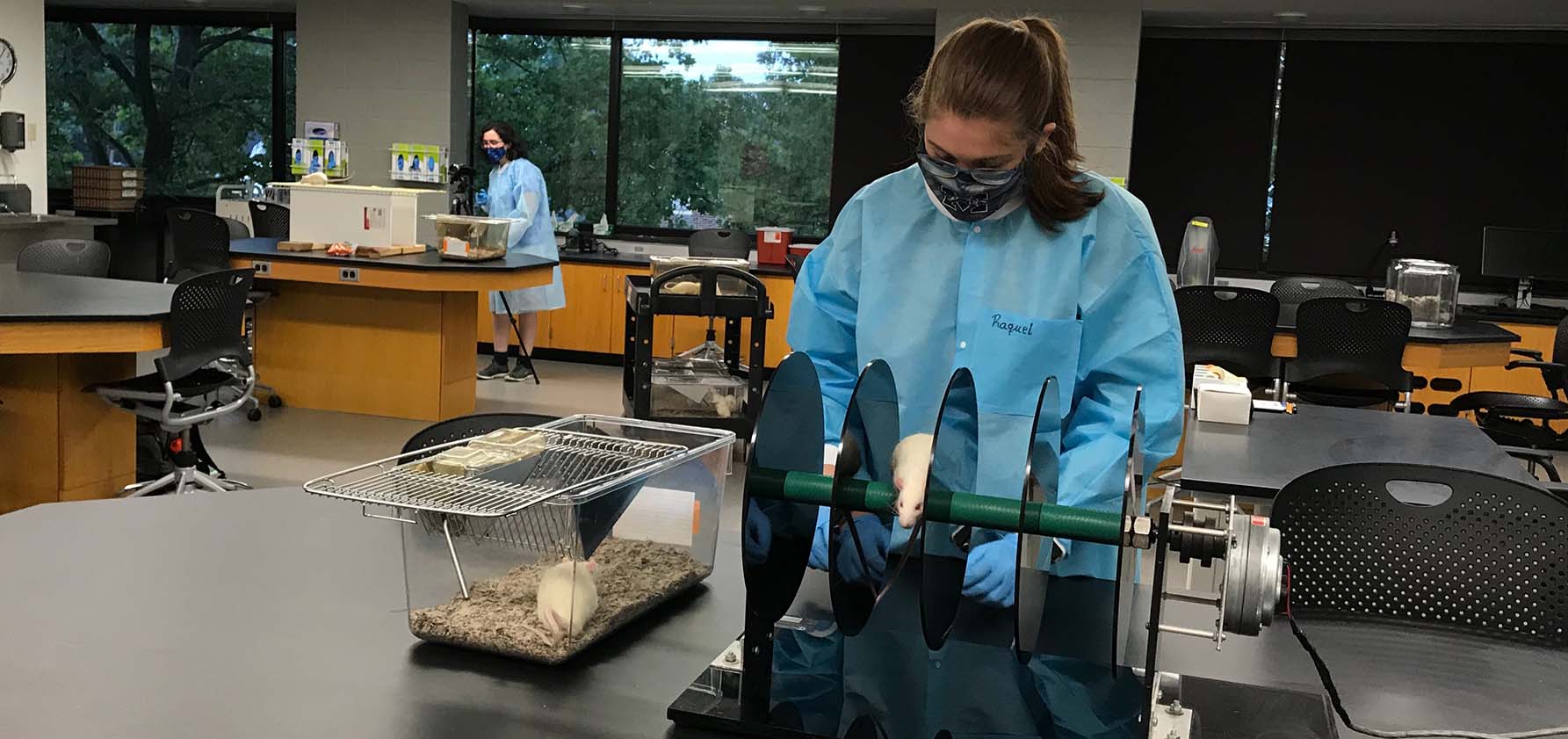 Growing up in Sevilla [Spanish spelling], Spain, I watched my grandmother suffer from Alzheimer's disease, it was a rough time for my family, and it made me want to understand more about the brain, so I decided to study neuroscience. In Spain one can't study neuroscience at the undergraduate level, so I decided to pursue a bachelor's in the United States. Some family friends were living in Reading, Pennsylvania, and I began my first year at a community college as I found my way around the change in academics. Luckily, that year gave me time to get comfortable with the language and look for universities that offered neuroscience. That is how I came to Moravian.
Once in college, I discovered that I enjoyed chemistry a lot and realized how much more I could learn if I majored in both neuroscience and chemistry. I am completing an honors research project with Dr. Cecilia Fox studying the protective effects of curcumin in the production and metabolism of dopamine in the 6-hydroxydopamine model of Parkinson's disease.
[Note: Raquel is the recipient of The Neuroscience Award, presented to a senior neuroscience major who has demonstrated excellence in academic and research pursuits in understanding the brain and behavior.]
Tell us a little bit about your life in Spain.
I grew up in a lovely family. My mom and dad worked quite a bit, so after school I would spend a lot of time with my grandmother. At an early age, I got involved in extracurricular activities after class including painting, karate, and soccer. I was really good at soccer, and I miss it a lot. I even had the opportunity to play for my city's team, Sevilla Futbol Club, in their girls' division.
At the time there were very few girls-only teams so I grew up playing with boys all the time, which made it difficult to make girlfriends as I was more interested in kicking the ball than talking about boys.
When my family moved to Triana, I started to play basketball—I was 10 years old—and was finally able to have a group of girlfriends that was interested in sports. I played for Club Nautico Sevilla and met incredible people through basketball and in my school, from coaches to teachers. When I decided to come to the United States, it was not easy because I left a lot behind, but at the same time, I am lucky I was granted this opportunity, and I would do it all over again.
What activities are you involved in at Moravian?
I am president of the international student organization, vice-president of Brain Club, and an active member in other clubs, including the American Chemical Society. I have been a member of the women's basketball team here at Moravian and am a 26-point ambassador. In addition, I am a student-worker at the fitness center and the center for global education, and I served as a teacher assistant for multiple science classes.
What's next after you graduate?
I have been accepted to a doctoral program at Case Western Reserve University in Cleveland, Ohio, which starts on July 1.
Will you return to Spain once you've completed your doctorate degree?
I am not sure. It will depend on whether I do a postdoctoral fellowship or decide to work in industry. In terms of research, there are not many opportunities in Spain right now. Whatever I do, I would like to be near home, so I might apply for positions in Europe as well in the United States and see what opportunities become available.
On a light note, what is your favorite spot on campus?
The star room in the Sally building. I love to study there and see the beautiful views.
What is your favorite thing to do when you're not studying?
I like to explore new places to hike and walk. There are so many cool places around Moravian!
What is the best advice you have ever received or a quote that stays with you?
Stay true to yourself.