Alec Buttner '21 Accepted to Doctoral Program at University of Chicago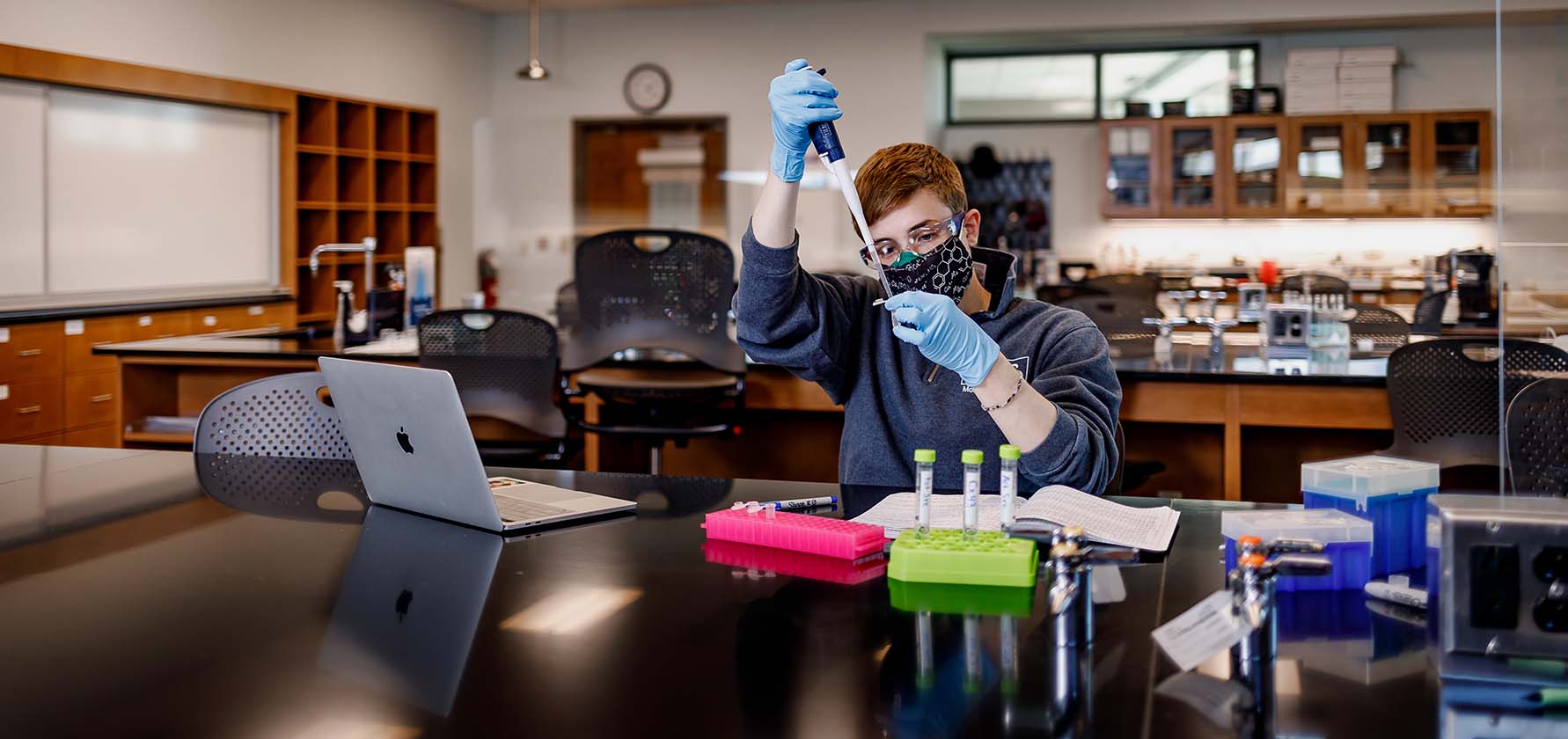 Alec Buttner '21, a first-generation college student, joined the Moravian College family as an International Business and Global Management major. This spring, he will graduate with a degree in biochemistry, which, he says, laid the groundwork for his next move: pursuing a doctorate in cell and molecular biology at the University of Chicago.
The major switch, Buttner says, happened when he looked over the shoulder of his freshman-year roommate at the work his roommate was doing in chemistry. The material spoke to him, and he knew he wanted to study science.
Advisers worked closely with Buttner to help him test into a year-long chemistry course at the start of his second semester. "My favorite thing about Moravian College is that everything is really individualized," Buttner, says. "There is a really big focus from the college to put students first."
Throughout his tenure at Moravian, Buttner took advantage of the faculty's open-door policies to make the most of his education. For example, he would knock on a professor's door to talk about his or her research and then ask to be a part of it.
"With my first research opportunity, I approached Dr. Bertucci [assistant professor of chemistry] and told him I was interested in his work but did not have lab experience and that I wanted to build my confidence in the lab," Buttner says. Bertucci worked closely with him and helped guide him in not only his research but in how to navigate a lab.
The professors Buttner has worked with have two goals, he says: advancing their research and making sure their students leave Moravian College with the skills they need to succeed.
After taking a course taught by a professor of biochemistry and another by a professor of genetics, Buttner realized he wanted to focus his studies on biochemistry. This meant he would no longer work closely with Bertucci. Despite this, Buttner says, Bertucci has remained a close confidant and adviser for Buttner's honors thesis. "He's been really helpful," Buttner says. "I'm a first-generation college student—the idea of grad school is really scary for me. But Dr. Bertucci and the college have guided me every step of the way."
While Buttner will study cellular molecular biology at the University of Chicago, he's not sure yet what his focus will be. He does know that at the end of the day he wants his work to benefit humanity. "Even when I came in as a first year with a business background, the goal was to work for a nonprofit organization," he says.
After he made the move to the field of science, he says, "I really saw science as a great way to be intellectually challenged and find a way to benefit millions of people."
During his time at Moravian College, Buttner has studied ways to combat the bacteria that cause pneumonia and investigated potential cures for cancer with Anastasia Thévenin, assistant professor of biology, who was instrumental in advising Buttner during his senior year and guiding him through the process of choosing a graduate program and making a compelling application.
Last summer, Buttner worked virtually with the University of Chicago, studying whether certain single-cell organisms can fight air pollution and produce sustainable fuels. "Science is probably one of the, if not the greatest, forces for change," he says.
As Buttner makes plans to leave the Lehigh Valley—he grew up in Easton—and make a name for himself in the Windy City, he says Moravian has prepared him in more ways than he can count. "Inside and outside of the science department, the college has been very supportive and pushed me to not only grow but to do the right thing as much as I can—that's very valuable in today's world," he says.
Eventually, Buttner wants to become a professor at a small institution, not unlike Moravian College.
"Or maybe at Moravian College," he says. "If they're hiring."