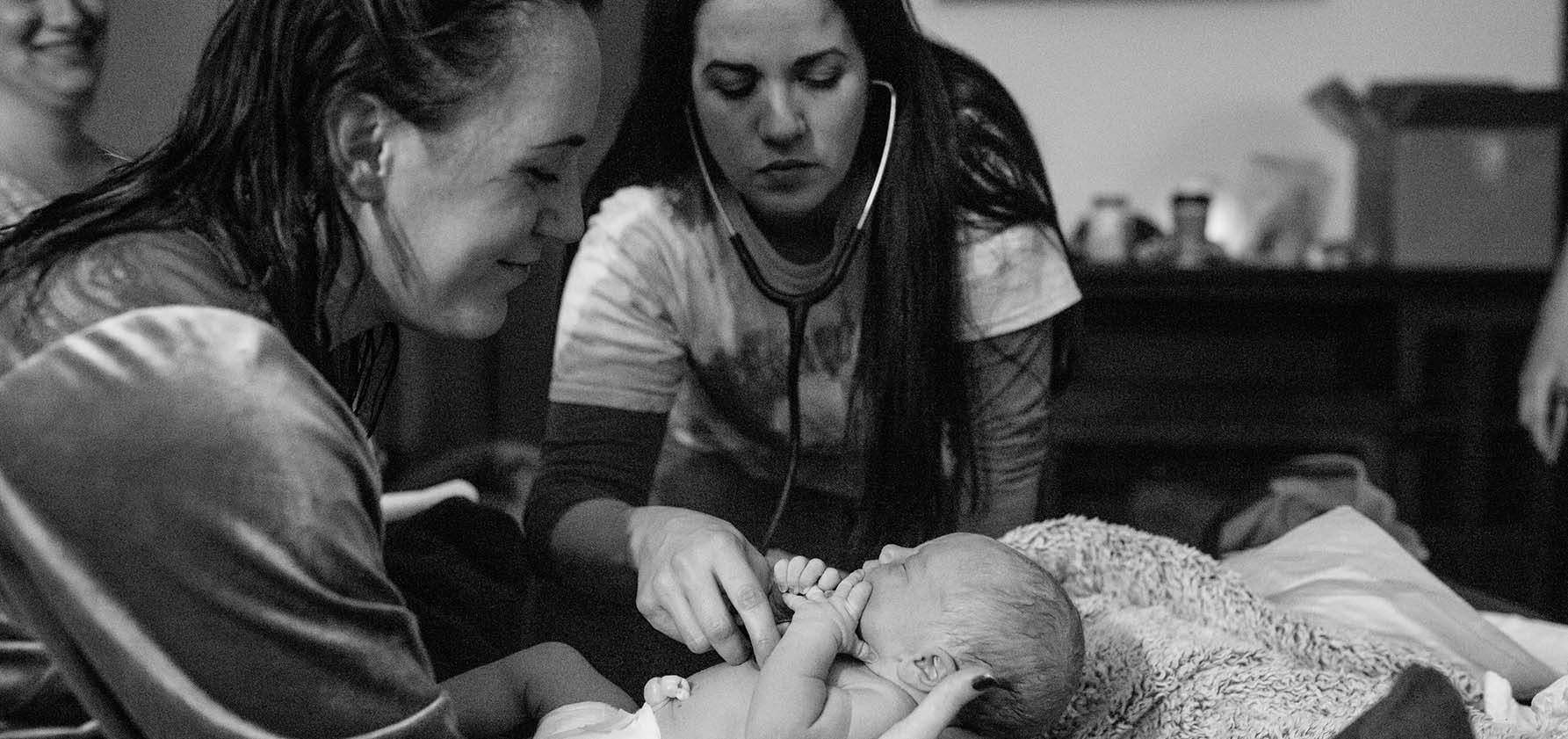 It took Erin Kershaw '10 six years to figure out that birth did not have to be a medical event.
She delivered her first daughter in 2006—an induced labor in a hospital—but when she was pregnant again in 2012, she wanted a different kind of experience. This time, she found a midwife. "Working with her was empowering. The birth was wonderful—five hours of active labor, a water birth in a rented tub in my mother's downstairs rec room. It was like night and day," Kershaw says.
The contrast was so powerful that Kershaw decided to become a midwife herself, braiding lifelong interests in pregnancy, birth, and health policy with her studies of biology as a Moravian student and her stint as a veterinary tech. She attended the two-year, online program at WomanCraft Midwifery Education Program, based in Massachusetts, then trained under four midwives in the Lehigh Valley before opening her own practice, Beautiful Beginnings, in 2016. The practice provides pre-natal care, fertility counseling, and herbal medicine as well as midwifery for clients who want a home birth.
Kershaw is emphatic that birth for women without health complications or other risk factors does not call for medical intervention or hospitalization. She points to a 2014 study of nearly 17,000 women who planned home births, published in the Journal of Midwifery & Women's Health; it showed that low-risk women in that group had high rates of natural birth and low rates of medical intervention without any increase in negative outcomes.
Kershaw's own approach to care is collaborative and hands-on. She talks to pregnant women about nutrition and about their emotions. She teaches them what to expect during labor and how to manage pain. She gently massages their bellies to note where she feels a foot or an elbow. She visits them in their own homes. "Some clients say, 'I've learned more in this appointment about my body and my baby than I have in months going to an obstetrician,'" Kershaw says. "The pre-natal care people get from a midwife empowers them. We're teaching them, not just doing things for them."
At Moravian, Kershaw majored in biology and political science, studies she says "opened my eyes" to the realities of power and economic exploitation in the world. She became a vegetarian, then a vegan, because she deplored the ways animals were raised for milk and meat. "In general, Moravian made me realize how diverse the world is," she says.
Her undergraduate work proved useful as she studied midwifery. "Having a good grasp of anatomy and physiology definitely helped," Kershaw says. "As did my time working as a vet tech. I do all my own labs, and I have people who are very hesitant to get blood drawn. Starting on kittens and puppies makes humans super-easy."
In December 2019, Kershaw closed her midwifery practice to enroll in a nurse-practitioner program. But she soon discovered that she missed attending births. Along with her husband, George, a project manager for Verizon, and daughters Kaitlyn and Annabelle, she moved to Bucks County and reopened the practice in June. Three months later, her roster of clients was brimming; COVID-19 made people wary of hospitals and more open to the idea of a home birth. Kershaw, who takes on four clients a month, is now full through next July.
"I'm hoping that a paradigm shift can happen because of COVID, that people who wouldn't normally birth at home are realizing, 'Wow, I can do this,'" she says.
Kershaw's appearance in a PBS series, "American Portrait," may help spread that sentiment. The three-minute clip, which features Kershaw attending the home birth of Philadelphia couple Tyanna and Marcus Myers, is part of a digital storytelling project that will also air as a documentary on public television stations.
Kershaw notes the grim statistics on birth in the United States: The rate of cesarean delivery rose from 20.7 percent in 1996 to 32.8 percent in 2011, while reported pregnancy-related deaths increased from 7.2 per 100,000 live births in 1987 to 17.3 deaths per 100,000 live births in 2017, with much higher rates for women of color, especially Black women. That's why she offers discounts for Black, indigenous, and people of color (BIPOC) clients. It's why she continues providing home birth experiences for women who currently range from 18 to 42—some giving birth for the first time, another about to deliver her seventh child.
"I love the process," Kershaw says. "I love watching how amazed people are, how amazed the birthing person is at what they can do. I love taking care of moms and babies."