Eyliena Baker, Class of 2020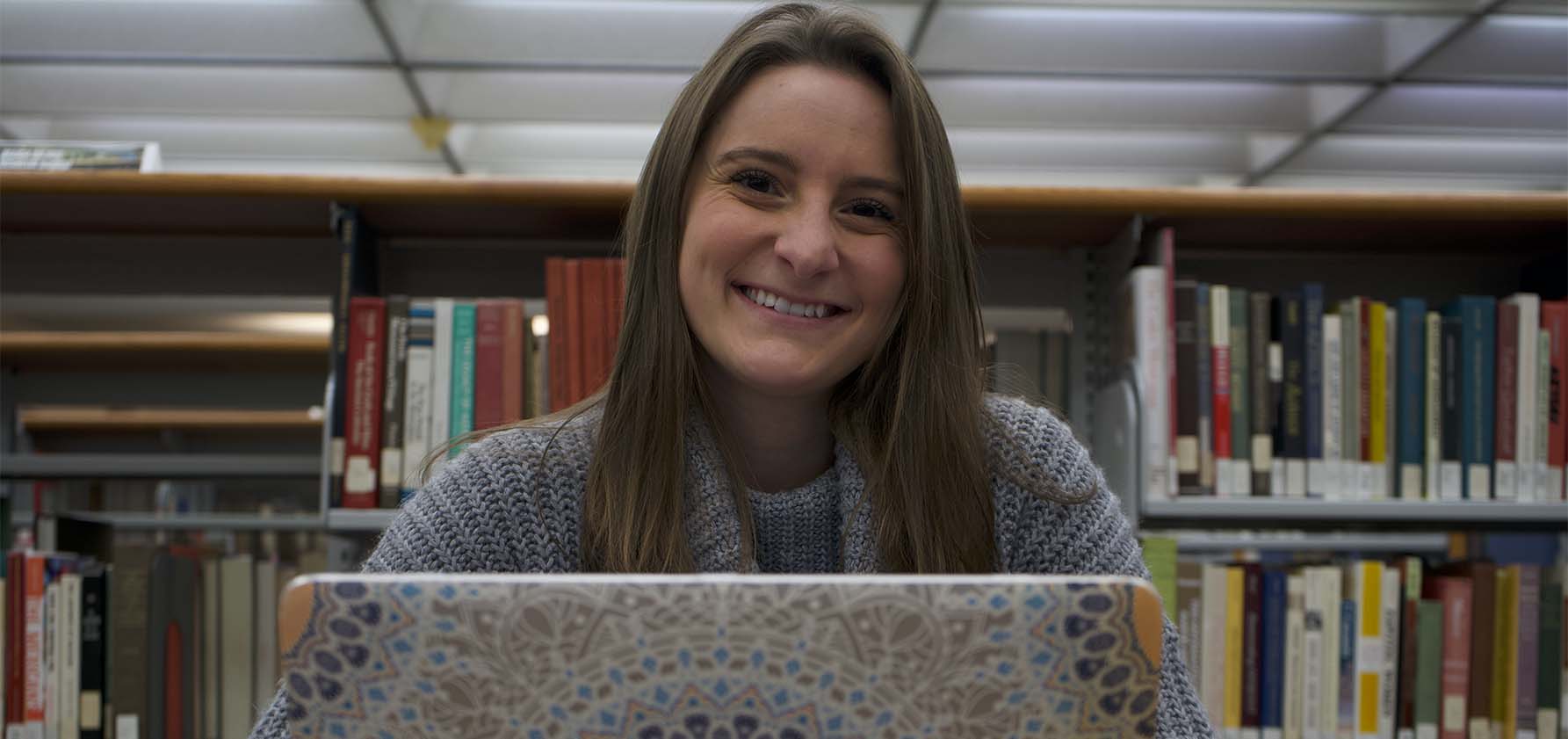 Where did you grow up?
My hometown is a small, rural town in Pennsylvania called Kunkletown. It is most known for being close to Blue Mountain Ski Resort (my house is about an 8-minute drive from its base). My five siblings and I grew up in an old fieldstone farmhouse on a property that was once an old dairy farm. Throughout high school, I worked at the Kunkletown General Store, located about a minute's drive from my house. I made hoagies, scooped ice cream, and stocked shelves for $7.25 an hour. It was a busy little place as it is the only store in the vicinity. Otherwise, you have to take the 20-minute drive to Brodheadsville, or "town" as we call it, where I went to Pleasant Valley High School.
What is your major, and what activities are you involved in?
I am a pre law major with a minor in women's gender and sexuality studies. I keep very busy on campus! Currently, I am the president of the Pre Law Society, a 26 Point Ambassador, the senior resident advisor of Bernhardt Hall, a student alumni representative (STAR), a representative on the senior class gift committee, and the secretary of Tri Iota Honors Society. I like being busy. Each involvement has helped me grow, and I am so happy to contribute something to Moravian in different ways through these activities.
What's next after you graduate?
I will be pursuing my dream to attend law school. I am currently going through the application process and even spent my entire winter break studying for the Law School Admission Test (LSAT). Any change is scary, and it will be tough, but I am ready. Moravian has given me the tools I need to succeed and I have found an unbreakable support system here that is pushing me every day to achieve this dream.
Share something about yourself that may surprise people.
My name is from a Czechoslovakian baby book. My mother found it and decided on the name, thinking it was beautiful. I believe this is why most people pronounce it incorrectly (which is okay). The spelling is different from the pronunciation: it is spelled Eyliena but pronounced "uh-lee-na." Fun fact: When I order food from the B&G or Delight's, I write Alena on the slip, so it is pronounced correctly when the food is ready. Once I did that in front of my mom when she visited, and she was not too happy.
What is your favorite spot on campus?
The third floor of Reeves Library. It is the silent study floor, so my head is the clearest when I am there, and I am more productive. Everyone who knows me is aware that I cannot study with any noise whatsoever.
What is your favorite Moravian College tradition?
Thanksgiving in the café. For the food, of course, but it so fun to be served by faculty and staff, and then have President Grigsby and Lea come to your table and mercilessly cover your pie in whipped cream. This event shows how important a sense of community is to Moravian in a fun and homey way.
What's your favorite thing to do when you're not studying?
Watch Ted Talks. I find them oddly calming, and I have learned many things that one would not usually learn in school. The topics are surprising and interesting, such as what your posture and body language say about the kind of person you are.
What is your favorite book?
Any of the Harry Potter books. I have read all seven twice! I know that is not a very advanced level of reading, but I think these books are a work of art. JK Rowling is a genius; I don't think I have ever escaped into a book series like this before. My older sister, Eyliese, and I will binge watch the movies and call them our "Harry Potter Movie Marathons," and we seek out coffee shops that are Harry Potter themed. Our favorite is called "Muggles Mug" in Jim Thorpe. No matter how old I get, Harry Potter will always be a favorite. Also, in case you are wondering, I am a Hufflepuff.
Who is your hero?
Ruth Badar Ginsburg, "the Notorious R.B.G." Even if I were not going into law, she would be my hero. She had such a groundbreaking impact on women in the legal field back in the 50s and 60s when female lawyers were practically unheard of. RBG helped pave the way for attacking gender issues in the law and continues to fight for these and other issues today as a Supreme Court Justice at 86 years old. Speak the Ruth!
What is the best advice you have ever received?
"Know your own self-worth. There was a time when you dreamed of where you are now, so do not ever take your accomplishments for granted."
My mom gave me this advice, and I think about it often. It helps in times of fear or self-consciousness because it is so entirely true. We are always growing and accomplishing, so be proud of that!
What makes you happy?
So many things: Having a conversation with someone who is truly listening and engaged, a good cup of coffee, spending time with my boyfriend Bryan, Jolly Ranchers, laughing with my sisters and mom, a neat and organized room, and lastly, crossing things off in my weekly planner.