Moravian SPS Chapter Recognized as Outstanding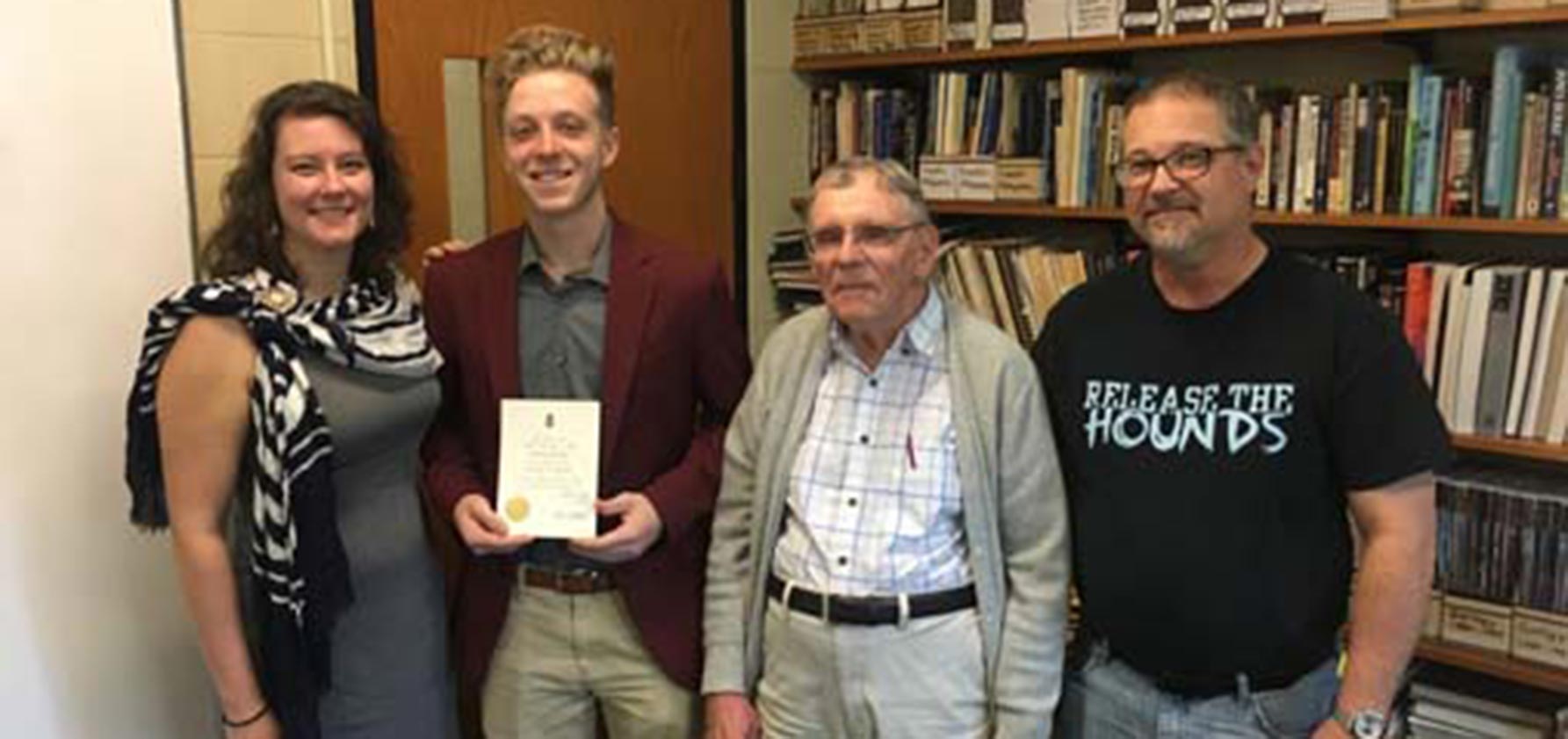 The Moravian College chapter of the Society of Physics Students (SPS) has been named a 2018-2019 Outstanding Chapter by the National Office of the Society of Physics Students. This is the eighth year in a row that Moravian's SPS chapter has been recognized for its excellence.
SPS is a professional chapter-based association open to all students with an interest in physics. Members include chemistry, mathematics, astronomy, and physics majors among others. The purpose of the society is to expand students' engagement with physics beyond the classroom through scholarly presentations at conferences, attending lectures with invited speakers, field trips, and more. In addition, the association charges members with community outreach on and off campus. Each college SPS chapter is run by students with input from a faculty advisor. To earn outstanding status, a chapter must demonstrate significant accomplishment with regard to the association's goals.
The 2018-19 academic year marked our 51st anniversary (we are the oldest SPS chapter in Pennsylvania). Following are highlights from our chapter's outstanding work.
On Campus
The chapter organizes pizza lectures open to the entire campus:
Jewel Haik '19 and Madison Kaminskyj '19 discussed their REU experiences.
Ruth Malenda, associate professor of physics, talked about her research in photometry and theoretical atomic and molecular physics.
Fouad Haddad '18, currently a doctoral candidate in aerospace and mechanical engineering at University of Arizona, discussed a research project in power-line failures; he shared his time with Rudy Shankar, director of energy systems engineering at Lehigh University, who spoke about the energy issues facing the world.
Mike Palmeri '19, gave a talk about positron emission tomography (PET) scans.
In addition, SPS members tutor students in introductory physics classes, and the chapter supports events hosted by the Women in Science and Engineering club.
Off Campus
Students presented research at prominent conferences:
Matthew Conners '19 and Vaughn Tempesta '19 presented their work at the Pennsylvania American Association of Physics Teachers Central Pennsylvania conference.
Bryan Harvey '19 and Ariana Caiati '19 discussed their research at the 5th Joint Meeting of the APS Division of Nuclear Physics and the Physical Society of Japan
Madison Kaminskyj '19, Ariana Caiati '19, and Vaughn Tempesta '19 presented their work at the National Conference of Undergraduate Research
In the Community
Throughout the academic year, our students organized outreach programs with local elementary and middle schools to give students a taste of physics. Included were science fun nights, where various regional organizations put on demonstrations.
Taken together, all of these accomplishments represent only a small sample of the initiatives organized and overseen by Moravian's SPS chapter, demonstrating the group's commitment to furthering engagement in and understanding of physics within its membership, on our campus, and in the surrounding community.
"Selection as an outstanding chapter is a prestigious award, and we've been recognized multiple years in a row," comments Kelly Krieble, associate professor of physics and chair of the department. "It shows the dedication and passion of our students." As those efforts continue, we are on track to earn an outstanding chapter award for the 2019-20 academic year.