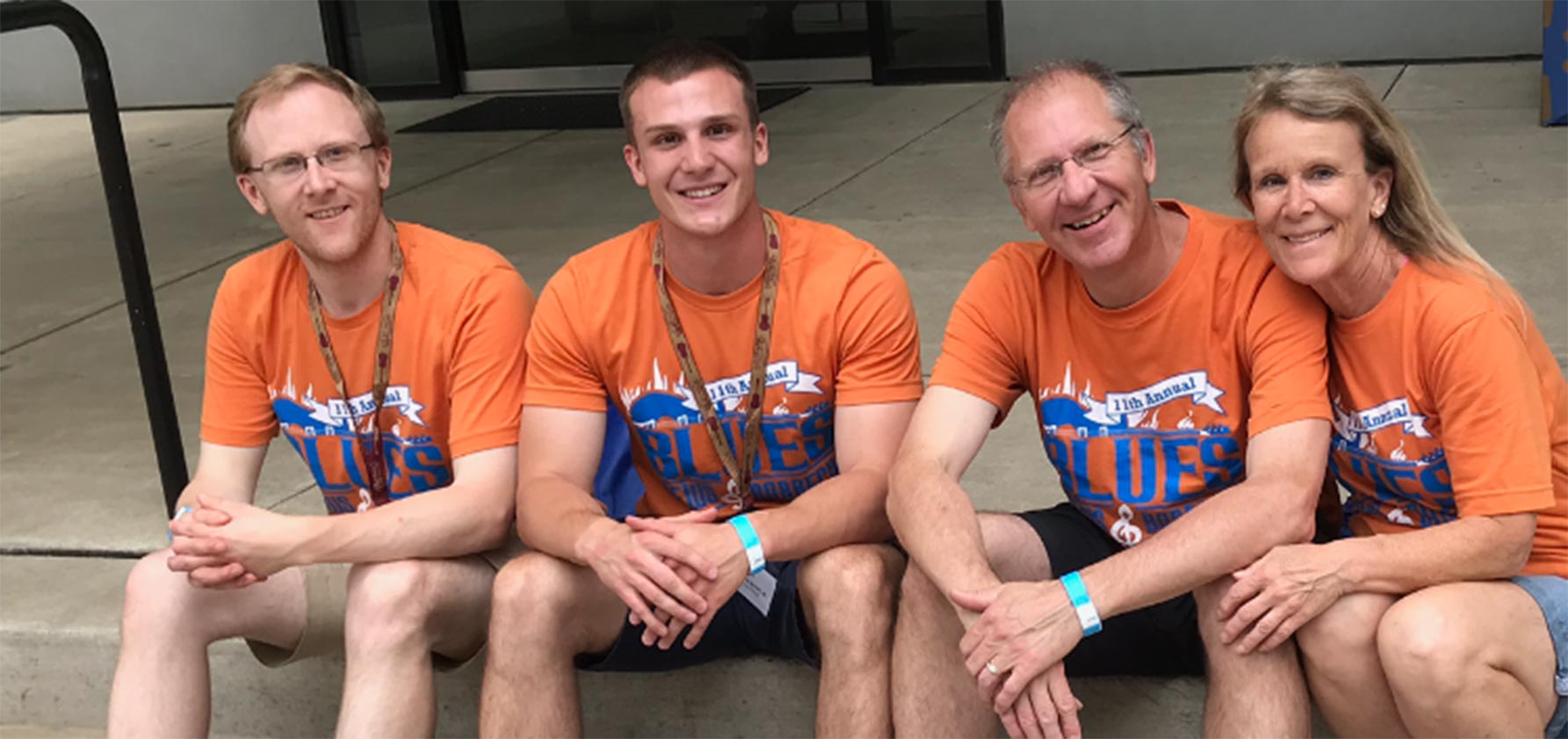 On an early February night in 1980, Ron Semanick was seated in Prosser Auditorium, enjoying the children's theater production of A Midsummer Night's Dream being performed by the Moravian College Blackfriars. Rodney Gerhart, Ron's floor-mate in Rau-Hassler, was performing the role of Theseus and had invited the entire floor to see the play. It was there that Ron first saw Nancy Duckworth in the role of Moth. Of course he hadn't a clue as to what role she would play in his future.
Nancy, an elementary education major, graduated a year later in May and accepted a teaching position with the Alpha Public School just over the state line in Alpha, New Jersey; Ron would graduate in 1983 and move to Philadelphia to work as a certified public accountant for Arthur Andersen & Co.
In early November 1984, Ron came to Bethlehem to visit friends and see the band The Sharks who were performing at Mickey Kelly's East (aka Roosevelt's 21st and today 21 Craft House). He spotted Nancy who was there with her friends, and a memory began to form. "I walked over to her and said, 'I know you from somewhere. Didn't you go to Moravian College?'" Ron recalls. "We talked until the place closed.
"I couldn't wait to come back to the Lehigh Valley on weekends to see Nancy," Ron continues.
They had the same taste in food and music. They went to movies, sporting events, concerts, restaurants, and nightclubs, and, of course, plays. They hiked, biked, and traveled together.
"We'd go out to a nightclub, listen to the band, dance, and talk. The evening would just fly by. We'd often notice we were among the last couples to leave at the end of the night," says Nancy.
They dated for two years before marrying on August 9, 1986. They have two sons. Andrew, age 29, is an accountant with Hansen Technologies in Bethlehem and earned his MBA from Moravian in May 2019. Matthew is 24, lives in Houston, and works for ExxonMobil as a mechanical contact engineer.
Nearly 34 years later, Nancy and Ron still do everything together, including volunteering for various causes and events in the community. "Ron starts and ends each day with a smile on his face," says Nancy. "He is fun to be around, enjoys helping others, has a heart of gold, and tries to bring out the best in people. He lives each day to the fullest. I can count on one hand the days we have been apart from each other since we were married," says Nancy.
A connection perhaps invisibly drawn between actor and audience member at a Moravian theater production 40 years ago keeps Ron and Nancy Semanick close.
"Nancy is my best friend and soulmate," says Ron.