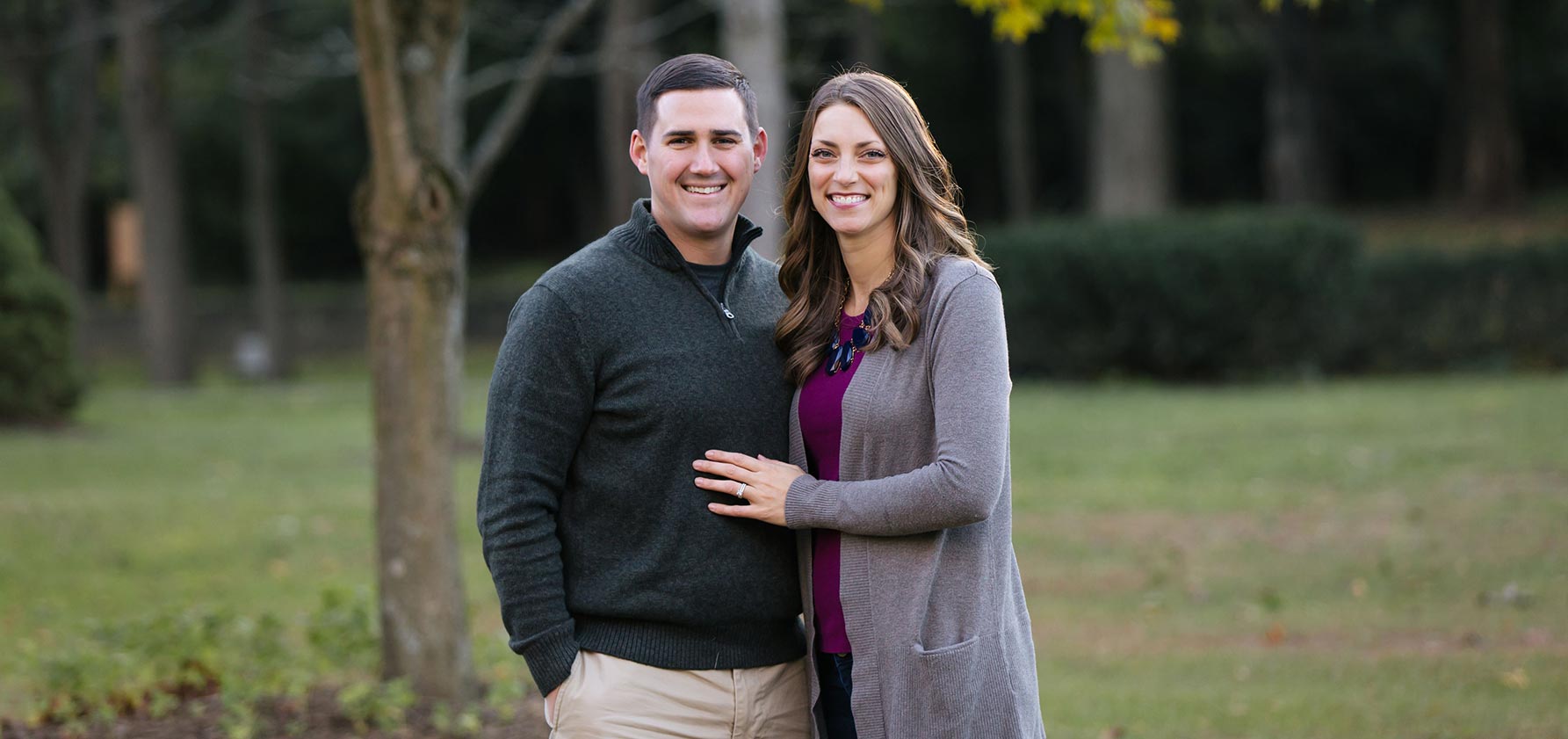 Marc and Maria DeBonis Braxmeier '09 met during the preseason of their freshman year. Maria played volleyball at the time and Marc, football. A mutual friend, Cody Fedorishen '09, who would be Maria's roommate, came to campus to check out their dorm room and introduced them. Fourteen years later, which includes six years of marriage, the Braxmeiers have a 3-year-old daughter and are living happily ever after. Maria divides her 9-to-5 between caring for her daughter at home and working as a part-time IT consultant, while Marc works at Lutron Electronics as a senior sales operations manager. For this special Valentine's Day edition, Inside Moravian asked Marc and Maria to tell us a bit about their relationship, born at Moravian College.
Inside Moravian: What about your spouse drew you to him/her initially?
Maria: Marc and I have always had very compatible personalities, likes, and interests. We laugh constantly, we often order the same meal at the restaurants where we eat, and we have always loved playing sports together. For the last 10 years, we have played together on a softball team.
Marc: Her competitiveness and athleticism. During freshman orientation, a group of us went to the ARC for one of the orientation events and ended up playing a basketball shooting game. Maria was extremely competitive and turned out to be a good shooter despite not playing basketball in high school. Thankfully, my partner and I were just a little bit better than she and Cody.
IM: Share one or a few highlights/anecdotes from your years dating. Do you have a favorite memory as a couple from your time at Moravian?
Maria: Marc and I have always loved being active. There were times when we would go up to the Arc or Johnston Hall and play basketball or catch for hours. We also cheered for each other on the field: he would come to my softball games, and I would watch him play football.
Marc: One time during freshman year, we spent hours throwing a softball back and forth in my dorm room and talking, getting to know each other with no TV or music on.
IM: When or how did you know your spouse was "the one?"
Maria: One night we went on a date off campus. While driving, we started talking about our goals and plans for the future. We got so deep in conversation that we drove past our exit and didn't even notice. It just felt like we were so much on the same page and could talk about anything together.
Marc: One time we were driving on the highway headed to dinner and became locked in conversation, talking about what we wanted in the future—how many kids, what type of house, where we wanted to live. We were so into the conversation, we missed our exit.
IM: What do you find most special about your spouse?
Maria: Some of my favorite things about Marc are his ability to make me laugh and his positive attitude toward life.
Marc: Her love and passion for spending time with family.