Finding Each Other Again at Moravian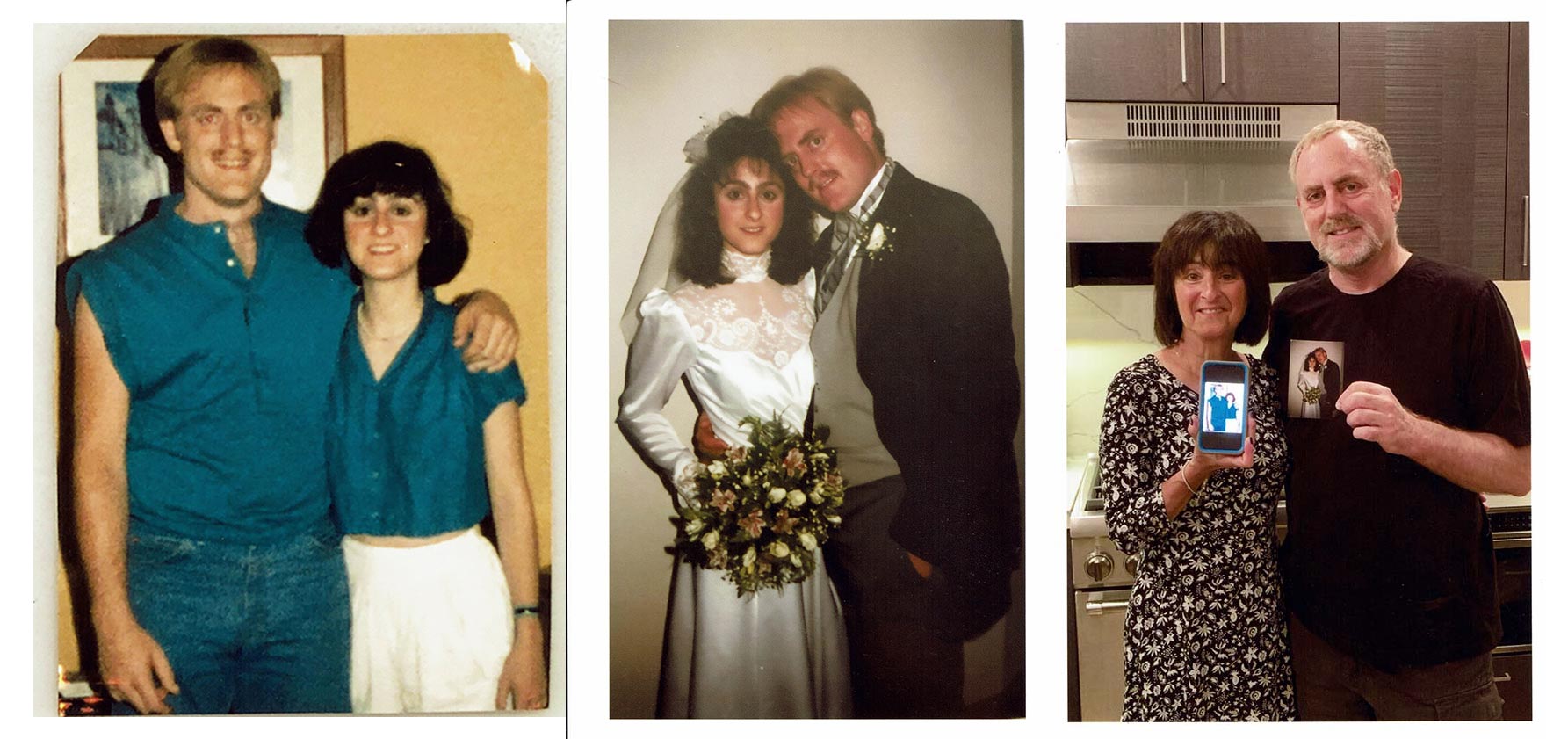 In spring of 2017, Lori D'Nicuola '83 and Bill Dobson met in Bethlehem to visit their son who was living and working here at the time. Afterward, they took a walk across John Makuvek Field—new name, same ground—where Bill played soccer for the Greyhounds in the late 7Os and the same ground he and Lori strolled in 1980 as a young couple. Memories rushed in of that long-ago walk, Bill's guitar-playing, Lori's cartoons. They felt their love for each other swell—again. Last year, on July 13, 2019, they married each other for the third time.
"Moravian is the place that brought us back together," says Lori.
The year was 1980.
Bill was a sophomore at Moravian, and Lori had just transferred in. They met on the third floor of Rau Hassler, which was then a women's floor. "It was love at first sight," recalls Lori. "Bill had long blond hair and was fit. He would sit in the hallway and play guitar."
But Bill was interested in Lori's roommate—at first.
"Lori was a self-designed art/psychology major. She used to draw these Peanut's Snoopy cartoons and hang them on the door of my dorm room before each soccer game. Her sense of humor was bad!" says Bill. "One day I was lying on the floor in my room, and Lori cuddled up with me. I asked her, 'Am I comfortable?' And she responded, 'I don't know, are you?!'"
They were comfortable with each other and became best friends. "We have an identical outlook on life," says Bill. "Humor is important to both of us. Life can be tough, and humor makes it easier to handle."
And life became tough. Bill's parents divorced and stopped supporting his college goals, so he joined the Air Force. He was stationed in Texas, Mississippi, and then Andrews Air Force Base in Maryland. "We wrote letters and called each other on pay phones," recalls Lori. "We muddled through without Zoom or smartphones." Wanting to seal their long-distance bond, they eloped in spring of '81. Bill served four years in the air force, then returned to Pennsylvania and moved in with Lori.
"We never told our parents that we had eloped," says Lori. "Eventually my dad suggested we get married, so in 1987, we had a proper church wedding."
A few years later, they had a son. Lori worked in corporate and then found her passion as an administrator in higher education. Bill never completed his college degree but developed a career in technology and is a senior solutions analyst at Canon Solutions America.
"Our relationship was built on friendship, respect, and having each other's back. We took it for granted that it would always be strong that we'd be together forever, but we grew apart," says Lori. "I would stay home with our son, and Bill would do his thing; he would stay home, while I did my thing…." Eventually they divorced.
Though they lived apart—Bill in Hoboken, New Jersey, and Lori in the Lehigh Valley—they stayed in touch over their son. Some days, when they needed to talk through issues, they'd meet midway in Somerville for lunch. "We really enjoyed our time together," recalls Lori. "I think those lunches reignited our dormant feelings for each other."
The love, friendship, partnership had been there all along.
Fast forward—
 —to a walk across John Makuvek Field. Forward again to July 13, 2019, and a third wedding with their son as their witness. Forward to today, 40 years since their first encounter at Moravian College.
Bill suffers from a degenerative liver disease called primary sclerosing cholangitis (PSC). The disease affects one in every 100,000 individuals. It attacks the bile ducts and over time progressively worsens, damaging the entire liver. The only cure is a liver transplant. As Bill's condition became dire, he was put on a waiting list, but the family is in search of a living donor. The liver is the only organ in the human body that can fully regenerate, which means an individual can give a portion of his or her liver to someone in need. Unfortunately, no one in the family is a match, so they keep looking.
"We didn't endure all that we've been through to lose this battle," says Lori. "Bill is my best friend, and I love him fiercely. I am not losing him again."
"Lori and I have always had each other's backs," says Bill. "We're partners on the same side. "It's us against the world."
Bill and Lori, Moravian College is on your side, too.
###
To learn more about PSC visit mayoclinic.org
To consider donating on Bill's behalf, contact: pennmedicine.org OR mountsinai.org