Lauren Steinert, Class of 2020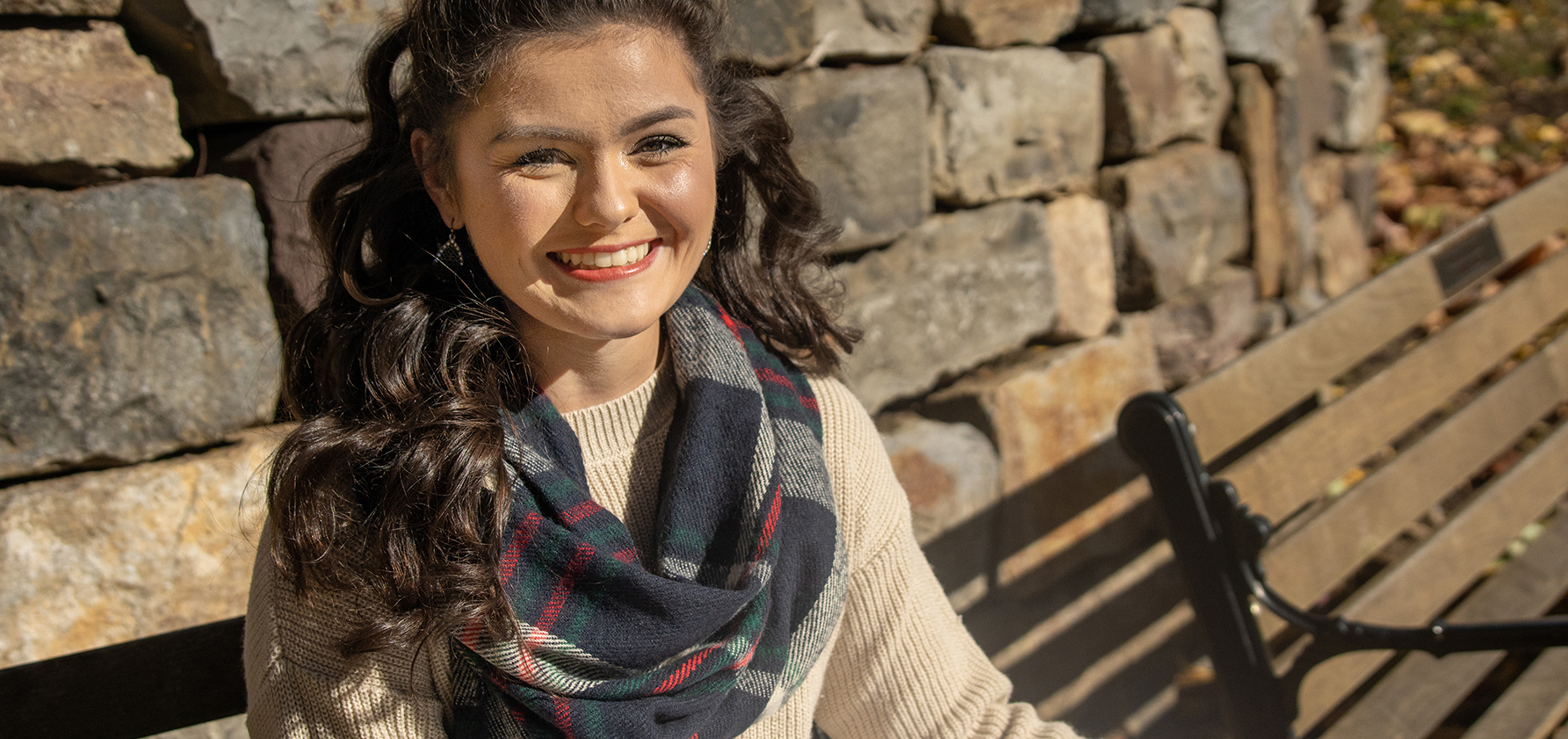 Where did you grow up?
Mount Bethel, Pennsylvania
What is your major and what activities are you involved in?
I am majoring in classical vocal performance, and I am a member of the women's tennis team (recent co-captain) and a tennis pro. I am president of the Moravian College Choir and Women's Choir and also perform in Vocalis, and for three years, I served as a 26-Point Ambassador.
What is one of your favorite songs to sing and why?
Currently, one of my favorite songs to sing is "Wishing You Were Somehow Here Again," from The Phantom of the Opera. I love all of the vocal challenges that the piece has and the journey that the character Christine takes while performing it—definitely my dream role. Another classical piece that I adore is "Donde Lieta," from Puccini's, La Boheme. The score and storyline are written so beautifully and are so lush that words do not do the opera justice.
Share something about yourself that may surprise people.
People are always surprised to learn that I sing classical and musical theatre repertoire and perform, while I also play tennis and work as a tennis pro. I guess people look at those two interests as very opposite. Some people have said I need to choose one focus, but I believe if you have talent and passion in more than one area, you should pursue both. You will make it work if you are determined, hardworking, and most of all, happy taking on multiple pursuits. You only have to answer to yourself.
What is your favorite spot on campus?
My favorite spot on campus is the area within Comenius, Reeves, and Collier. It is so peaceful there, and I love the landscape. That's also where my boyfriend and I took one of our first walks…it was a cold evening and the first snowfall of the season. All of the street lights were on and glowing through the snowflakes.
What is your favorite college tradition?
Heritage Day. I like the concept of giving back to our community, and I love that our administrators believe in integrating Moravian core values that our college was built on into today's student experience.
What's your favorite thing to do when you are not studying?
Playing tennis. If I'm not playing tennis, you will see me getting some fresh air walking through Historic Bethlehem and enjoying the town, scenery, and beautiful homes with my cappuccino from The Joint Coffee Co. On a long weekend, I might take a trip to the Adirondacks to spend time in the mountains or on the lake.
What's your favorite book and why?
Anne of Green Gables by L.M. Montgomery. I have grown up with that book, and have always loved Anne's personality. She is a brilliant, hardworking, determined young girl with some grit. She has definitely inspired me through the years.
What's next after you graduate?
I hope to take a gap year between my undergraduate and graduate degrees. I want to get out into the world and work, building my business and coaching experience while also stepping into some of the auditioning circuits. Ultimately, I want to get my masters of music in classical or musical theatre vocal performance.
Who is your hero?
My heroes are my parents. They are both hardworking and always have the best interests of me and my siblings at heart. They push us to work for what we want, and they give more than they ever should as they support us in our endeavors. They inspire me every day.
What is the best advice you have ever received?
If you want to be successful, surround yourself with successful people. Over the years, I have found that statement to be true, and it provides perspective on the decisions I make. The goal is to be pushed by people who inspire you, who have common goals and values, and whom you can look up to but not compare yourself to.
What makes you happy?
So many things. I am happy when I am performing on a stage, playing on a tennis court, coaching my students, working with the choir, having a voice lesson, being with my family and loved ones, hiking a mountain, or relaxing on a lake. Anywhere where I can do something I am passionate about or be with people I love is where I am most happy. Someday, those places and activities might change, but as long as I can keep doing what I love with the people I love, there is never a reason or excuse to not be grateful or happy.