Dance Company Performs Wild Out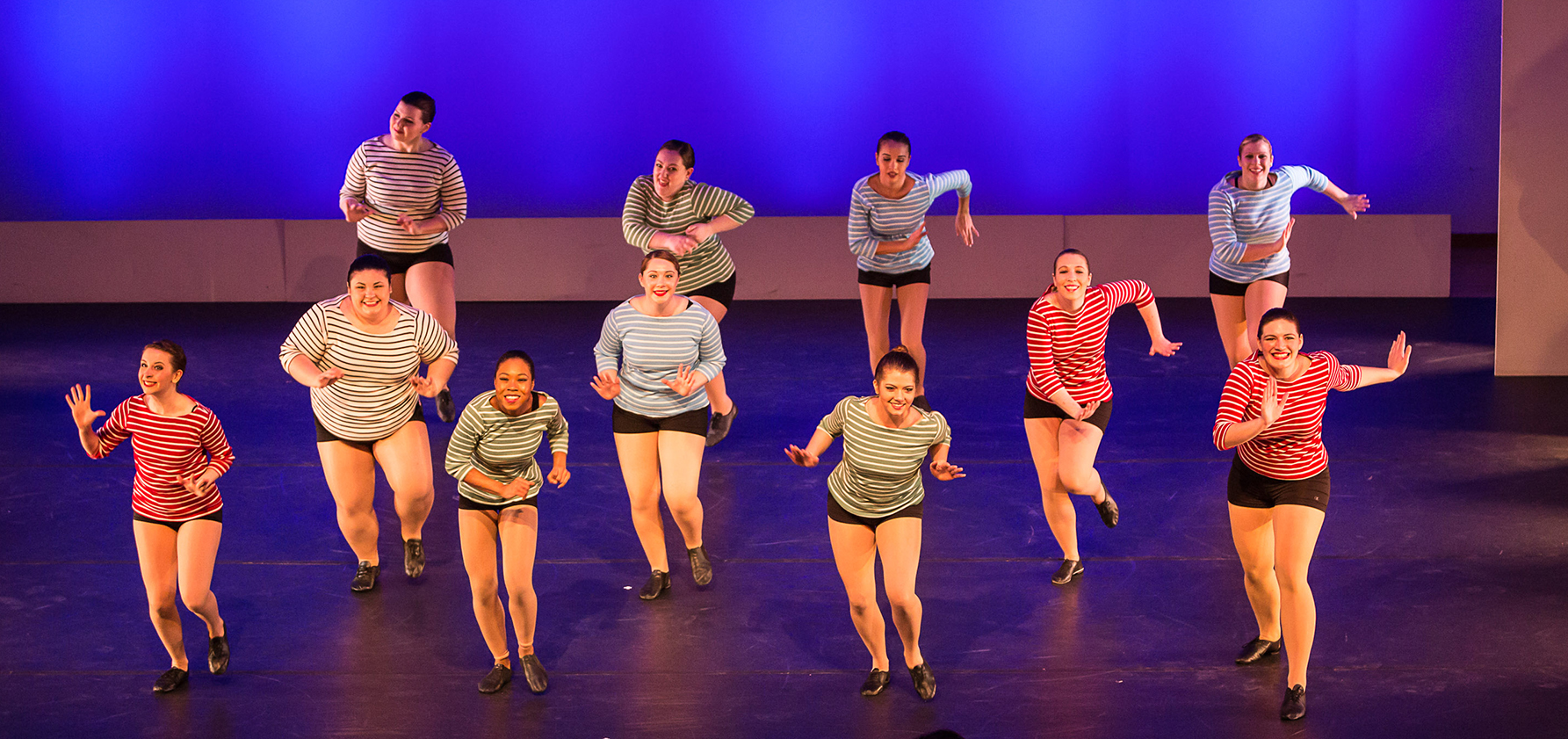 How do we carve a space for joy in the midst of adversity? Jessica Marino, choreographer, teacher, and dancer with STAYCEE PEARL dance project & Sos Sos, has been mulling over this question for months. Then in October of 2018, she attended the exhibit of the installation piece "Flying Girls" by Nigerian artist Peju Alatise at the August Wilson Center in Pittsburgh. The sculpture depicts a circle of girls with wings and birds in flight overhead.
"I'd been thinking about how togetherness and ritual bring a sense of community and joy in the face of devastation," says Marino. "I saw "Flying Girls," and it brought me to tears. The eight life-size black statues spoke to innocence and the power of black girl joy despite the societal atrocities girls may be subjected to in Nigeria."
That experience further inspired Marino's work on the dance piece Wild Out, which will be performed by the Moravian College Dance Company on March 29 and 30. The dance is choreographed to the music from the song "Poinciana," written in the1930's and based on the Cuban folk song "The Song of the Tree." The piece has been performed by various artists over the decades since.
"I chose a 1978 version of the song," says Marino. "I wanted music that would work with my movement—social, street, contemporary but not hip hop. The '78 version has a funk and freedom to it that supported my exploration of social dance vocabularies."
In February, Marino traveled from her current home in Pittsburgh to Bethlehem and spent a weekend working on the piece with the Moravian dancers. She prepared the first rehearsal around getting to know the students in a creative space. She asked the dancers to do some journaling and free association exercises that then prompted structured dance phrases. Though Marino choreographed and directed the whole of Wild Out, she inserted phrases that came out of her work with the students. "The goal, of course, is to make it seamless," she says.
Incorporating student-generated phrases into the piece deepens the experience for the dancers. "It better connects us to the meaning and heart of the piece," says Emily Bolger '20, a mathematics major with economics and self-designed dance minors.
"Working with the students was wonderful," says Marino. "They were open and willing to take this creative journey with me over a very short period of time.
And the students were equally enthusiastic about their experience. "Jessica is thoughtful, creative, and a great leader," says Quinn Matthew '22, a health sciences major who plans to become a physical therapist to dancers. "Working with her made me hungry for developing my artistry as a dancer."
Marino's movement style was new for the Moravian College dancers, but they welcomed the challenge. "As a dancer working with a guest choreographer, that's what you want," says Bolger. Sophomore nursing student Kasey Draude agrees, "It pushed me out of my comfort zone, and I really enjoyed it."
The dance company is also excited to perform Wild Out. "Jess's piece is the embodiment of dance as an art form," says Bolger. "Overall it is upbeat, but there is also an underlying sadness. Showing happiness is easy, showing sadness is easy, the complexity of representing both simultaneously is challenging for us.
"I think audience members who see the performance once will experience the light and happiness of the piece. Those who see it twice will start to chip away at it and discover the underlying pain and theme," Bolger adds. "That's why I think this piece is a true art form. The emotions and the theme aren't obvious. Jess is not trying to get you to understand her individual story, she wants you to think about your story and who you are and what this piece means to you. If we perform it right, I think it can be a very subtly powerful piece."