The Greyhounds of Wall Street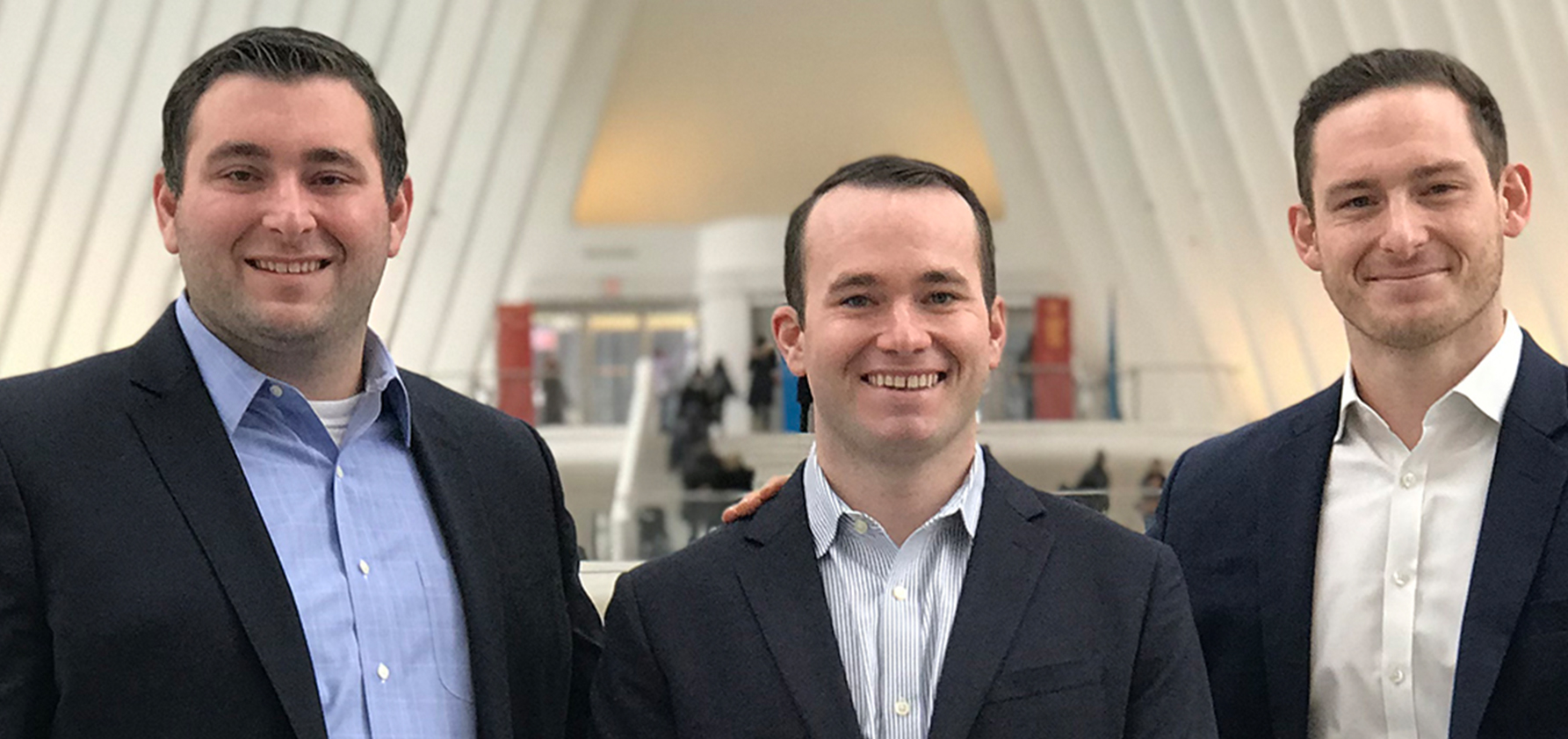 Brothers Bob, Bill, and Kris Kadel (left to right in photo above) spent their boyhood until their teen years in Mt. Arlington, New Jersey. They lived in a house on Kadel Drive, named after their great grandfather. "We came from a blue collar family of builders and carpenters," Bob explains. When the boys were teenagers, the family moved to a larger home in rural Blairstown, New Jersey, where the boys could each have their own bedroom. The Kadel brothers are the first in their family to go to college. All three came to Moravian—Classes of '09, '10, and '11, respectively. All began their careers in the finance industry, and today all have high-powered jobs in New York City.
Bob, a lawyer, is a vice president at Goldman Sachs and works in anti-money-laundering compliance. Bill is a vice president in equity capital markets at Solebury Capital. He advises firms, specifically in health care and biotechnology, who want to go public on the New York Stock Exchange or Nasdaq. Kris is a senior account executive for marketing services at SourceMedia, a B2B media company. He works with health care, financial, and wellness companies to grow their business.
How did all of you decide to come to Moravian?
Bob: I was the first. Current head football coach Jeff Pukszyn recruited me. I visited a few different colleges, but when I came to Moravian, I immediately loved the campus—how friendly it is, the history, the buildings. It was a natural fit.
Bill: Kris and I would visit Bob, and we got a real feel for the campus and were able to plug right into the social scene. We also looked at other schools, but Moravian was it. We both applied early decision.
During 2008 and 2009, all three of you were enrolled in the college, what was that like?
Bob: It was great. We had the same group of friends. We took classes together, often ate dinner together. It felt normal to us—growing up we always hung out together. We have always been known as "the Kadel boys."
Bill: Group dinners were pretty regular. The question was really, Blue and Grey or Caf? And we were definitely a caf crew.
Kris: We even roomed together. I lived with Bill during my freshman year, and then Bill and Bob moved to an off-campus house in 2009.
Clearly, the three of you are very close.
Bob: We grew up with a strong sense of family. We always got along. We're very competitive, but we are each other's best friends and biggest fans. Even in our careers, we exchange ideas and cheer each other's successes.
Bill: And if one falls behind, the others pull him up.
Kris: All three of us played football and lacrosse growing up—often on the same teams. We had each other's back in school and sports. One of our neighbors, a father of four boys, when he'd see us playing—or fighting—outside would ask, "What do brothers do?" We'd reply, "Stick together!" raising our first three fingers together in a gesture of solidarity.
It's a bit of a leap from a blue collar upbringing and rural Blairstown to executive positions in New York City.
Kris: Our Uncle Pat worked at Bear Stearns, and his presence and stories gave us a glimpse of what working in business had to offer. Knowing that you want more in life drives you to work hard for it. I wasn't always set on working in NYC, but I met my wife, Meredith Coleman Kadel '12, at Moravian. After college, I lived with my grandparents in Mt. Arlington and commuted to my job as a finance analyst at Bloomberg in Princeton. Meredith lived with her parents in Chatham, New Jersey, and worked as a mortgage associate at Wells Fargo. Pizza Fridays started to get old, so we decided to move to Hoboken together. A job in the city meant more opportunity and a shorter commute.
Bob: Since the sixth grade, I wanted to work on Wall Street. I knew I would need a graduate degree, and law interested me. I've always been impressed with how lawyers think, the way they analyze situations.
Bill: I took a little bit of a detour. When I graduated, I wanted to work in finance in New York and took a job there, but it was a bad fit, so I left after three months and went to Lake Tahoe, where I worked as a guide on a snowboard hill for several months. Fortunately, I had made connections through the alumni network. Borko Milosev '04 took a meeting with me, as did Dan Corey '05 and Todd James '05, and when I came back I was able to find a job in the city. Mike Zanoni '12, another good friend of mine, also helped a lot. It's really difficult to find work in the finance industry in New York. The jobs are filled with people who have degrees from Ivy League schools, but Moravian is there, too. The alumni network really helped me get where I am today.
What role did Moravian College play in your success?
Bob: Moravian teaches not only the practical skills you need for your career and how to apply them but also the soft skills—connecting with people and communication—that you need to succeed in any job. Combine that with a strong work ethic, and you can compete with anyone. Those things can take you farther than a diploma from an Ivy League school. Without a doubt, Moravian prepared me with what I needed to have a career on Wall Street. I made strong friendships, have the support of the alumni network, and most important, met Meg Ritchey Kadel '08, my wife.
And do you have any other siblings?
Kris: A younger brother, David LoBiondo. He's 12 years younger than I am and is now a junior in high school. He'll be looking at schools soon, so we're excited to see what's next for him.