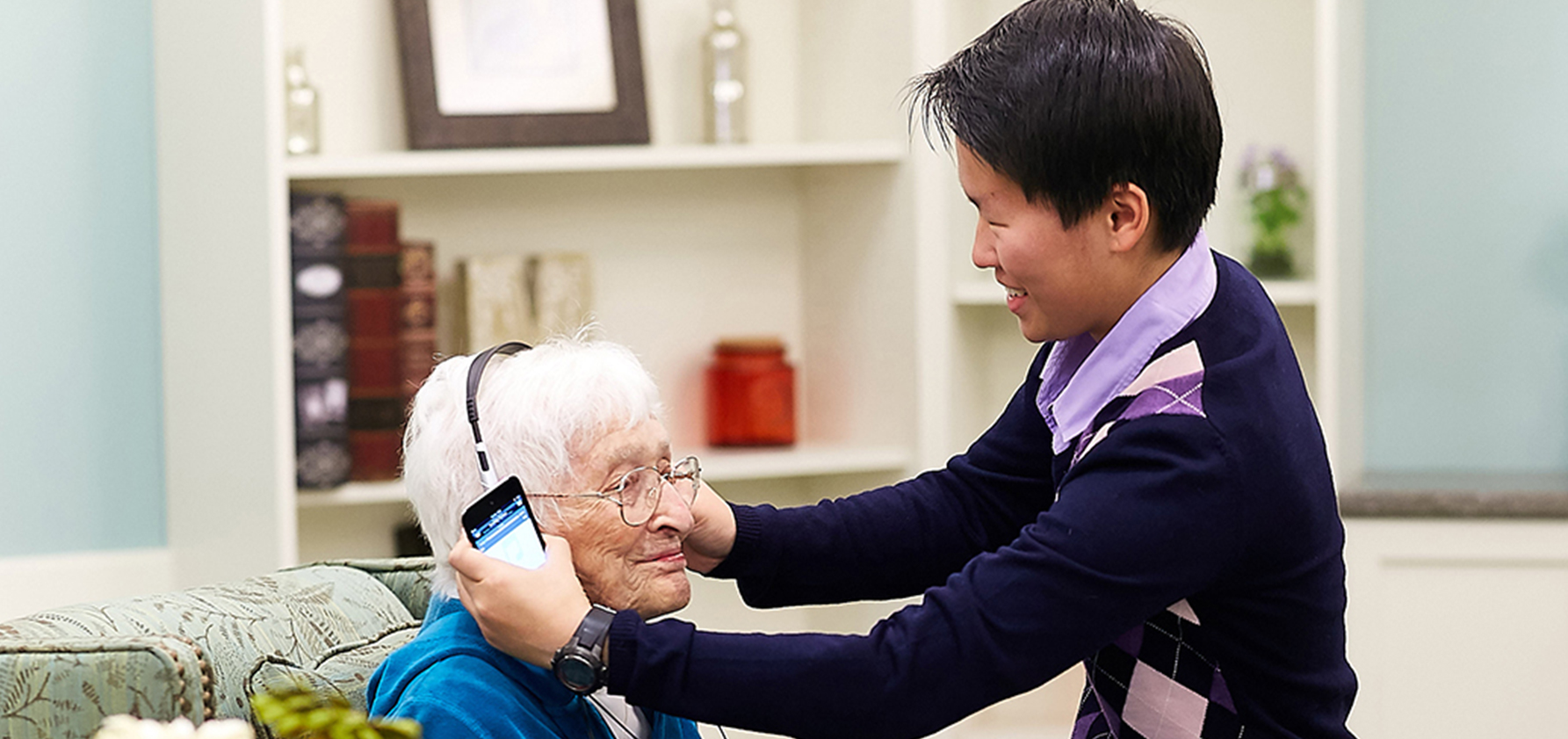 Music evokes emotion, mental imagery, and memory. Hear a song associated with a period or moment from your past and you are transported.
Working from this foundational premise, seven undergraduate students, under the direction of Cecilia M. Fox, Louise E. Juley Professor of Biological Sciences and director of Moravian College's Neuroscience Program, are using music to help improve the quality of life of elderly individuals who struggle with neurological conditions such as dementia or Alzheimer's disease.
Research confirms the association between music and memory (Simmons-Stern, et al., 2012), which opens the way for individuals to engage in meaningful conversation with family and friends as they recall those memories from an event that took place even decades earlier. Furthermore, additional research has demonstrated that listening to personalized music reduces anxiety significantly within the elderly living with a variety of cognitive impairments (Irish et al., 2006, Guetin et al., 2009, Sloboda J, 2009).
These findings support the work of the Music and Memory program, a nonprofit organization that uses personalized music to improve the quality of life of elderly individuals with neurological conditions such as dementia or Alzheimer's disease. Family caregivers and eldercare professionals are trained to introduce personalized music to these individuals—via playlists on iPods and other digital audio devices—in an effort to enhance cognition.
The Music and Memory program formally began in 2008 under the enthusiastic guidance of Executive Director Dan Cohen. As a social worker, he came to realize the important role that music could have in improving the lives of many of his clients in nursing homes throughout greater New York. From this initial idea, and with generous support from a variety of foundations, the Music and Memory program has been implemented in hundreds of eldercare organizations throughout the United States and Canada (for more information, visit www.musicandmemory.org).
Now it is being implemented in the Lehigh Valley. During Moravian College's 2017-18 academic year, Fox worked with students Ben Seitz '18, a double major in music and neuroscience, and Maggie Jones '20, neuroscience, to develop a pilot study that served as a foundation for a grant from the Council of Independent Colleges (CIC) to fund a Moravian Music and Memory program in partnership with Phoebe Ministries. Phoebe is a non-profit organization that specializes in healthcare, housing, and support services for the elderly from a variety of socioeconomic backgrounds. The program introduces, for the first time, personalized music as a best practice in addressing long-term cognitive care for the elderly community in the Lehigh Valley.
During the fall 2018 semester, six undergraduate neuroscience students—Miranda Buskirk '20, Carla Ramos '20, Kate Arner '20, Maggie Jones '20, Kelcey Hill '20, Amanda Fish '20—and one public health major—Jessica Ionescu '19—underwent training through the Music and Memory program and completed several hours of cognition and dementia care training along with an orientation session at Phoebe Richland. The students were then matched with residents who share similar interests and met with their respective residents for about 30 minutes two to three times a week, a time frame suggested by Phoebe Richland to ensure their residents did not become fatigued.
"The students have done a wonderful job getting to know their residents and developing the personalized playlists," Fox says. "They met with me every Tuesday evening as part of a half-unit course, submitted weekly journal entries, and created a meaningful final project to highlight their overall experiences as well as brainstorm ways to improve the implementation of the program for the spring term. I am very proud of their compassion and dedication to interacting with this very special population in our community through this important program."