History of Our Greyhound Mascot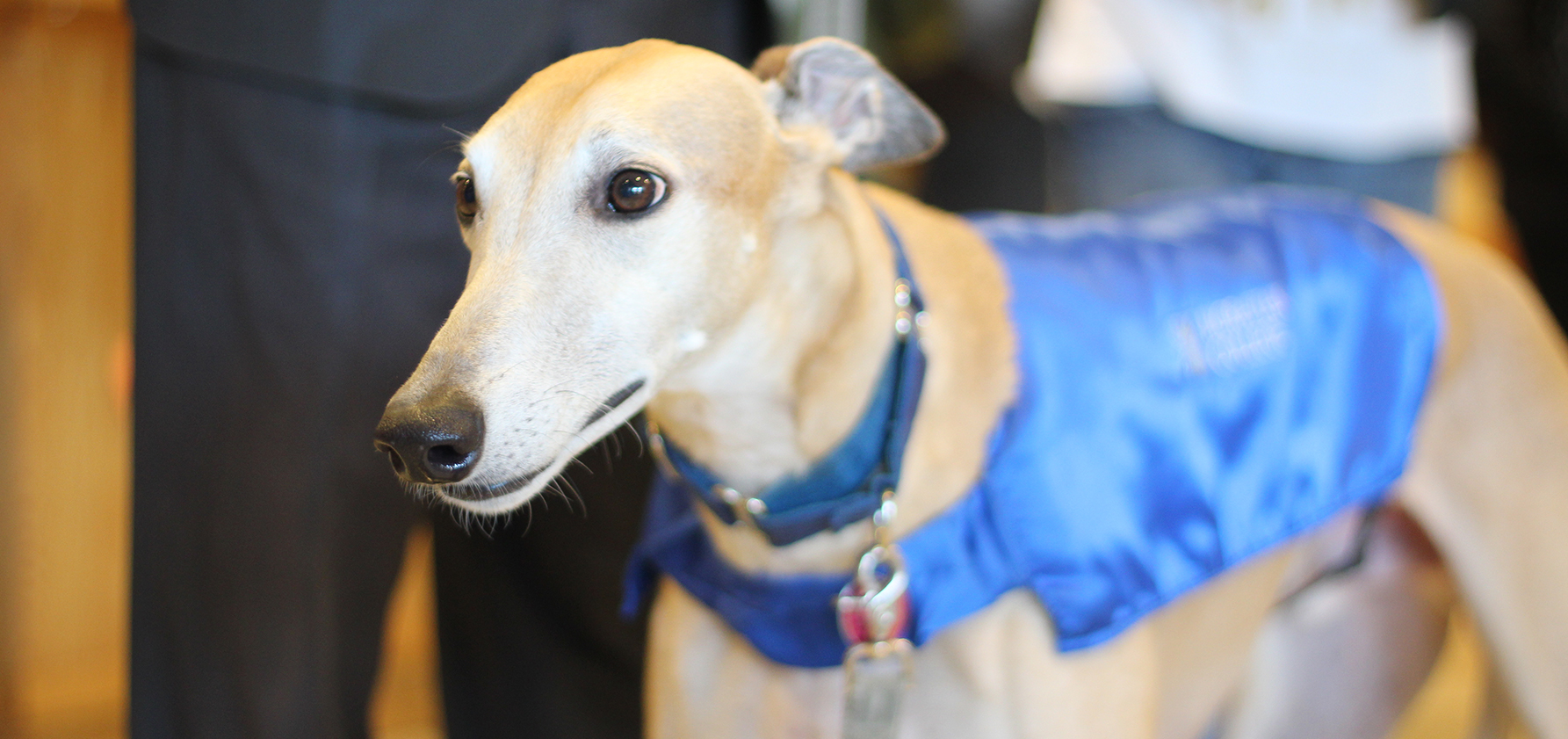 Moravian College is lucky enough to be able to call itself a dog-friendly campus, and students couldn't be more pleased. Our mascot is furry, four-legged, friendly, and fun—one with which students are able to interact. Imagine trying to pet a grizzly bear or a bengal tiger! But how did Moravian settle on Amos the Greyhound as our mascot? Let's race back through history to the early beginnings of the hound pack and find out!
One of five colleges in the United States that utilizes the greyhound mascot, Moravian College named the greyhound its mascot in the 1920s-30s. Amos the Greyhound is named after John Amos Comenius, a Czech Moravian bishop at Central Moravian Church and educational reformer. The current Amos greyhound costume is the fifth generation of mascots for Moravian College.
The first Amos was introduced in the 1960's, but was short lived due to an unfixable injury to his paper mache head. Amos II, nicknamed "Mo-Momentum", vanished after a football game one night and no one has ever found him since then. Amos III, grandfather of our current Amos, was the first mascot to be reintroduced to the college after an extended period of time. He was also the first to have a professionally-made costume. This mascot, however, did not last very long due to a design flaw to his snout that earned him the nickname "Amos the Rat." Amos IV arrived in 1999. This Amos served for many years and retired at a basketball game in December 2009. He sometimes, however, volunteers with his favorite charity, Pocono Greyhound Adoption, which sponsors Moravian's greyhound races at the football games. Amos IV passed his enthusiasm and pride in representing Moravian College to his successor, Amos V, our current mascot.
As far as live mascots goes, our beloved Mo is a uniting factor amongst the campus community and allows us to connect over the fact that we are all hounds! In fact, as evidence for just how awesome our mascot is, The Center for Canine Behavior Studies in Salisbury, Connecticut, invited Mo Grigsby of Moravian College to sit on the Center's Board of Canine Ambassadors. One of Mo's major contributions to the college since becoming a member of the Board was a fund to help students who want to continue their education at Moravian but just can't afford it. Mo's Fund is supported by donations from alumni and other friends and supporters of Moravian College who generously want to help support students' education when they are faced with uncontrollable or unexpected circumstances.
Mo, it seems, was born to run (both charity organizations and physically)! Mo's birth name was Kiowa June Lazy and his sixth birthday is on March 27! His father was a pro racer and legend named sire WW Apple Jax, who won over half of his career races! Mo followed in his family's paw-steps and raced for a short time in Florida, his fastest recorded speed being 30.69 seconds. After retiring from racing, he was relocated in Pennsylvania as a greyhound rescue, where President Bryon Grigsby adopted him in 2013, and Mo became a part of our Moravian family.
But Mo is just the most recent in a line of past greyhounds to leave their paw-prints on Moravian's campus. Moravian College is one of the small handful of colleges across the country to open their football games with an exciting entertainment segment by a live mascot. The greyhound races are popular with fans, students, and guests who come to see college football but don't expect live animals dashing across the field. This famous and cherished tradition began in the 1940s with Omicron Gamma Omega, the college's first established fraternity.
Shiloh and Lightfoot, a pair of rescued greyhounds owned by Linda Davis-Wallen '75, were featured in the fall 2008 issue of "Celebrating Greyhounds Magazine." Davis-Wallen was attending a football game with her hounds in 2004 when other alumni commented that Lightfoot looked like one of the past OGO mascots. They proposed starting up the live greyhound mascot feature again and the renewed greyhound sprints were set to restart in Fall 2005.
In 2017, Mo was immortalized in bronze. The greyhound statue stands majestically watching over the new John Makuvek Turf Field. From OGO to Mo to future greyhounds to come, Moravian will maintain its uniqueness of having a mascot who is naturally lovable by all. As we greyhounds say, "It's a Great day to be a Hound!"