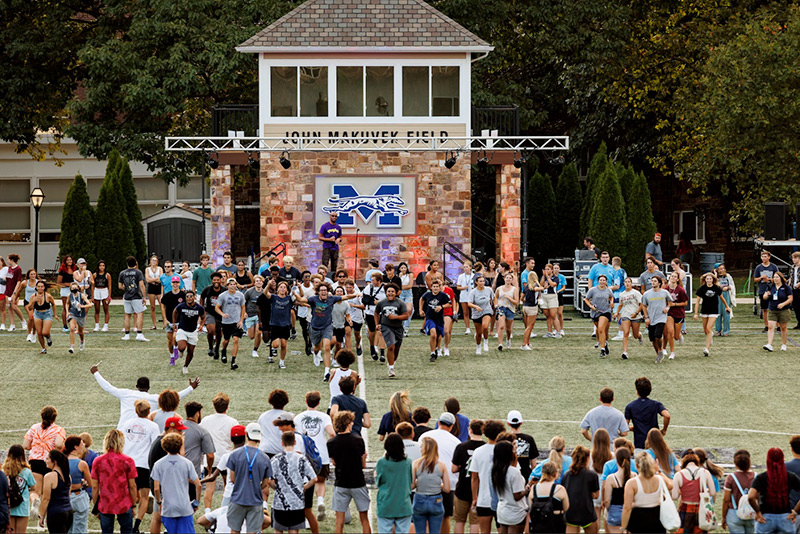 The Class of 2027 shatters the previous enrollment record
BETHLEHEM, PA, August 22, 2023: Today, Moravian University announced it will welcome the largest incoming class in its 281-year history when students arrive on campus on Friday, August 25, 2023. While across the nation, college and university enrollments continue to slide, Moravian's has hit an all-time high. As of August 22, more than 500 first-year students have committed to Moravian, sprinting past the previous record of 486 new students in the fall of 2015. Moravian is also seeing record-breaking enrollment in transfer students at 106.
"It's wonderful to see the years of strategic planning, investment, and hard work pay off in the form of the record-breaking Class of 2027," says Scott Dams, vice president of enrollment and marketing at Moravian University. "I couldn't be happier for the enrollment and marketing team as well as the entire Moravian community. It takes a total university effort to bring in a class of this size, and there are many who have gone above and beyond in their contributions to bringing in the largest class in our history. Hard work really does pay off."
Moravian University has been known for consistently evolving to meet the needs of its students, including launching a new undergraduate experience called Elevate, being named an Apple Distinguished School in 2018, and significantly expanding its graduate and adult education options.
"When I came to an open house, everyone was so welcoming and friendly," says Lanie Nosbich who has been excited about becoming one of the pack ever since that day in August of 2022. "Everywhere you go on campus, people wave and smile at you. And Moravian tells you what most colleges don't—that choosing where to go is about finding the right fit." For Nosbich, the Moravian community is the right fit. Elevate and study abroad, she says, are the icing on the cake.
Media contact:
Moravian University
Michael Corr
Assistant Vice President of Marketing and Communications
corrm@moravian.edu
610.861.1365
About Moravian University
Moravian University is the nation's sixth-oldest university, located in Bethlehem, Pennsylvania, and offers undergraduate and graduate degrees that blend liberal arts with professional programs. For more than 275 years, the Moravian University degree has been preparing students for reflective lives, fulfilling careers, and transformative leadership in a world of change. Moravian University is a member of The New American Colleges and Universities (NAC&U), a national consortium of selective, small to midsize independent colleges and universities dedicated to the purposeful integration of liberal education, professional studies, and civic engagement. Visit moravian.edu to learn more about how the Moravian University focus on education for all prepares its students for life-long success.
#