Design Blast Provides Students Real-World Experience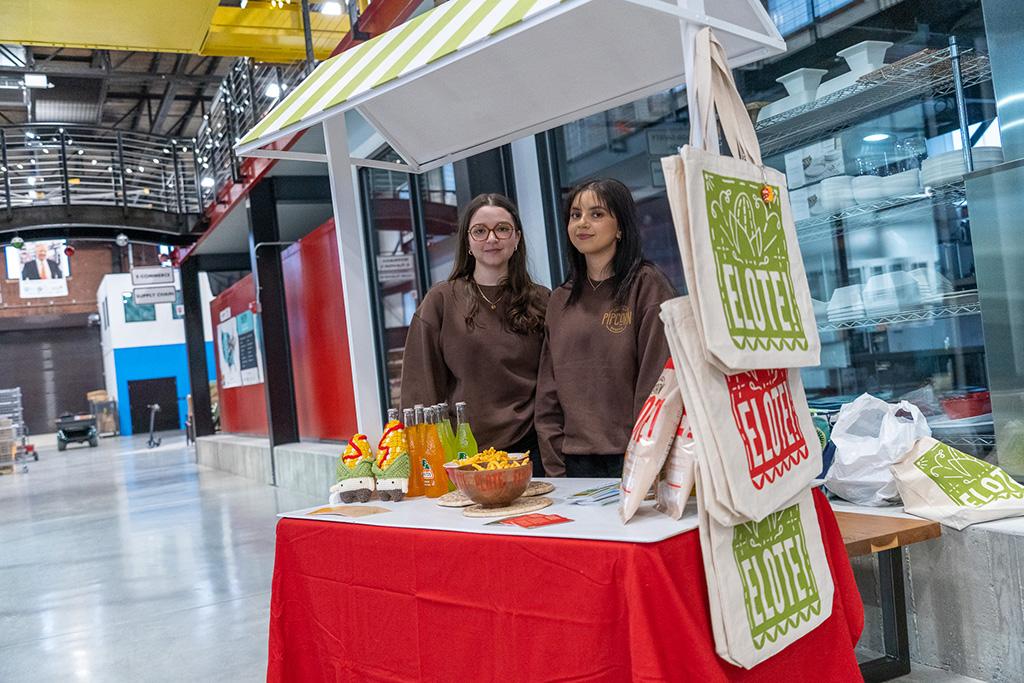 Inside the cavernous office space of Factory LLC, a South Bethlehem-based business that helps startup companies become big brands, a 12-foot presentation screen looms at the far end of the central floor. To the right of the screen, Moravian University students Lila Shokr '23 and Ariana Vargas '24 are building a Mexican food cart, an important element of their project for Design Blast, a Factory-sponsored competition among five teams of graphic design students from ART 331.
The assignment: to create a new product or extend an existing product line of one of Factory's clients—Pipcorn, which makes boutique snacks from heirloom corn. Their offerings include popcorn, cheese balls, crunchies, and twists in a variety of flavors.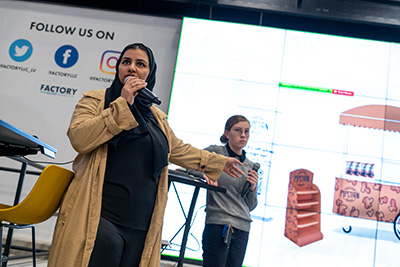 The deliverables: product packaging; a design for a trade-show booth; two promotional items, such as T-shirts, stickers, or pens; a nine-post Instagram grid with eight posts promoting the new product and one post promoting the product at a snack expo; and one printed informational card about the snack.
The work: know the Pipcorn brand, envision new products, research the best idea, develop branding and marketing, produce the deliverables, and present the new product, its brand identity, and marketing strategy to Factory judges: graphic designers Trey Adams '21 and Liz Mogollan '20, art director John Stetz, and creative lead Eric Deutsch. Judges met with students over the course of the project to present the assignment and advise them on their best idea for a new line of snacks.
Drawing on Mexican heritage and culture and inspired by Mexican street carts, Shokr and Vargas earned first place with chile- and lime-flavored Elote! Crunchies. "Their presentation was the most well-rounded, knocking it out of the park for each mandatory deliverable. From the research behind their product choice to the execution of their trade show booth, every aspect was well thought out and polished," says Stetz. "I could envision their booth and marketing collateral presenting very well at a real-world trade show."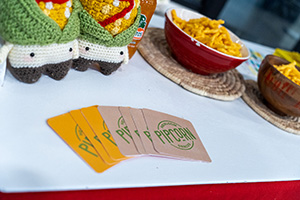 Second place went to seniors Shane Houghton and Daniel Jenkins for Honey Habanero Pipcorn. Dressed as beekeepers, Houghton and Jenkins gave a lively, fun-filled presentation that included their design for an elaborate trade-show booth incorporating honeycomb and other beehive-related elements. "They really excelled at presenting," says Camille Murphy, associate professor of art, who leads the graphic & interactive design track. "Their verbal presentation was compelling and had the audience's full attention.
"All of the teams did exceptional work and hopefully learned a lot from the class," she adds.
Caitlin Krum '23, Camille Stanley '23, and Salma Aljafri '22 presented Choco Pipcorn. Erica Holbin '23 and Natalie Preiss '23 developed Lemon Pepper Pipcorn, and seniors Helen Ashbrook and Riley Gallagher conceived of a mix of several Pipcorn snacks with Pip Mix. (BTW, judges and visitors received samples of all the new snacks.)
The winning team of Shokr and Vargas was awarded an engraved trophy, $200 per person, and paid design internships for the spring semester. But the greatest rewards were the learning, development of new skills, and the experience from start to finish, which all students gained.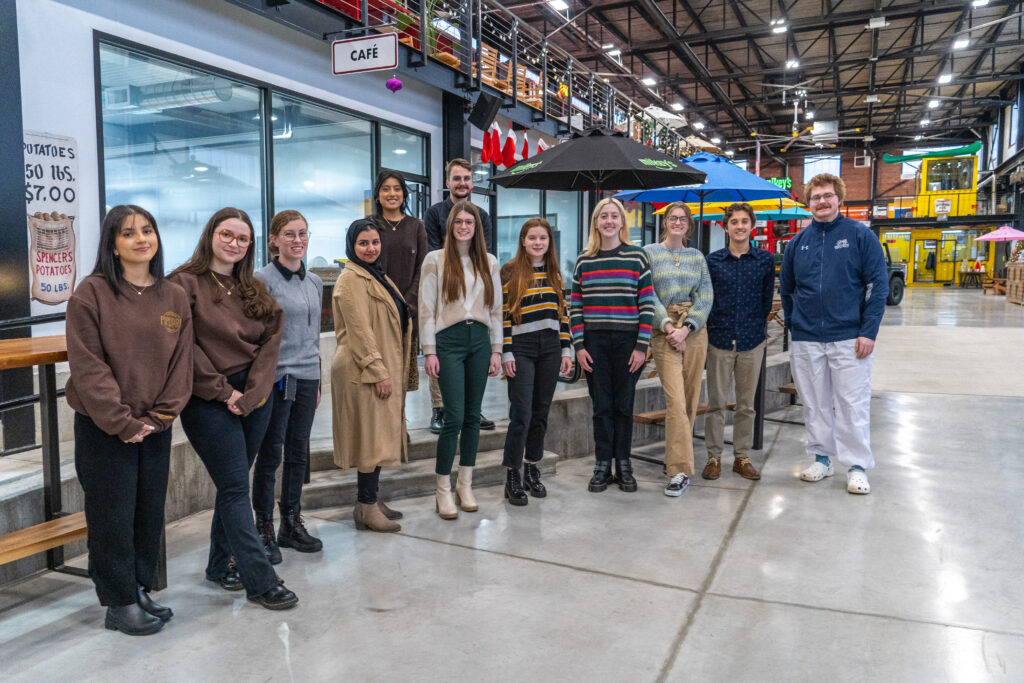 "I really enjoyed the process of creating and pitching ideas to a client within the realm of food packaging," says Shokr. "I also appreciated how the project included so many disciplines, from package design to a trade-show booth. Learning about the experience of designing a trade-show booth that brings together retailers and producers was new to me and furthered my understanding of experiential design. Design Blast expanded our creative thinking and was extremely valuable in building career skills for the future."
Vargas is equally enthusiastic about Design Blast. "I really enjoyed creating an experience out of this project whether it was through the digital or physical elements we built," she says. "I gained a lot more knowledge on what it is to work with a real client and receive a real design brief. This was also the first time I did packaging design, and working with a Pipcorn product helped me gain a better hands-on understanding of how to work within existing brand guidelines while also coming up with fresh, new ideas. I learned new skills, including how to follow a dieline—a template needed for the correct layout of a final package design—and how to pitch and sell an idea to real clients. This experience has made me a better designer."