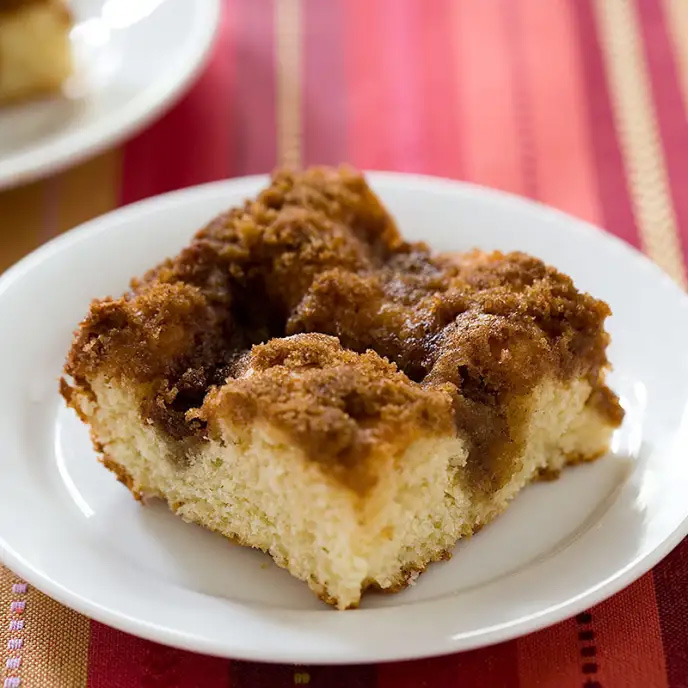 It has no religious or cultural significance, but this cake has been a favorite in the Moravian community for more than a century. It is most often served during the holidays and especially at Christmastime.
For the cake
1 cup hot mashed potatoes (you can use instant potatoes)
1 cup sugar
¾ teaspoon salt
1 yeast cake dissolved in 1 cup lukewarm water
½ cup butter, melted or softened
¼ cup lard, melted
2 eggs, beaten with fork
4 cups flour, sifted
For the topping
¼ pound butter, well chilled, cut into ½-inch chips
1 pound light brown sugar
Cinnamon, to taste
To make the cake
Combine the potatoes and sugar. Mash until the sugar dissolves. Add the salt, yeast, butter, lard, and eggs, stirring well after each addition. Add sifted flour to the dough until smooth. Place the dough in a large pan and cover with a towel. Let the dough rise for 5 hours in a warm place.
Grease the bottom of two 8-by-8-inch pans or two pie pans. Spoon the batter about ½ inch deep into the pans. Let rise for about 1 hour until puffy.
To make the topping
Punch holes about 1 inch apart in the dough, put a chip of cold butter in each hole, and top each butter chip with brown sugar. Press the sugar and butter into the hole, but not too deeply, or the sugar will sink to the bottom.
Top with the remaining sugar and the cinnamon. Bake at 350°F for about 25 minutes.