Katie Creighton, Videographer and Photographer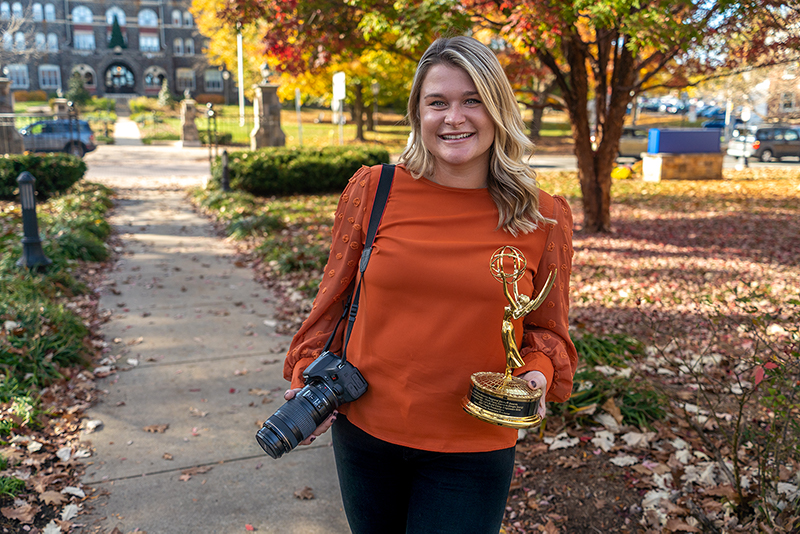 Katie Creighton is the newest member of the marketing and communications team. You've likely seen her around campus filming or photographing. She has taken more than 300 headshots of faculty, staff, and students. Inside Moravian thought you'd like to get to know a little bit about this ubiquitous member of our community, so we asked her a few questions.
What drew you to your profession, and what do you enjoy most about your job?
I was drawn to the world of video when I was younger, probably around when YouTube was becoming popular. I was a competitive cheerleader most of my childhood and teen years and loved making videos of our team at practice and competitions. In high school, I took a digital production class that I liked and decided then that I wanted to pursue video production in college. What I enjoy most about what I do is being creative through video and photography and telling a story visually.
Share something about yourself that people may not know.
By the age of 26, I had won two Emmy Awards and have been nominated five times.
What is your favorite spot on campus?
Comenius Hall/Main Street because of how beautiful the trees look throughout the seasons!
What's your favorite thing to do when you have free time?
Outside of work, I have a lot of hobbies that I try my best to keep up with. I play the guitar, love to craft (especially with my Cricut machine). During the summer, I water ski, sail, and love going out on our family's boat.
I can never resist a good­­­_____.
Charcuterie board (bonus points if there are pickles!)
Who inspires you and why?
Personally, I am inspired by my parents, and professionally, I am inspired by other women in media. Generally, the media industry is dominated by men, so I love seeing women behind the camera or in the director's chair.
What is the best advice you have ever received?
"Be patient with yourself" and the cliché, "everything always works out in the end."
Share something that makes you happy.
My friends, family, and being at the beach all make me happy and fill my cup!