MU at UN Climate Change Conference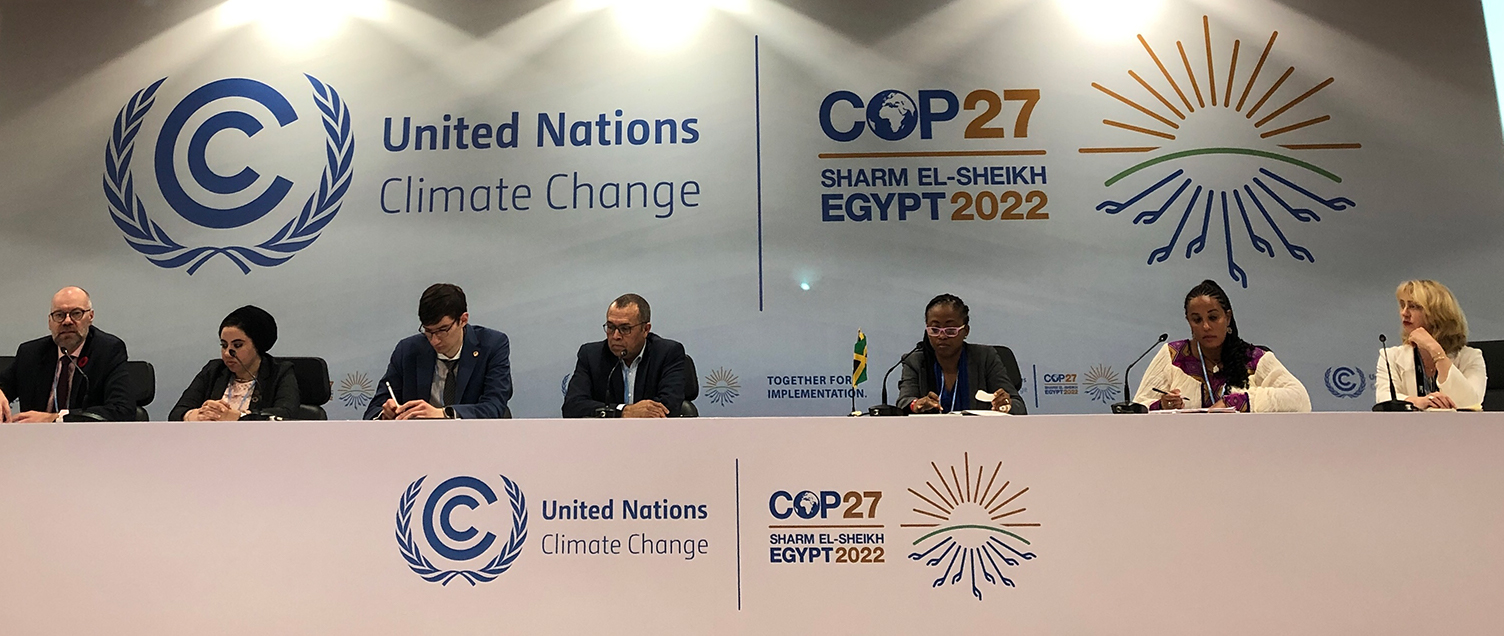 Every year since 2009, Diane Husic, professor of biology and dean of the Center for Scholarship, Research, and Creative Endeavors, and Hilde Binford, associate professor of music, lead a delegation of Moravian University students to the United Nations climate change conference (formally the Conference of the Parties to the United Nations Framework Convention on Climate Change [UNFCCC]).
Moravian University is one of only six private liberal arts colleges accredited to serve as civil society observers, putting our students in a rather exclusive group of undergraduates. "The large universities take graduate and law-school students," says Husic. "It is very unusual to encounter undergraduates from these institutions."
Husic and Binford attended this year's conference in Sharm el-Sheik, Egypt, but because of the State Department security risk level for Egypt, students did not join them. The climate negotiations class, however, followed sessions and activities that were live-streamed and had access to an array of daily newsletters and UN draft documents. The event opened on November 6 and concluded on Friday the 18th.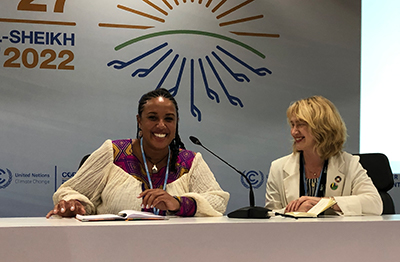 One of the events featured alumna Sarabeth Brockley '10, who frequently attends the conference and this year joined a panel titled "Utilizing Expertise of the Youth to Bridge the Science-Policy Divide and Improve Access to Finance." Moravian University was a partner in developing the event.
Brockley is the lead advisor for carbon markets and Environmental, Social, and Governance (ESG) at Nasdaq. In this role, she leads Nasdaq's Carbon Strategy advisory practice, helping companies analyze, assess, and act on Climate Risk and ESG programs with the goals of navigating value chain management, attracting long-term capital, and enhancing value creation (creating value for customers, investors, and employees).
Brockley was joined by the following speakers: Cedrick Frolick of the National Assembly, South Africa; Stephen de Boer, assistant deputy minister, Environment and Climate Change, Canada; Andrea Clayton, Caribbean Maritime University, Jamaica; Kirils Holstovs, World Federation of Engineering Organizations, United Kingdom; and Amira Saber, parliament member, and secretary general of the foreign relations committee, Egypt. The panel was moderated by Danae Kyriakopoulou, London School of Economics and Political Science.
As described by the Association of Commonwealth Universities, one of the organizers of the event, the discussion centered on the following:
Young people have been pivotal in elevating a number of critical issues to the forefront of political agendas through a combination of activism, advocacy, and thought leadership.
However, it is paramount that all barriers to further youth engagement and agency are reduced or eliminated to establish, highlight, and advance the youth agenda at all levels of political engagement. The benefits of youth inclusion in decision-making rest on the fact that they possess perspective, knowledge and expertise which can engage lawmakers to produce the required structural change for tackling the emerging climate issues.
The event featured an intergenerational dialogue between lawmakers and young leaders and provided case studies from across the world (with perspectives from developed and developing countries, small island developing states, and least-developed countries). The conversation was solution-oriented and held in the context of bridging the science-policy divide and improving access to climate finance, with identification of barriers and opportunities.
Visit the blog Moravian University at the UNFCCC to learn more about this year's climate change conference and read perspectives from Husic and Binford.