Marks of Courage, Victories from Strength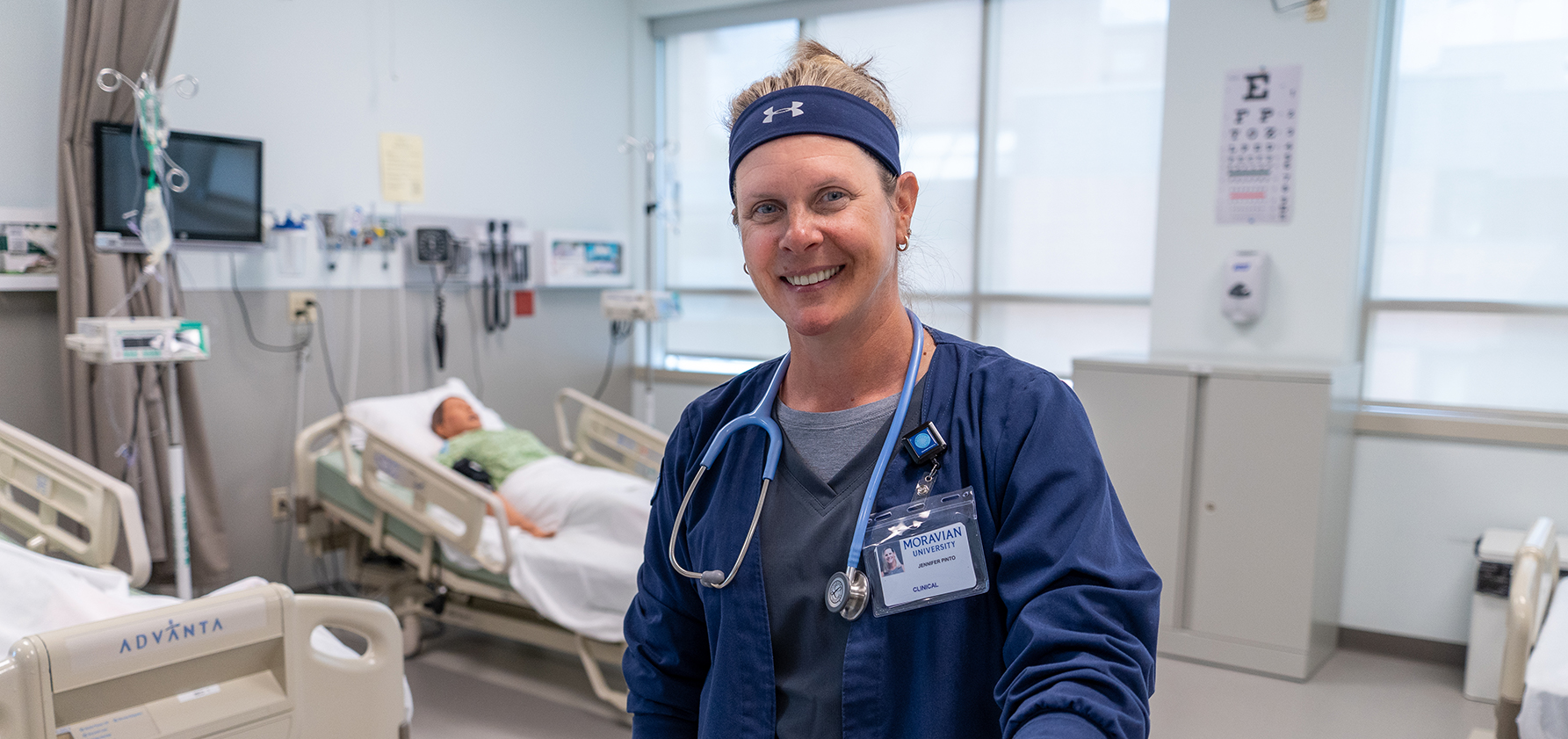 Jennifer Pinto '23 won her battle with breast cancer and is 10 years cancer free. The wife of Joe Pinto '96 and mother of 17-year-old Alexa is now forging ahead through the rigorous academic curriculum required to earn her nursing degree. For her recent clinical work with cancer patients at Lehigh Valley Health Network (LVHN), Cedar Crest, Pinto received the Everyday Hero award, presented by the Nursing Transition to Practice team of LVHN's Department of Education. Inside Moravian wanted to learn more about this remarkable woman, so we asked her a few questions about her interests, inspiration, and Moravian Experience.
How did you become interested in nursing?
I have always had a desire to help people, but my breast cancer diagnosis and the journey afterward is what really inspired me to pursue a career as a nurse. Every treatment allowed me to analyze my life. I often thought about what else I wanted to accomplish, what I hoped I was still around to witness for my loved ones, and how I wanted to leave my mark on this earth. Part of me wonders if I never had this diagnosis, would I be where I am today? I am still in disbelief that I am going to be graduating this May with my BSN from Moravian. Nursing was a fear of mine. I used to ask myself, "Do I have what it takes to become a nurse?" Now, the career that I have been studying for the last three years fits me perfectly. Things happen in life, and while sometimes unexpected, they are meant to teach us something—even if it is difficult to see during the process.
Not everyone is given a second chance, an opportunity to fulfill their dreams. While I would prefer not to be a statistic, I repeatedly tell myself that I am fortunate to be on the positive side of a statistic. Because of that, I will continue to live my life to its fullest potential. No one volunteers to be diagnosed with any disease. My goal was to walk away from my cancer a better person. I wanted to give back to a profession that has given so much to me. This is what inspired me to go back to school for nursing. I will always be grateful for the nurses and medical team that were a part of my care.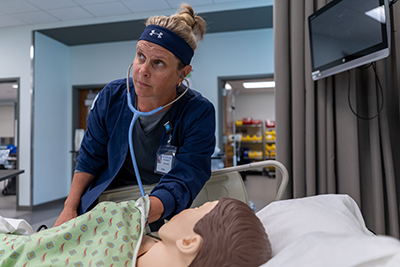 Briefly describe your experience in the nursing program.
Currently, I am a senior nursing student, however, I was one of four students that transferred into the program sophomore year. My experience in the nursing program has been everything I thought it would be and more. The faculty truly care about their students and abilities. Throughout this entire process, I have had nothing but guidance and support to be successful in the program. The faculty genuinely have gone out of their way to make us comfortable not only with the coursework but also in our clinical settings.
Are you involved in any extra-curricular activities?
Given that I am the oldest student in my nursing class, I am not particularly involved in the traditional university life. However, I do enjoy rooting for my classmates in all their athletic endeavors.
What have you learned about yourself during your time at Moravian?
I have learned that I can do anything that I put my mind to. It has been quite a challenge for me as an older college student. Not only am I returning to the classroom, but I am also putting myself through a rigorous curriculum while maintaining my daily life as a wife and mother. In the end, I have learned that you must look at the bigger picture in life and appreciate everything it has to offer. It is easy to get in your head and believe the doubts that may arise but pushing through your vulnerabilities is really where the greatest learning is achieved.
Tell us about one of the best experiences you've had at Moravian.
Every day of my time at Moravian has been an absolute joy. At the risk of sounding cliché, each day has been rewarding for me. Not many people have this type of opportunity or a second chance to further their education. I have used this time to soak it all in—the atmosphere, the coursework, the clinical opportunities, and relationships with my classmates and faculty.
Share something about yourself that may surprise people.
Something that not many people know about me is my love of theatre and my singing ability. I have performed at numerous charity functions.
What is your favorite thing to do when you're not studying?
Aside from spending time with my family and friends, golf has really been an outlet for me. I am an avid golfer and would love to play competitively someday.
What is the best advice you have every received or a quote that stays with you?
Athletics has always been a part of my life[KC1] . I was a three-sport four-year varsity athlete at Northampton High School. I ran cross-country and played basketball and softball. I continued my love of athletics by coaching softball at high school and collegiate levels. The life lessons athletics taught me are what inspired me to push through my breast cancer diagnosis. Upon reaching my survivorship and volunteering to help others through their own treatments, I have come up with this: "When you fight cancer, there is no room for second place."
What's next after you graduate?
Upon graduation I plan to work for a local healthcare network as an oncology nurse and further my education as a pre-hospital registered nurse.
Is there anything else you would like to share?
I would like to acknowledge and thank Erika Mondok, director of transfer enrollment admissions. Erika was my first impression of Moravian University. She listened to my story, believed that I would be able to complete this program, and has kept in contact throughout my journey. I am most appreciative of her wanting to take a chance on me.
---