Cielo Disla '25 Rocked A Research-Filled Summer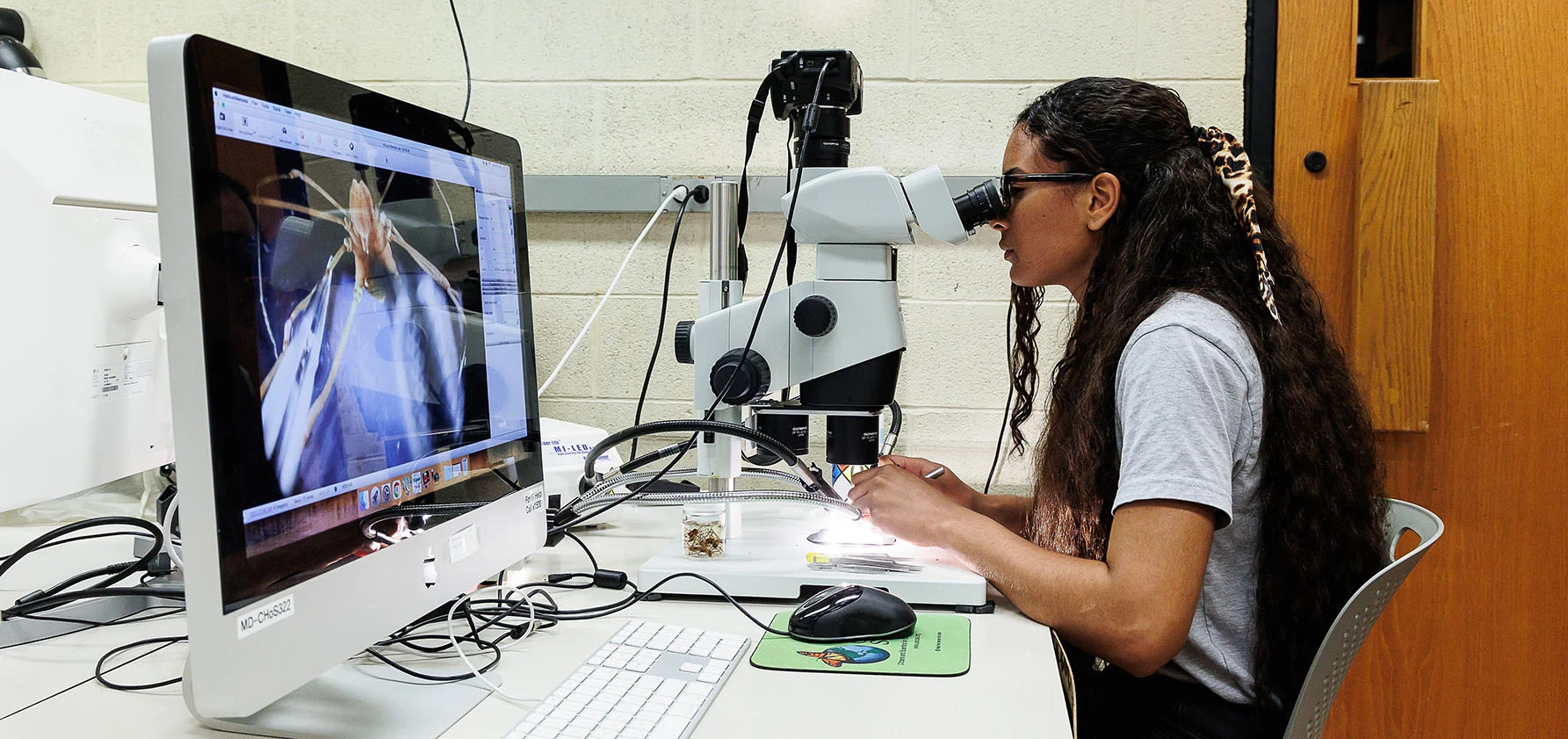 Biology and secondary education major Cielo Disla always had a passion for studying the world around her and sharing her knowledge with others. During the summer of 2022, she pursued both these passions.
Disla participated in the Rocky Mountains Sustainability and Science Network (RMSSN), a program that provides student leaders the opportunity to conduct research concerning emerging issues in sustainability and protection of natural resources in the settings of the nation's National Parks. She worked with federal and state agencies as part of a pollinator team in Yellowstone and Grand Teton National Parks to research pollinators' abundance in our national parks and how best to protect them. This project lies close to her heart as she wishes that "more diverse populations of students emerge as leaders and learn about protecting our natural resources, sustainability, and what impacts our environment."
Disla also completed a 10-week SOAR (Student Opportunities for Academic Research) project co-sponsored by DEI. Working with Daniel Proud, assistant professor of biology, she studied harvestmen, commonly known as daddy longlegs, in the islands of Puerto Rico, Cuba, and Jamaica. Through her research, she discovered a new species!
"Dr. Proud and I are thinking of naming it Borikenia yuizana because we want to honor the indigenous groups in the islands. Yuiza was the female Tainos (native Caribbean tribe) leader. Boriken means Puerto Rico," Disla explains.
She presented her preliminary findings at the Landmark Conference Research Symposium hosted by Moravian University on July 21, 2020.
 A core aspect of her research has been applying knowledge she learned in the classroom to hands-on experiences. "Foundations of biology was a huge help since it set the groundwork for my project. I learned how to extract DNA and how to look at a phylogenetics tree. The SOAR project took those skills to a deeper level."
One of Disla's main takeaways from these projects was that completing a research project is attainable and that stepping out of one's comfort zone allows one to learn and grow. "Research wasn't on my radar as a first-year student," she says. "I want to encourage first-year students to be brave and reach out to your advisors or professors about doing a research project. You don't have to have a background in research, and you can always learn and develop skills."
She also cites presentation and communication as important skills she learned over the summer. "Making the information relatable and accessible and explaining why it is important is crucial. Then you can share that knowledge with others."
This is exactly what Disla hopes to achieve in her future career. She ultimately wants to take her research and incorporate it into a classroom to allow her own students to feel that excitement about learning and research and how they can grow as learners.
"The RMSSN program introduced me to the term 'citizen science' and got me thinking about the importance of diverse populations of students being involved in research and addressing emerging issues that affect us all.
Disla attributes being a first-generation student and a desire to honor her mother as motivation for seeking out research and learning opportunities. "My mother loved learning but was not able to finish college in the Dominican Republic. However, she always encouraged me to see things through and find resources and connections, because she wasn't able to do that. I want to take advantage of the resources I have now to continue to evolve and make her proud."
Some final words of advice she has for her peers are to take advantage of all the different resources Moravian offers such as the Elevate program, study abroad, SOAR, independent studies, and honors.