New Course in Emergency Medical Training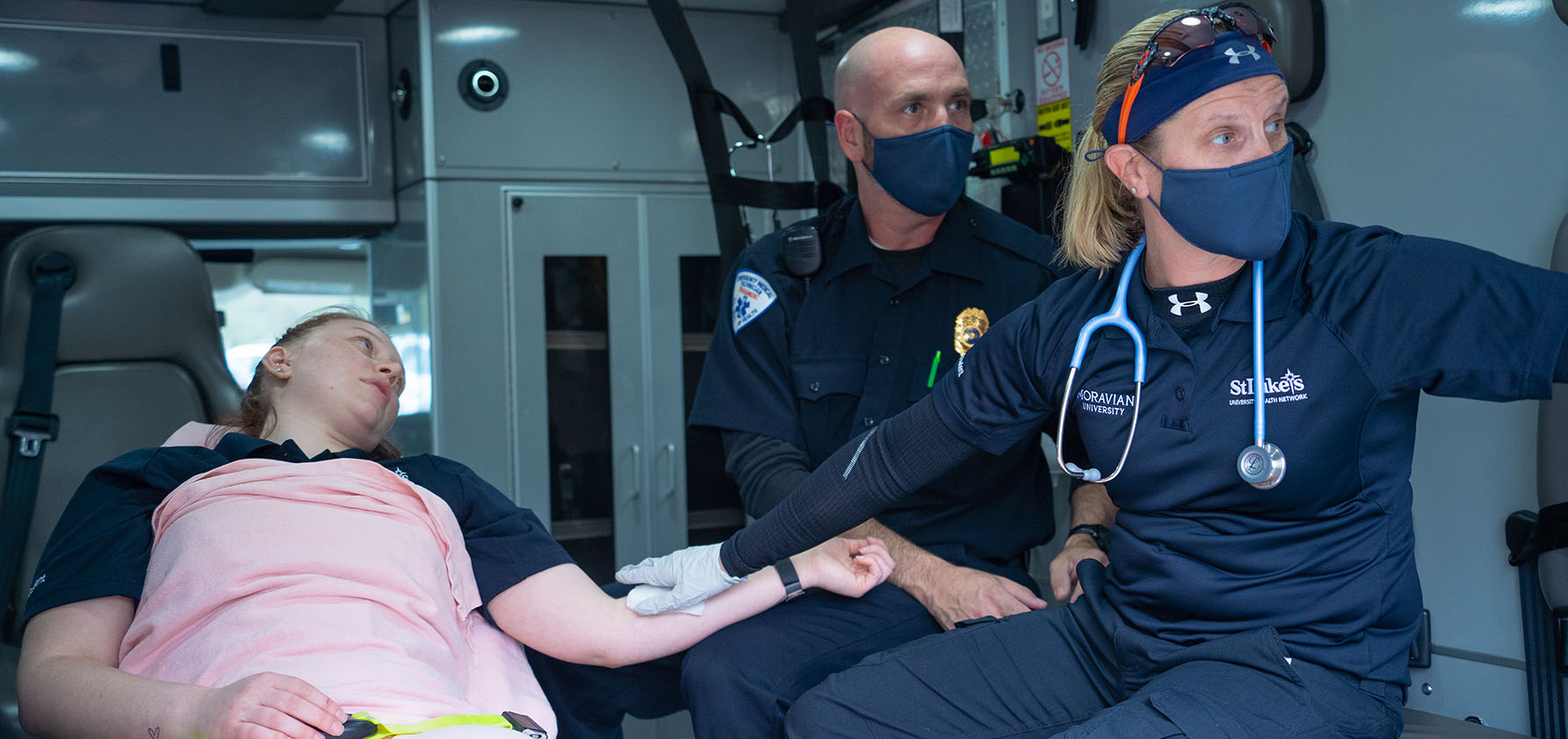 The Lehigh Valley needs more emergency medical technicians (EMTs). Consider that in April of this year, Indeed listed more than 40 job openings for EMTs in the Lehigh Valley. In response, Moravian University, in partnership with St. Luke's University Health Network, launched a semester-long course for emergency medical technician training in spring of this year.
Ellen Payne, assistant professor of athletic training and an EMT herself, taught emergency medical training prior to coming to Moravian and was tapped to teach our students. Accreditation came in November 2021, and the first class of 12 undergraduate students began their study in January 2022.
Adjunct professor, Mike Snyder, co-teaches the course, which meets from 6 to 10 pm on Tuesdays and Thursdays. By day, Snyder works full time for Bethlehem Township as a paramedic and director of education.
The syllabus includes lecture and lots of hands-on skills training, including applying those skills and learning in scenarios with actor-patients. Students also rotate through clinical experiences in the emergency department at St. Luke's University Health Network and on a Bethlehem Township ambulance. Next year, an additional ambulance experience will be offered through St. Luke's. At completion of the course, students are eligible to take tests for state and national certification.
Of the dozen students, six are aspiring nurses. The rest come out of neuroscience, biology, premed, environmental science, athletic training, and business.
Will Melick '23 is majoring in business management and is a volunteer firefighter at home. "Being an EMT will make me a better firefighter," he says. "After I graduate, I plan to work on our family farm, but emergency medical training also opens up potential career opportunities down the road."
Emily Hoven '23 is pursing nursing with a minor in public health. She has always been interested in emergency medical training and has been a member of her local fire department for seven years. "My dad is a fire fighter in the same department, and he has always been my hero," says Hoven. "Ever since deciding to become a nurse, emergency medicine has intrigued me more than anything.
"I have loved this class," she says. "It is a lot of work, but it is so worth it. We learn various skills and get experience on an ambulance and in the emergency room. I also love how we have bonded into this little family."
Nursing student Payce Korpics '24 wants to become a trauma nurse and plans to work as an EMT during summers and breaks to help finance her Moravian education. "I love helping people," she says. "Getting hospital experience while also training and working to be a nurse not only gives me a well-rounded education but puts a different perspective on all that goes into healthcare.
"The best thing about this class is they throw you right into it," Korpics adds. "We learn how to splint people, how to use back boards, how to assess wounds, and we learn all of this by doing. Most of the class is physical, hands-on work. Anyone can sit and read a textbook, but our instructors have taught us to how apply these skills in real life. The EMTs I have worked with have been so welcoming and eager to teach us, and the field experience has been eye-opening and gets me excited that I am going to be right along with those EMTs in a few months, running calls and saving lives."
Moravian's EMT course will be offered again in spring of 2023 open to 24 students, with plans to expand into additional semesters.
VIEW THE EMERGENCY MEDICAL TRAINING GALLERY with images from the spring 2022 class.