Community Partner: Bloom for Women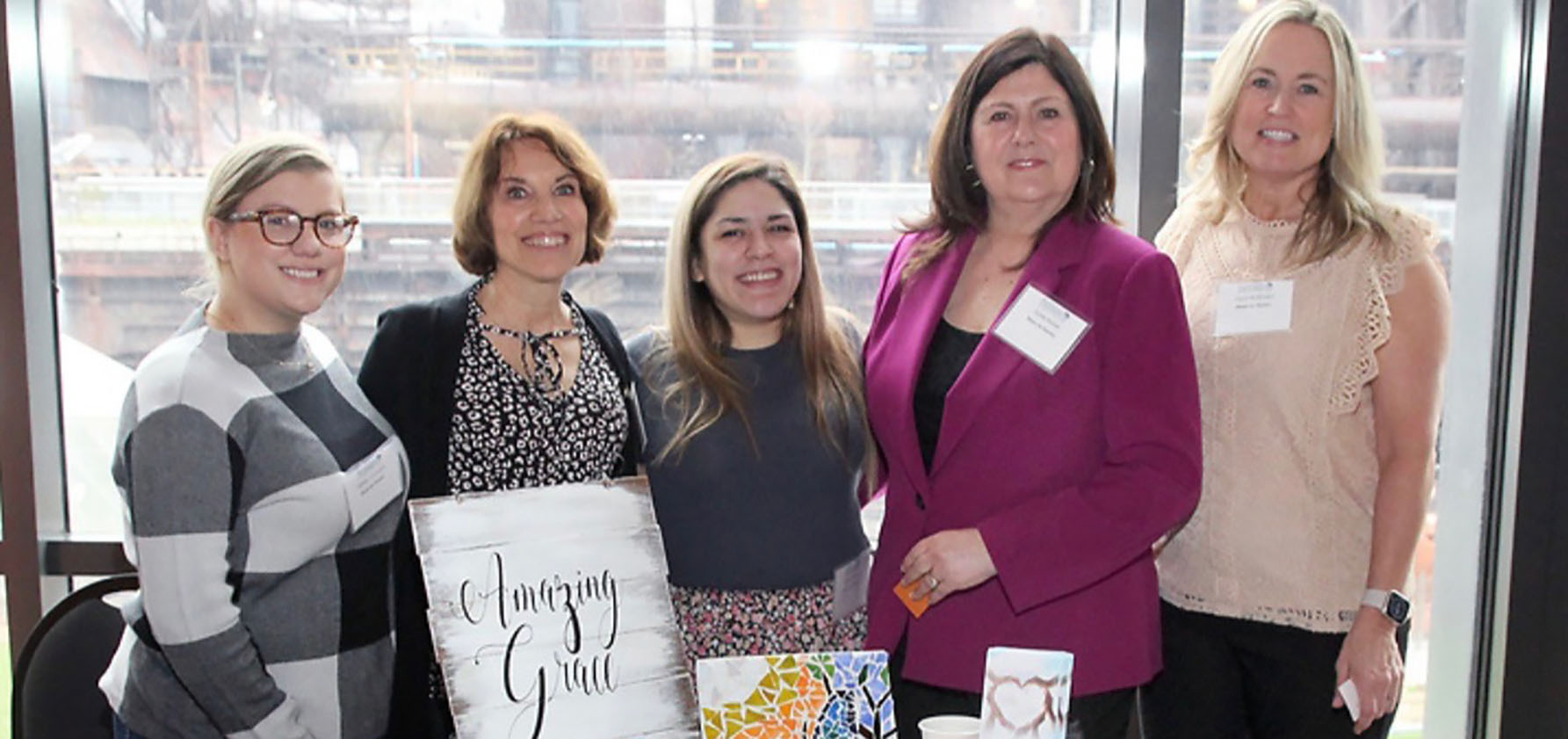 Above, the staff of Bloom for Women, from left to right: Ashley Caravello, case manager; Lorna Locascio-Clause, director of programs; Alyssa Santana, case manager; Vickie Nisbet, director of development; Carol Andersen, CEO.
---
Inside Moravian spoke with Lorna Clause, director of programs at Bloom for Women about their mission and their work.
Bloom for Women offers sanctuary and a continuum of care to heal, empower, and employ women survivors of sex trafficking, sexual exploitation, and addiction. Bloom supports women in their healing process and in creating a new future through our residential programs.
We have two long-term residential programs and two independent-living homes. These homes are based on our national sister community, Thistle Farms, in Nashville. The homes in the Lehigh Valley support women survivors of sex trafficking throughout their journey, helping them to start over and begin to heal and providing them with the hope to transition to a life of freedom.
The Heather House and the Jasmine House (13 beds in total) are two-year therapeutic- and recovery-focused programs. Survivors are provided with opportunities for vocational training, education, and employment. There are no onsite staff, but we provide structured support.
The Lilac and Lily Houses (6 beds in total) are fee-based, recovery-focused independent-living opportunities for program graduates as they transition to a life of independence.
Emergency housing offers off-site placement at a safe hotel for 72 hours of stabilization. Case management is provided to assess womens' needs and support them as they decide their next steps.
We have two social enterprises, The Bloom Creative Studio and My Sister's Closet. The Bloom Creative Studio, based in Bangor, Pennsylvania, leverages art as a healing tool and offers employment opportunities to program participants. The studio has a gift shop, DIY crafts, pottery, and glass fusion and provides a place to meet with family and children. My Sister's Closet is an upscale women's resale boutique based in Bethlehem, Pennsylvania. It provides a significant funding source for Bloom and offers employment opportunities for survivors of sex trafficking.
In addition, we have openings for internships and volunteers, and we provide community outreach to raise awareness and educate the community about sex trafficking.
What do you love most about your job or organization?
Working for Bloom affords me the opportunity to help others heal and grow strong in their sense of self and in their decision making, find their personal power and independence, and learn and live their lives as they choose. The women I work with give me more than I could ever give them; it is very humbling. Their courage, insight, and strength are admirable, and it is a joy and a privilege to walk beside them on their journey. We have had much success with our programs, and I love watching these women grow.
How does Moravian University support your mission?
We are very excited to work with Moravian's Center for Career and Civic Engagement and the student volunteers. On Sunday, April 24—weather permitting—Moravian students will be painting the front porch of Jasmine house. The porch is a community gathering space for our ladies. It also allows time to be alone. In addition to the porch painting, the students will be building, painting, and assembling Adirondack chairs (with pillows) and adding mulch and flowers to the flower beds and porch planters.
In the interim, I had the chance to meet with the student volunteers to introduce them to Bloom and discuss our mission and how we serve survivors of sexual trafficking. We are very grateful to Moravian for helping us provide a safe, comforting, and beautiful space for our ladies to gather.
How can Moravian University—and the greater community—be more involved with your organization?
Sign on for internships, which are available, summer, fall, and spring.
Help provide essential items and gift cards for personal care items for the women in our homes via our Amazon Wish List; all donations are greatly appreciated.
Donate clothing and accessories to My Sister's Closet, which provides funding for our homes.
Host an event with friends and colleagues to learn more about sex trafficking in the Lehigh Valley. Invite our CEO to speak at your church or organization.
Volunteer at our homes, My Sister's Closet, or any of our events.
Make a financial gift. Our work and the hope of the women we serve are heavily dependent on the financial support of the community, foundations, and sponsors.
What is the biggest challenge your organization faces?
One of our biggest challenges is supporting women to independence through the obstacles they face. Their barriers include, but are not limited to, lack of affordable housing, the stigma attached to addiction and sex trafficking, marginalization based on criminal history, and lack of work history and education. All of these are obstacles to progressive employment. Lastly, there is an ongoing challenge to raise the community's awareness and understanding of sex trafficking in our area.
What do you hope for the future of your organization?
Our hope for the future is that we can expand our program to support pregnant women and women with children. This specific population has limited housing options and/or other resources available to them. According to the National Shelter Alliance's 2021 Annual Report, 20 percent of referrals were women with children and pregnant women. Out of the alliance's 92 members, only 13 had shelters to serve this group. Therefore, it is our hope that we will someday no longer need to refer women with children to other organizations, and that we will provide the safe housing and additional resources to serve and support them to healing, empowerment, and employment.