An Environmentalist from the Start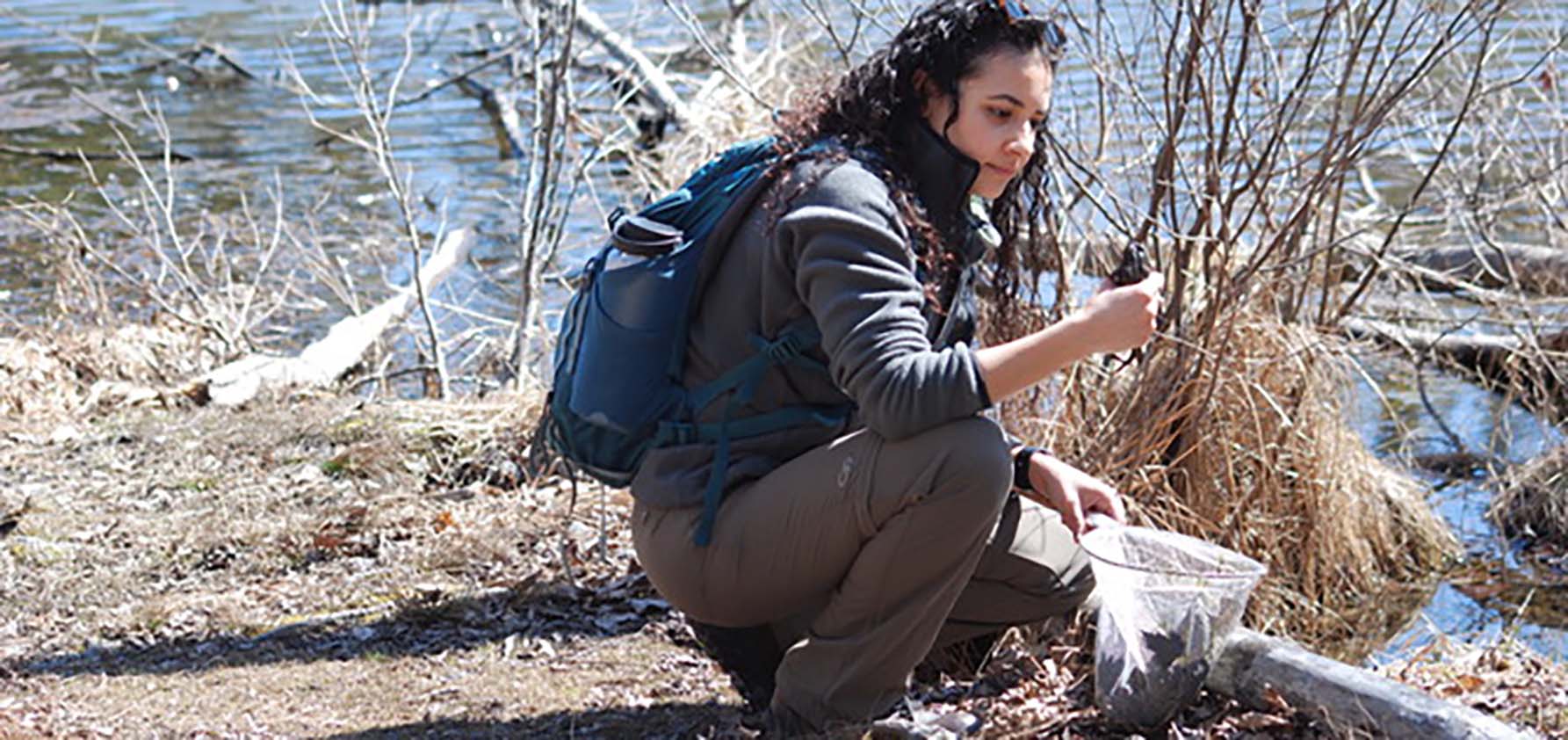 Melissa Morales '21 has been interested in science for as long as she can remember and credits her father for igniting the spark. "He taught me how to question things in a meaningful way and how important it is to maintain that child-like curiosity that we all have," she says.
Despite growing up amid the concrete, steel, and asphalt of New York City, Morales discovered an affinity for nature. "I recall rubbernecking whenever I'd pass by the occasional tree or pot of flowers," she says. On childhood trips to the Catskills and the Everglades, she was astounded by the beauty.
It had been her dad's dream to live in the Poconos ever since he visited there with the Boy Scouts, so when Morales was 12, her family packed their belongings and moved out of the city and into a home in a place where trees and flowers were everywhere. She'd go for long hikes in nearby state parks and forests. "I realized how content I was in the woods with all of my field guides," she says.
After high school, Morales enrolled at Northampton Community College (NCC), but then took a year off. She participated in a few BioBlitzs, events in which a group of people find and identify as many species of plants, animals, and other organisms as possible in a specified area during a short period of time to get a count of the different species living in that space. "It helped me improve my skills in plant and animal identification," says Morales. In addition, she began working for the National Park Service at the Delaware Water Gap where she continues to work today, answering visitors' needs and educating them about the park. "That experience allowed me to build a base for my science communication skills and fueled my desire to study environmental science when I readmitted to NCC," she says.
At Moravian, Morales delved deeper into environmental science, and her passion grew. This academic year, she served as a fellow with the Youth Environmental Alliance in Higher Education (YEAH) Network, a program that draws students from around the globe who come together virtually to learn about the United Nations Sustainable Development Goals and collaborate on evidence-based approaches to those goals.
"I gained leadership, communication, and problem-solving skills," says Morales. "I learned about human rights issues and gender issues, and I deepened my understanding of complex global environmental problems. I came to see that there are so many different approaches and levels to climate advocacy—local, national, and international."
Morales became intrigued by environmental policy on a local level, and in addition to continuing with the YEAH network this semester, she is one of our spring cohorts for Upper Darby Township alongside fellow student Janniry Belen '21. They are working with ICLEI- Local Governments for Sustainability on a draft Local Climate Action Plan (LCAP) for Upper Darby. "The population of Upper Darby is very diverse in ethnicity and income, so we have woven aspects of a climate justice plan into our LCAP," says Morales. She and Belen belong to a small task force and are working with Chief Administrative Officer Alison Dobbins and Mayor Barbarann Keffer. In addition, they have surveyed the community to capture feedback that will help them shape an action plan that works for all people of Upper Darby. "This is my first experience in local government, and it's exceeded all of my expectations," says Morales.
Reflecting on her work and experiences, Morales returns to the center of her passion. "Nature is universal," she says. "I love talking to people about their connection to nature. I've had these conversations with thousands of people over the years, and no two stories are the same.
"Discovering the amazing things that the abiotic and biotic community are capable of further excites my passion, and there are still so many unanswered questions. All of this continues to drive my exploration of ecology and the ways we can care for our environment."
Morales plans to further her exploration at graduate school.