Light the Way for Moravian's Students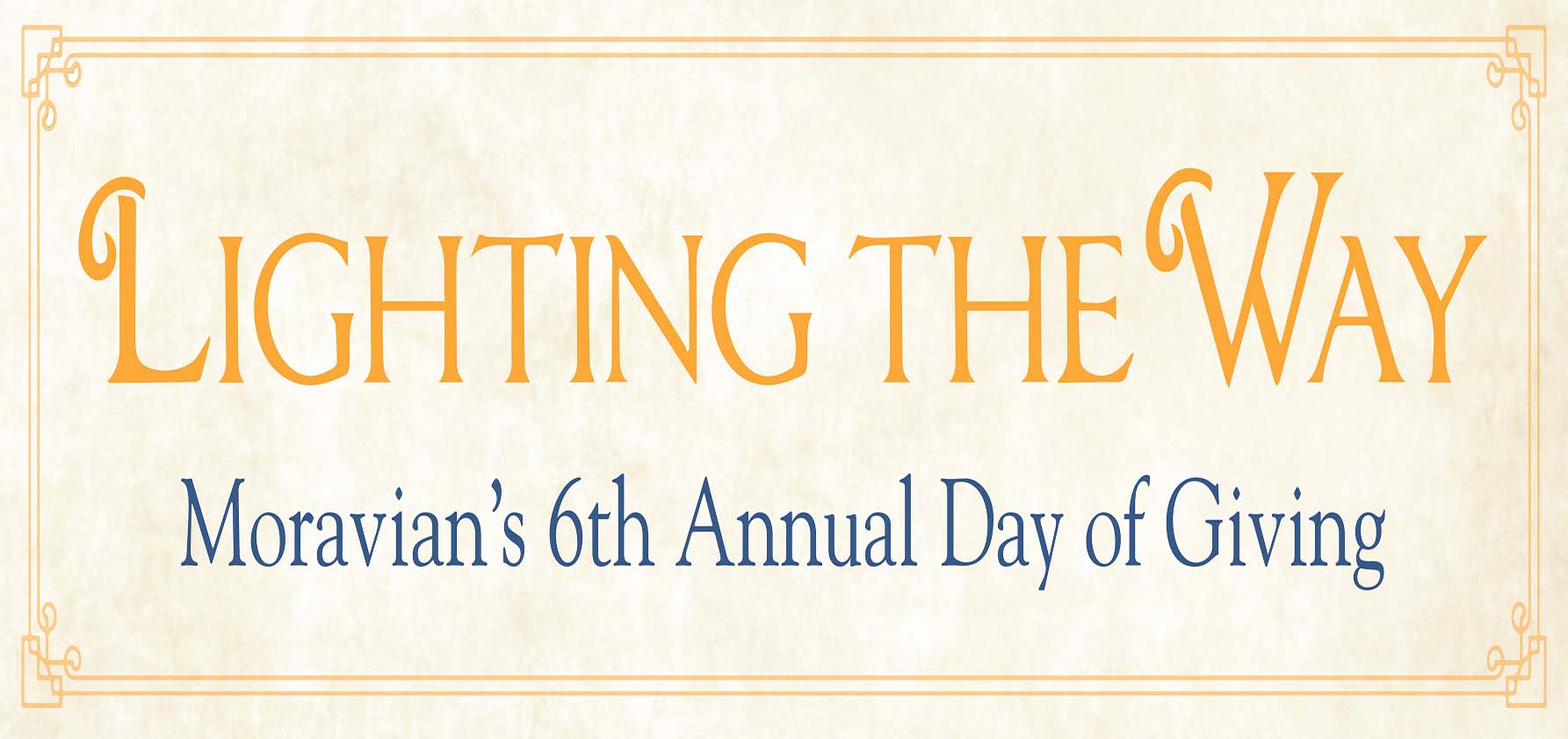 As Director of Annual and Affinity Giving at Moravian College, I am looking forward to Lighting the Way: Moravian's 6th Annual Day of Giving. It starts at 6:57 p.m. on Wednesday, March 24, and lasts through Thursday, March 25. For 1,742 minutes, the entire college and seminary community will come together to support current and future students. Your gift of any size combined with many more from others in the Moravian community will ensure that more students can attend the college and seminary and benefit from experiences you know will be life-changing. Thank you for all that you do for our students! ~ Julie Kulp
"The Way of Light"
What a remarkable history the Moravian College and Theological Seminary community shares! A missionary church, ahead-of-their-time women leaders and philanthropists (like, 250 years ahead!), thought leaders, centuries of outstanding education, faith in action, Vespers, wars and trials, students, the "Art of Caring," and always, service to others. Since starting in the Department of Development & Alumni Engagement, I have learned about the history and traditions of the college and seminary. Still, I know that I have barely scratched the surface.
I was interested to learn that Moravian traces its roots to 1742. The institution was founded on the principles of John Amos Comenius, the "Father of Modern Education." His belief—back in the 1600s—was that education is for all. Fittingly, our motto is "Via Lucis"—The Way of Light. Inspiring! We can look at it as a guide for the way we live, a call to be a light for others, and a challenge to rise above hardship. What a wonderful way to spend a life.
I have also learned a lot about Moravian students, families, alumni, faculty and staff, friends, and leadership. Every time our students are called upon to serve, they are happy and excited to make a difference—because they can. I met one very successful student who said he was most proud to be part of a group of peer mentors who help fellow students navigate the pandemic and life in general. He has achieved much at Moravian as a student leader and standout athlete, but what he will remember most is helping others.
The same is true for alumni, families, and the entire Moravian community. Moravian has an enthusiastic and engaged group of alumni, parents, friends, faculty, and staff who love their alma mater, their students' school, and their workplace. They smile when they talk about the Moravian experience. There is no perfect organization. But my experience has been that the Moravian community places a high value on the college and seminary. We are engaged, and we care.
This week, Moravian's Day of Giving provides an excellent way for us to say that we are engaged and believe in our students. The way we make a difference on Day of Giving is to make a gift—no matter the size—to the Moravian Scholarship Fund, the Seminary Annual Fund, or the program that means the most to you at Moravian. Also, share with others about your experience at Moravian and encourage them to support students too. Moravian is a great place, and it takes all of us to ensure that it continues to grow and Light the Way for generations to come.
So far, I do have one minor complaint. Six whole months, and not a single sign of a ghost yet. What gives?! I have heard about people hearing whispers and footsteps in Colonial Hall, but that's about it so far. I expected way more spine-tingling by now. When I can, I'll spend more time on South Campus. I hear that's where all the best paranormal activity takes place. If you have a great (true) Moravian ghost story, I would love to read about it: kulpj@moravian.edu.
I hope you'll join us on March 24–25 for Lighting the Way: Moravian's 6th Annual Day of Giving. We aim for 1,200 members of the Moravian community to make a gift, and every gift will make a difference for our students.