Community Partner, Meals on Wheels of the Greater Lehigh Valley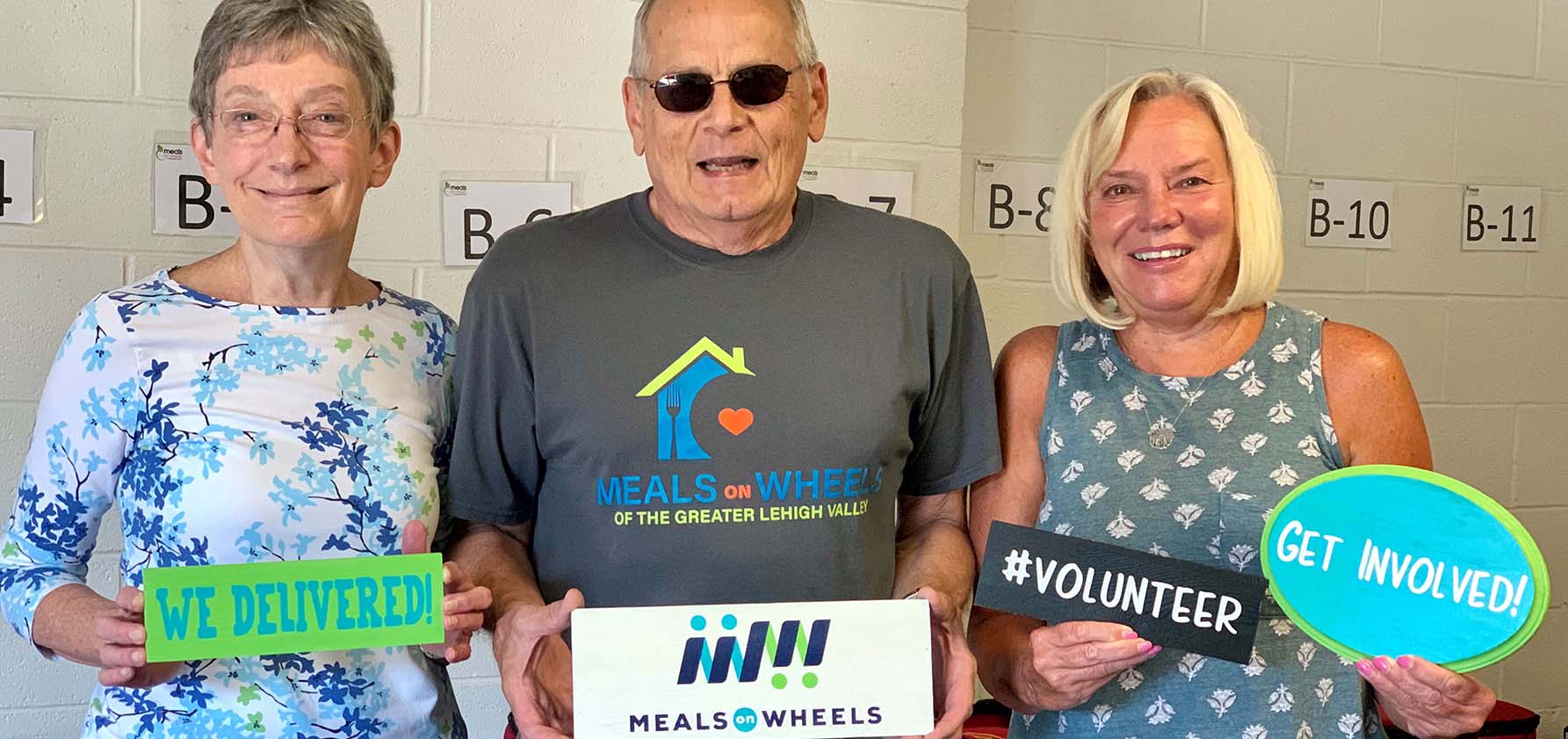 By Victoria Coyle, Chief Executive Officer
The mission of Meals on Wheels of the Greater Lehigh Valley (MOWGLV) is to improve the health, well-being, and independence of homebound seniors and adults with disabilities. We do this through our primary service, which is to provide nutritious, medically tailored, home-delivered meals to our clients. Our meals comply with the state nutritional guidelines for older adults, and our "Better Fresh" project incorporates local produce throughout our menu.
"Medically-tailored" means that we will make meals to support a variety of medical conditions. All of our meals are low-sodium, which means they will support someone who has a heart condition. We will further tailor meals for clients with diabetes, kidney disease, and chewing or swallowing issues.
We can help maintain a client's health if they actually eat what we prepare. To that end, we have a menu that rotates every five weeks to ensure variety, and it's changed up three times each year. What's really impressive to me is that we will accommodate up to forty-two different meal preferences. If a client won't eat beets, we will make sure they don't get beets if they are on the menu. We have a fabulous kitchen staff who makes 1,000 meals each day and accommodates those preferences.
Meeting these daily nutritional needs, and simultaneously providing a wellness check through our volunteers, reduces the social isolation of our clients and improves health, well-being, and independence—and there is medical research to support this. We support our clients' decision to live independently as they age.
A portrait of a client would show the following: someone living alone, very low-income, with 3 to 5 chronic health conditions (diabetes, heart failure, etc.), unable to obtain and/or prepare healthy meals, and is homebound. Many of our clients have trouble getting through the day safely, let alone being able to manage meal preparation.
Across the board, our clients are food insecure. To help with this, we offer a grocery shopping program called "Market on Wheels," where we match a client with a volunteer who shops for the client's specific grocery order and delivers it to their home.
Many of our clients have companion animals. Again, there is research showing the connection between physical and mental health that comes from having a companion animal. Many of our clients have cats or dogs—sometimes both! It's not ideal for clients to share their meals with Rover and Kitty; neither will receive the appropriate nutritional benefit. As a result, we developed "Ani-meals." This is a grant- and donation-driven program that delivers pet food and litter to clients twice each month. The goal is to keep both pets and clients healthy by eating appropriate food.
We can't do this alone. We have close to 2,000 volunteers who are involved in our work. About 800 of those are "active," meaning that they come out to deliver meals on a regular basis. Our 2,000 clients are grouped on 82 routes that cover the Lehigh Valley and a little bit of Carbon County. We use more than 100 volunteers each day to make these deliveries. It's quite an operation!
What do you love most about your job or organization?
My answer to this question could go on for pages! Basically, the dedication and compassion of our staff and volunteers is what I love most. They love what they do and it shows. As a result, it is easier for me to focus on daily operational issues. Let me give you an example:
Recently, we partnered with the local health bureaus to get COVID vaccines administered to our clients in their own homes. Our intern called our clients and asked if they wanted to get the vaccine. We sent follow up letters to clients. One gentleman called the office to see if he had to sign and return the letter we sent him. While on the phone, he thanked us profusely for this opportunity, saying that he has had 26 chemotherapy treatments and he has chronic obstructive pulmonary disease. He told us he has been lying awake at night wondering how he would get the vaccine and that our reaching out to him feels like a miracle. He has been so scared about contracting COVID,
and the home vaccination will give him peace of mind. He also said he loves our meals, the volunteers that come to his house, and can't thank us enough for taking care of him.
We also had the opportunity to celebrate the 102nd birthday of one of our clients. She credits her longevity to drinking a glass of Ovaltine every day. The volunteer who delivered her meal took her a few containers of Ovaltine and about 10 birthday cards from volunteers. She was thrilled! And, during all of this, I found out that Ovaltine is 102 years old as well. Maybe she's on to something??
How does Moravian College support your mission?
Well, Moravian College employees came to the rescue of our clients shortly after COVID lockdown last year. One of your housekeeping staff had the great idea to buy toilet paper from the college since there was hardly anyone on campus anymore. She donated to other agencies, too, but we received many cases. Our volunteers delivered a couple of rolls to each client when they delivered meals. The clients were thrilled. We can laugh about that now, but when you're homebound, have little money, and fear contracting the virus, receiving those essentials feels like a lifesaver.
Moravian students would help us during Heritage Days. We used to collect personal care items from the community and give them to clients for Christmas gifts. The students spent the day wrapping all those gifts.  On the most recent Heritage Day, two of our volunteers spent th
e day tying fleece blankets. They were beautiful and much appreciated.
In addition, I have partnered with Dr. Teufel and one of his students to mine data from our client database to help me better tell the story about our client population. I enjoy working with students on those types of projects, and the end result was very helpful.
How can Moravian College—and the greater community—be more involved with your organization?
We have many, many terrific and dedicated volunteers, but we can always use more. Because our meals are delivered Monday-Friday mid-morning, most folks with traditional working hours can't volunteer during that time. This means that our volunteers tend to be over the age of 65. Other volunteer opportunities are less frequent than meal delivery and might work better for students or people who work during the day. For example, our grocery shopping program has more flexible hours.
We could really use students to deliver Sunshine Boxes. These boxes come from Second Harvest Food Bank and are part of a federal government food surplus program. They weigh almost 30 pounds each! The boxes contain shelf-stable food and a large block of cheese. Additionally, we are trying out a new program in which volunteers pick up heart-healthy bags of food from a few local food pantries and deliver to clients once a month. Either of these opportunities would be a great project for a student group to take on.
What is the biggest challenge your organization faces?
Sorry, but there is never just one challenge, and I have three on my mind right now.
At this moment, we are in the middle of renovating a new building on Sherman Street in Allentown. This new facility will have an enlarged commercial kitchen and café space. For the next few months, we will be strategizing on how to manage meal delivery while our kitchen is shut down for a few weeks.
Another challenge, typical to most nonprofits, is anticipating what the fundraising environment will look like post-COVID. We rely on the community to donate funds to help us cover the cost of meals for clients who need a subsidy—which is most of them.
Finally, our meals have been very traditional for many years. We need to better understand the needs and demands of people who are aging into our services now. This also includes learning how to navigate within a broader environment that is affected by other providers and changes to the health care delivery system.
What do you hope for the future of your organization?
In the short term, I really hope to move into this new building seamlessly and debt-free! But more seriously…
We are celebrating 50 years of service to the community in 2021. I hope that MOWGLV will use the skills it has developed over those 50 years to adapt to future trends while maintaining the strong culture of care and compassion that is integral to the agency.
Our future is bright because we constantly look for ways to improve, to increase our capacity to serve more segments of our community, and to ensure that those who choose to can remain independent.