A Safe and Active Social Life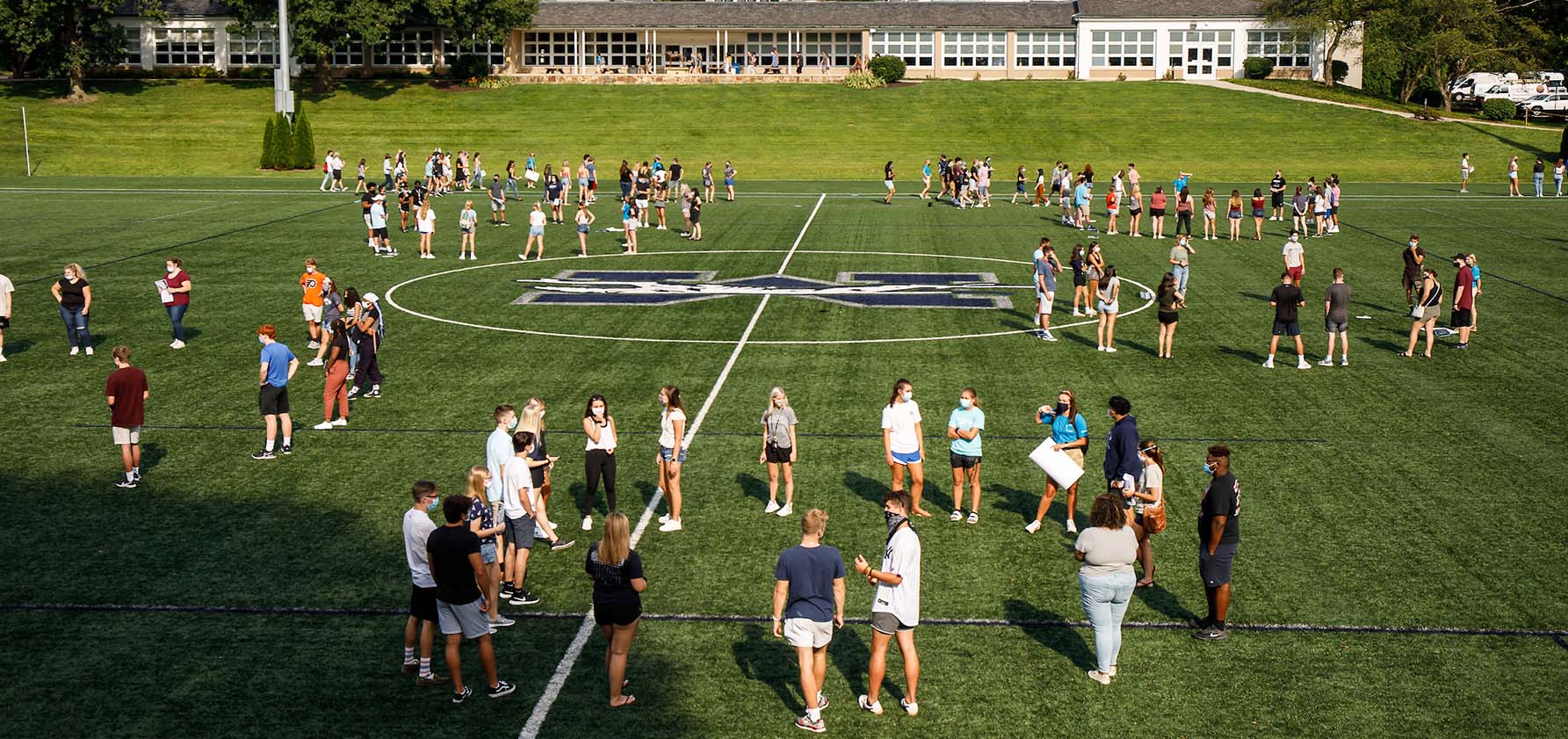 A rich student experience outside the realm of academics provides students opportunities for growth socially, personally, and even professionally. Students gain skills in collaboration, leadership, time management, and the application of classroom learning to life situations when they interact with each other and participate in clubs and group activities. They discover new interests that complement their learning or guide its direction. And they have fun! "We need to provide a student experience outside the classroom to complement the in-person classroom experience," says Liz Yates, associate dean of students, "and the division of student life has been working very hard to ensure that experience is active and vibrant. The main difference this fall is that we need to follow the guidelines laid out for all of society: wear masks, wash hands, distance physically."
Maintaining Traditions
The college will maintain most traditions, adapting them to fit the current environment. "Ninety percent of what we have offered students in the past we are offering this fall," says Yates. "We're just getting creative." For example, during orientation, incoming students walked the Moravian Mile in groups of 15-20 led by orientation leaders, and they met President Grigsby on South Campus. The class photo, usually posed in front of Comenius Hall, was taken on Makuvek Field. Half of the class was photographed, physically distanced, on the left side of the field and the other half on the right; then those images were combined in editing.
Clubs and Activities
Everything from History Club to Greek life to Wingo welcomes student participation. Many events and some meetings will be held outdoors in open air or under tents, others may be virtual, and a few (with groups of 20 or fewer students) may meet indoors in spaces that allow distancing. Outdoor and virtual events are strongly encouraged and preferred whenever possible. United Student Government (USG) will hold its annual club fair on Makuvek Field to accommodate guidelines for physical distancing, and the Moravian Activities Council (MAC) has planned 32 activities for the fall beginning with Wingo on August 28. Off-campus activities will be strictly limited, and the college will not bring any external groups to campus in person but instead through live-streaming or video online.
Dining Together
At all dining locations, meals will be wrapped to go and utensils packaged. Masks and the use of hand sanitizer are required before entry, and traffic flows in one direction. As of this date, the Star restaurant will allow students to dine inside up to 50 percent capacity, but students are also encouraged to take their meals and gather under the tents outdoors. "We don't want students simply to take their food back to their rooms to eat," says Yates. "We connect over food. The tents offer places for our community to gather and distance safely."
Keeping Fit
Exercise is always important to a healthy mind and body, but it can be especially beneficial in helping to relieve stress experienced under the challenges of the pandemic. The fitness center is open and will allow up to 25 masked exercisers. Reservations are required to ensure a spot and are made through IMLeagues. Equipment has been spaced appropriately, and users will be asked to wipe down all equipment before and after working out. For details and to make a reservation, go to mrvn.co/fitness.
Housing
By now, all students have moved into their rooms, and to start, restrictions are tight. Only the residents of a room or suite are permitted in that space, and only students assigned to a residential hall may enter that hall. In mid to late September, the college will evaluate whether or not to ease restrictions.
Coming and Going
There are no restrictions on students coming to or leaving campus. Some students have off-campus jobs, others may encounter a need to go home, but we ask everyone to be mindful and limit their movement and contacts off and on campus whenever possible says Yates.
Looking Ahead
"Students told us they wanted to come back to campus," says Yates. "It's always an undertaking to prepare the campus to welcome students in the fall, but this year we've had to find new ways to bring students together, reimagining orientation, club fair, the look of the HUB. And we've been redesigning our plans in an ever-changing landscape.We're moving forward knowing that circumstances could change, and we may again need to shift direction. It's been an adventure."