Kara Mosovsky, Assistant Professor of Biology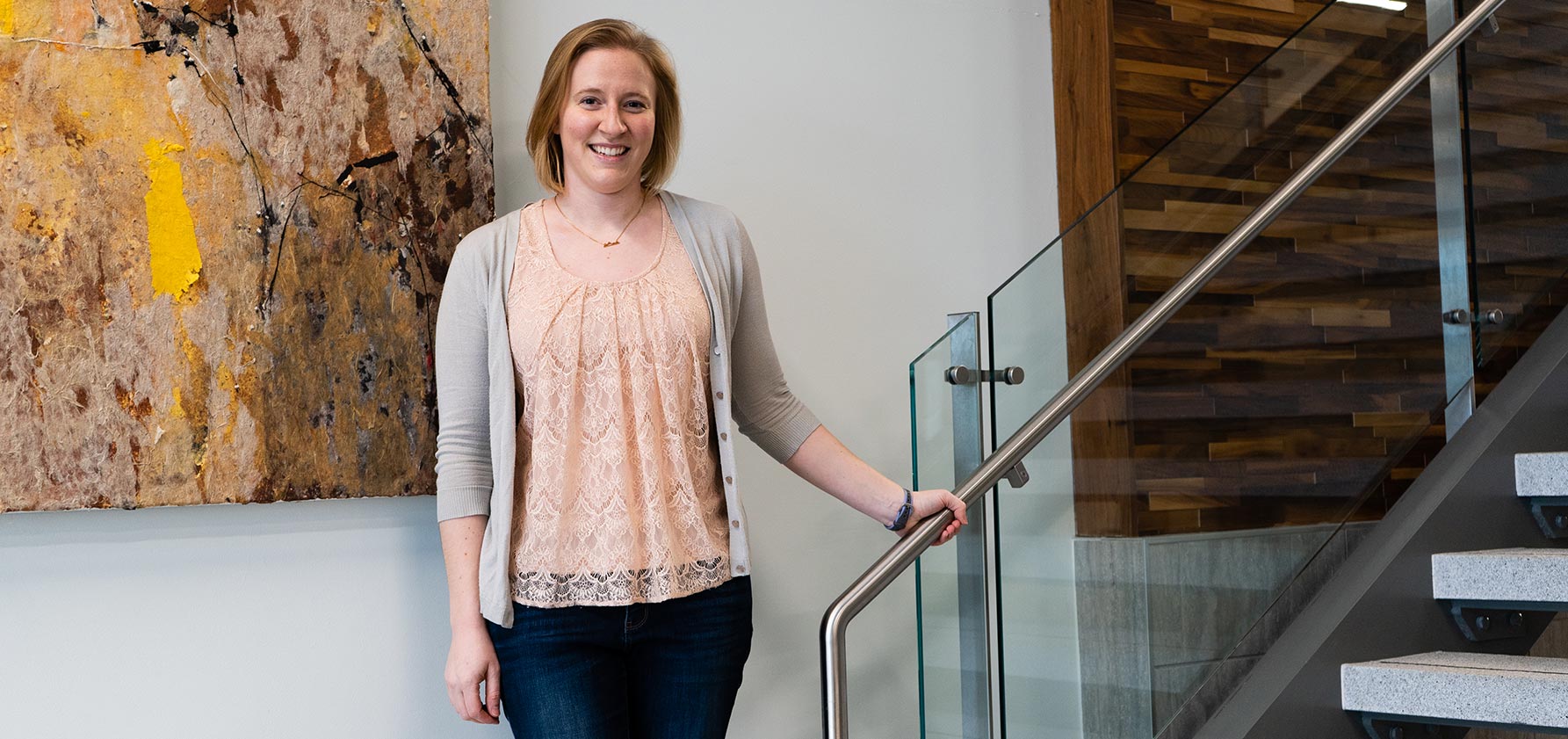 Where did you grow up?
I grew up in the Lehigh Valley, but when I moved to Colorado after college it quickly became as much a home as Pennsylvania. I did a lot of growing up there as well, even in my 20s.
What are your research interests and why are you drawn to them?
I'm most interested in host-microbe interactions.  It's a good mix of microbiology and immunology—my two main passions—but it's broad enough to encompass everything from the beneficial microbes to the pathogens that cause infectious disease and everything in-between. I love learning how microbes, invisible to the naked eye, can impact everything else that we see and interact with in life. I like to say that this is their world, and we are just living in it.
What is your favorite class to teach and why?
While I enjoy teaching all levels, my favorite courses are BIOL 235/206 Microbiology and BIOL 397 Immunology. My passions are in microbes and the immune system, so I'll have the most fun where those topics are the main focus. I love to share my passion with enthusiastic students who want to learn.
Share something about yourself that people may not know.
Most people who know me know that I love hiking and traveling, but many people may not know that I have a love for photography as well.  I taught myself how to use Adobe Lightroom and spend a lot of free time touching up my photos. I find that I can really lose track of time when I'm in a photography-zone. It is a skill that I enjoy practicing and honing on my own time.

What is your favorite spot on campus?
Second to my office, it's the AfterWords Cafe because the library always feels so academic, and I get inspired by everyone's productivity there. It's a great place to go when I need some distraction-free time to work on something.
What is your favorite Moravian College tradition?
Dressing up for Halloween with other science faculty. We have an on-going tradition (every year I've been here) of dressing up in mostly homemade costumes. It's fun, creative, and usually pretty humorous. We always get together to admire the efforts and take a fun group photo.
What is your favorite off-campus activity?
Hiking. I love to be surrounded by nature and pretty views. The mountains are my favorite. Hiking works my body, while giving my mind the break it usually needs. I enjoy hiking or walking anywhere with my favorite two hiking buddies—my husband and my border collie, Frisco.
What is your favorite book?
Is it super un-academic to say the Harry Potter series?  I grew up with them. I would go to midnight releases of the last several books and movies. I must have read each book five or more times. Though I've read tons of excellent books, I'm not sure there's any other book or series that has captivated me like the HP series.
I can never resist a good_______.
Cake. I'm a sucker for spongy desserts.
Who is your hero?
I have several. My husband for sure. He has a giant heart, a go-with-the-flow attitude, an amazing work ethic, and a contagious friendliness. I'm oh so lucky to have him. My parents as well—they are role models of unconditional love and strong moral character.
What is the best advice you have ever received?
Don't be too quick to find fault with people. Everyone is shaped by their personal experiences, and no two people are on exactly the same path. We often don't know what other people are dealing with in secret.
What makes you happy?
Planning trips. My husband and I love to travel, and I really enjoy the research phase: Where should we go?  What should we do there?  Where are the secret hiking trails?  I love to study the area maps, too. It's pretty cool to know what's over the next mountain pass before I've even been there. It makes me feel like a local in a new place.
Photos by Trey Adams '21