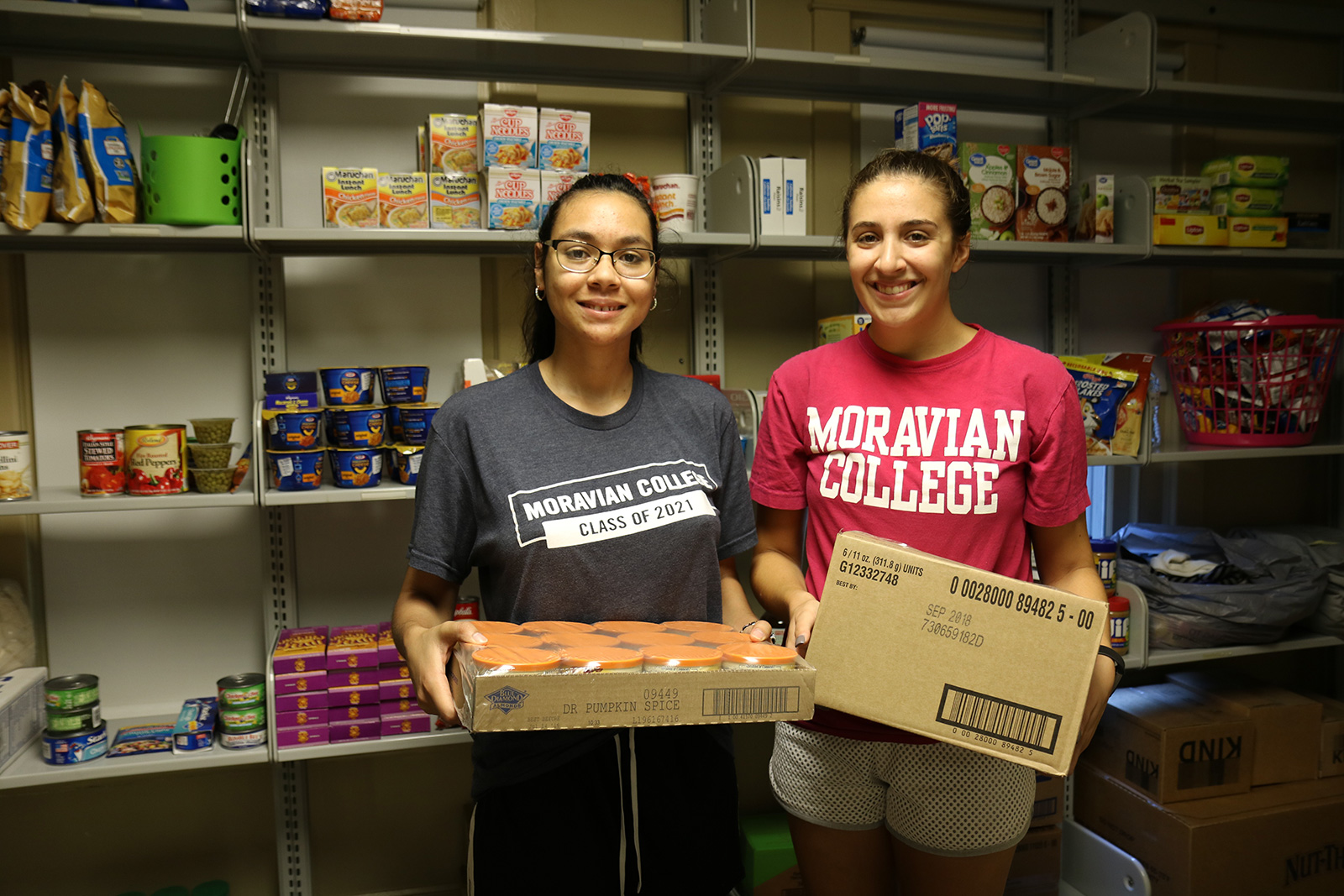 One in five students at four-year colleges and universities does not get enough to eat, according to a survey published by the National Student Campaign Against Hunger and Homelessness.
Recognizing hunger on our campus, in fall 2018, Moravian College opened Mo's Cupboard, a resource pantry that provides shelf-stable food as well as toiletries, and dorm and cleaning supplies to Moravian College students in need. The pantry has found a new home in the Student Life Office in the lower level of the HUB and can be accessed any time during HUB hours with a swipe ID. It's free, private, and available to undergraduate, graduate, and seminary students. Since opening in its new space at the end of August 2019, Mo's cupboard has been accessed more than 100 times by students in need.
On their first visit, students must complete the self-declaration of income form found on top of the refrigerator. This document is private and used only to maintain the college's partnership with Second Harvest Food Bank.
If the cupboard doesn't contain a needed item, requests can be added to the marker board inside the cupboard or sent via email to moscupboard@moravian.edu.
Want to Help?
Anyone wishing to support Mo's Cupboard can do so in a variety of ways:
Make a financial donation at our

financial giving page.
Give through our

Amazon Wish List.
Bring items to the Student Life Office during normal business hours (please don't leave them in the Cupboard; they need to be logged and inventoried).
Following is a list of always-needed items.
Food
(pop tabs on canned foods are easiest and individual portions are helpful; vegan/gluten-free and dairy-free options are always appreciated)
Fresh foods
Bread
Butter
Cheese
Deli meats
Eggs
Fruit
Potatoes
Breakfast foods
Cereal
Granola/KIND bars
Pop Tarts
Canned foods
Chicken
Coffee, canned and K-cups
Fruit
Other
Juice boxes
Microwavable nonfrozen meals
Non-dairy milk, boxed
Pasta, microwavable pouches
Snacks
Cookies
Crackers
Microwave popcorn
Potato chips, pretzels, Pringles
Tortilla chips and salsa
Toiletries
(fragrance free and hypo-allergenic items always appreciated)
Deodorant
Feminine hygiene products
Razors
Shampoo and conditioner
Soap
Toothpaste/toothbrush
Dorm Room Supplies
Bedding: sheets, pillows, comforters—new
Cleaning products/disinfecting wipes
Laundry detergent
Paper towels
Tissues
Towels and washcloths—new
Clothing
Hats
Mittens
Scarves
Socks
Winter coats
We also provide information for various community resources that may be of help. For more information, send an email to moscupboard@moravian.edu