Studying with a Fulbrighter from France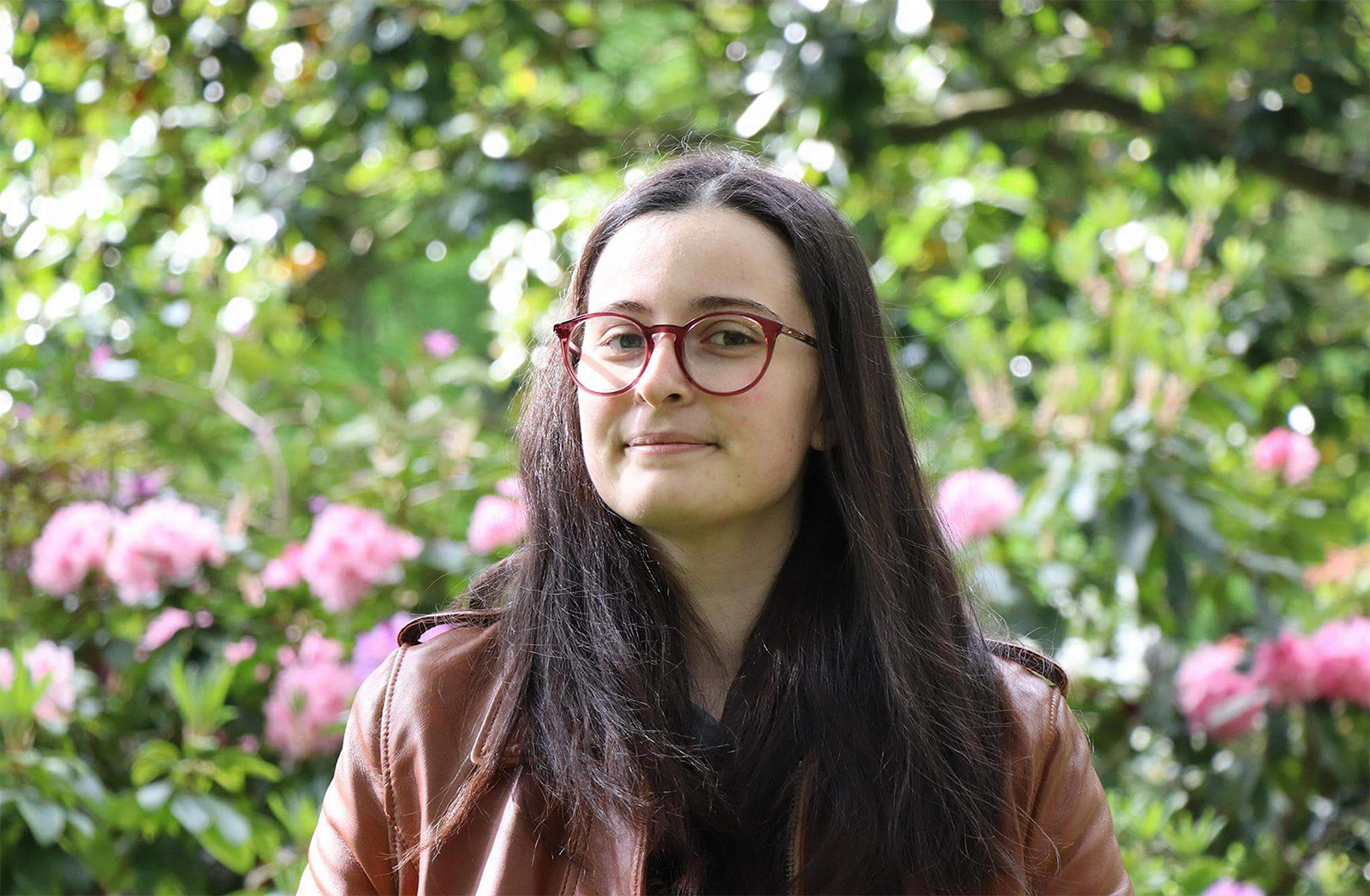 Discovering French idioms and expressions, discussing how gestures are used in conversation across cultures, and listening to French songs and analyzing the lyrics—these were among the cultural topics that headlined the conversations—en français—that students enjoyed with Juliette Garcia, a foreign language teaching assistant (FLTA). Garcia is pursing a master's degree at l'Université Sorbonne Nouvelle in Paris, and she spent the 2018-19 academic year at Moravian College through the Fulbright Program.
Students in most French classes met with Garcia either 5 or 10 hours each semester, depending on the course level, explains French professor Joanne McKeown, who dedicated herself to the intense application process required to host a Fulbrighter at Moravian. In addition to holding weekly French conversations, Garcia refreshed the French Club with new cultural-based experiences, and during the fall semester, held a French Conversation Table every Monday open to all members of the Moravian College community regardless of ability.
The benefits to students included improved language skills and a more nuanced appreciation of French culture. "There is no question in my mind that everyone's overall experience of studying French language and culture was enriched because of interaction with Juliette," says McKeown. And the students attest to that.
"As someone who seeks to become an advanced French speaker, having a native of France on our campus, speaking with us weekly, was crucial to my linguistic and cultural development," says Meredith Roe '21, a French education major (on the right in the photo to the left). "The weekly sessions allowed us to work with Juliette in small groups and enhance our listening and speaking skills and grow our cultural knowledge. In a comfortable and low-pressure setting we were allowed to ask questions about French daily life and cultural habits."
"It could be challenging to understand everything that Juliette said, but that was what most helped me learn," says Hannah Flaven '22, who is currently studying environmental science and French. "Juliette spoke faster than most professors do and used colloquialisms that are not always found in a textbook, so our weekly sessions taught us how to better understand authentic spoken French, which will be a huge help when visiting any francophone country."
"In addition to helping me develop my language skills, Juliette worked with me in applying for and preparing for studying abroad," says Samantha Doyen '20. "I spent spring of 2019 in Brussels. During the first five weeks, I took classes—all in French—then after a break, I interned at Université Saint-Louis in Brussels for 12 weeks, where I worked with the Institute of European Studies. During my semester abroad, I kept in contact with Juliette because she knows what it is like to travel to a foreign country and have to speak a foreign language."
Indeed, Garcia developed friendships with many students, and those friendships are ongoing, as is Garcia's relationship with Moravian College. "Juliette will Skype with our French Club soon," says McKeown. "This time she will specifically answer concerns about living and studying in Paris, something two of our French majors will do in Spring 2020."
As for Garcia's experience, she speaks with enthusiasm about her time at Moravian College and her relationship with the students. She observed some interesting cultural differences between Moravian and her university in Paris. "Back home there is a distinct line between students and faculty," says Garcia. "Professors are not very accessible." Garcia also notes that her students really applied themselves to their studies. "Back home, university is not as expensive," she says. "The state system allows nearly everyone to go to university for very low costs, so some students don't care that they are getting an education." Garcia is pleased with the effort her students made to interact during their conversations, despite the challenges of a limited vocabulary, and all of them improved in their French speaking abilities.
Today Garcia is back in Paris working to complete her master's degree in international studies and then perhaps pursue a career directing study abroad programs or international education.
And here, at Moravian, McKeown hopes the college will host more foreign language teaching assistants. "Given this tremendously positive first experience, it's clear that the many concrete benefits to the Moravian community—and to the French programs—of continuing the program long-term are invaluable. Indeed, its full integration into the ongoing life of the college would enhance the institution's global perspective and profile. It is my sincere hope that Moravian College will be able to fund a Fulbright FLTA again in the near future."