Japan: An Amazing Bucket List Experience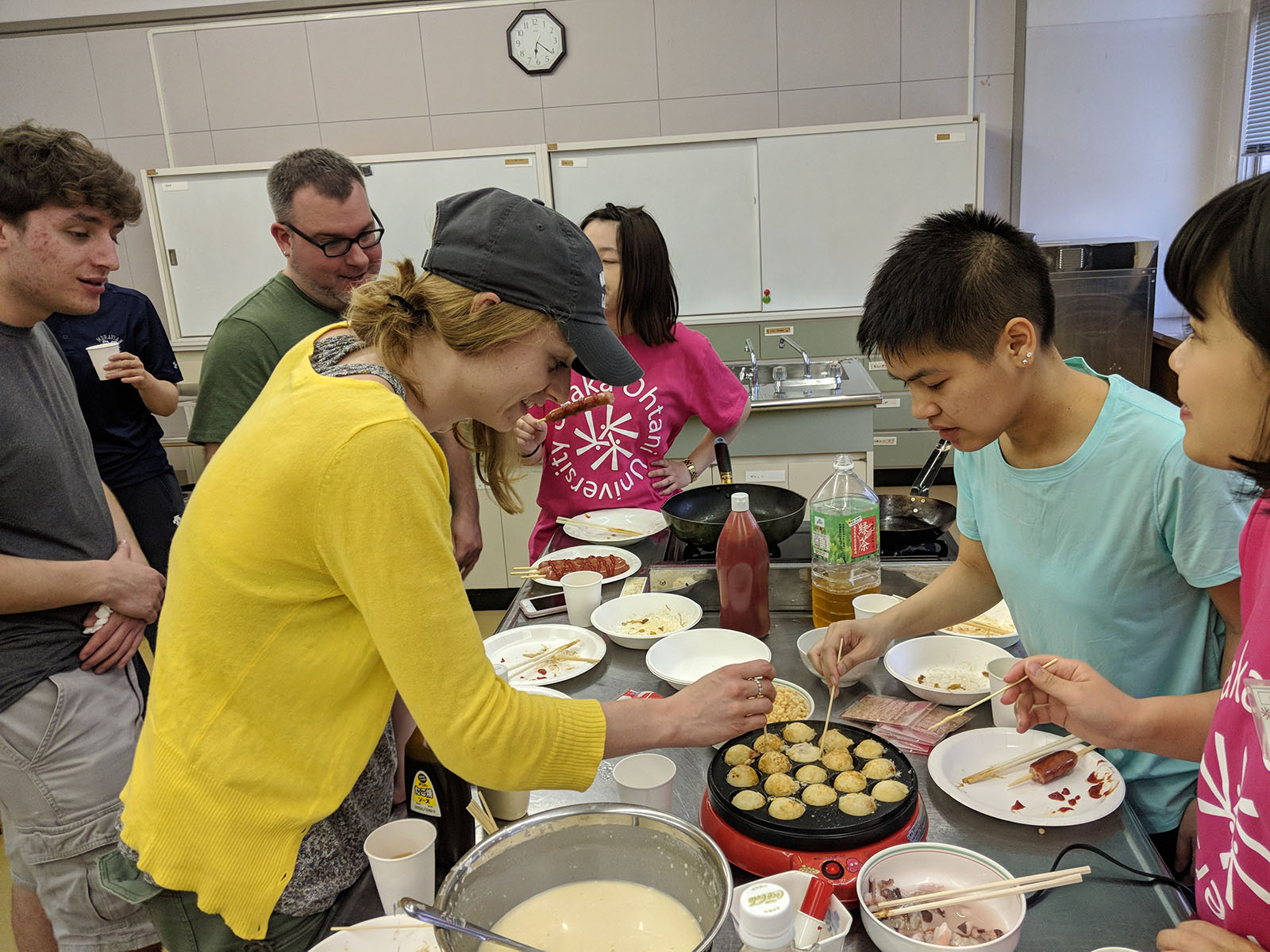 Hello, my name is Sean Kearns and I went on a study abroad trip to Japan to discuss peace building a nuclear disarmament. Personally, going to Japan was on my bucket list of places to visit and it was an amazing experience. I have heard so much about this amazing country because my father lived in Japan during his days as a U.S. Marine and my uncle lived there to study sports science and medicine. Now that I have gotten to see and experience the culture and the country for myself, I feel very enlightened about many different things.
On this trip, we visited Osaka, Nagasaki, Hiroshima, and Kyoto. In Osaka, I was in such a shock that I really just traveled across the world and was so excited that I did not feel jet lagged at all; I just wanted to hit the ground running and go explore.​
While in Japan, my group and I focused on the war legacy of World War II and how we can build peace and better relations for the future. In Osaka, we visited Osaka Otani University and discussed peace and how peace would be achieved, and it was very interesting to see not only the differences between us, but that our ideas of peace were very similar.
Then, in Nagasaki, we visited Nagasaki University and the Atomic Bomb Museum. With the University students, we discussed what kinds of peace movements could be made toward nuclear disarmament to stopping the nuclear umbrella on the world. These were very local places with not a lot of tourists. It felt more like the traditional Japanese experience and it was very spiritual. You could see how friendly the culture and the people were, but also how open they were to tourists wanting to learn and experience true Japanese culture.
Nagasaki was my favorite city to visit because I liked how easily you could walk around the whole city and use the tramline to navigate. Nagasaki was probably the most spiritual experience in relation to what we learned about Japan's war legacy, and you could see how their society has adapted and how the people kept faith, even after going through hell on earth with the bomb's impact.
While Hiroshima and Kyoto seemed way more modern and technological, Hiroshima has a strong impact on Japan today and from the city and people you can tell there is a lot of grit. This city is very active today in fighting for nuclear disarmament. The Atomic Bomb Museum was more involved than Nagasaki because it incorporated the effects of nuclear weapons worldwide. It showed the history of atomic bombs from start to present day and the peace park is a perfect representation.
The peace park showed how the city came together to set up monuments to honor those who have passed from the horror of the atomic bombs, and Hiroshima has a large radiation effects foundation to help survivors and their family members born with the inherited health problems. It was cool to see how active people were in Hiroshima to make a change to the world after what they faced.
My favorite experience though was the outing to Miyajima, a sacred religious island that has been turned into a tourist attraction. I got to hike Mount Misen. I got to hike up the trail Buddhists take to the temple. The top was beautiful, and I could see a lot of the islands in Japan. Exploring the traditional shops and restaurants was amazing and the food was so good. The temples were very cool to explore, as well as seeing the traditions of Buddhists and their predictions of the future with good and bad fortunes.
The biggest takeaway from my trip is how similar I am to the many people I met. I met people from various parts of South American, Europe, and Asia. One of my favorite things to do was to stay at the hostel and talk to the people that I met, comparing how things are where they live to living in the United States. I couldn't be more grateful for that worldly experience of meeting different people from different cultures.
Overall, Japan was an amazing experience that I got to check off my bucket list. I am very grateful to my professors who helped us and planned this trip, to the new friends I made, and to the students of Osaka Otani University and Nagasaki University for being amazing hosts.