11 Eye-Opening Facts about Trees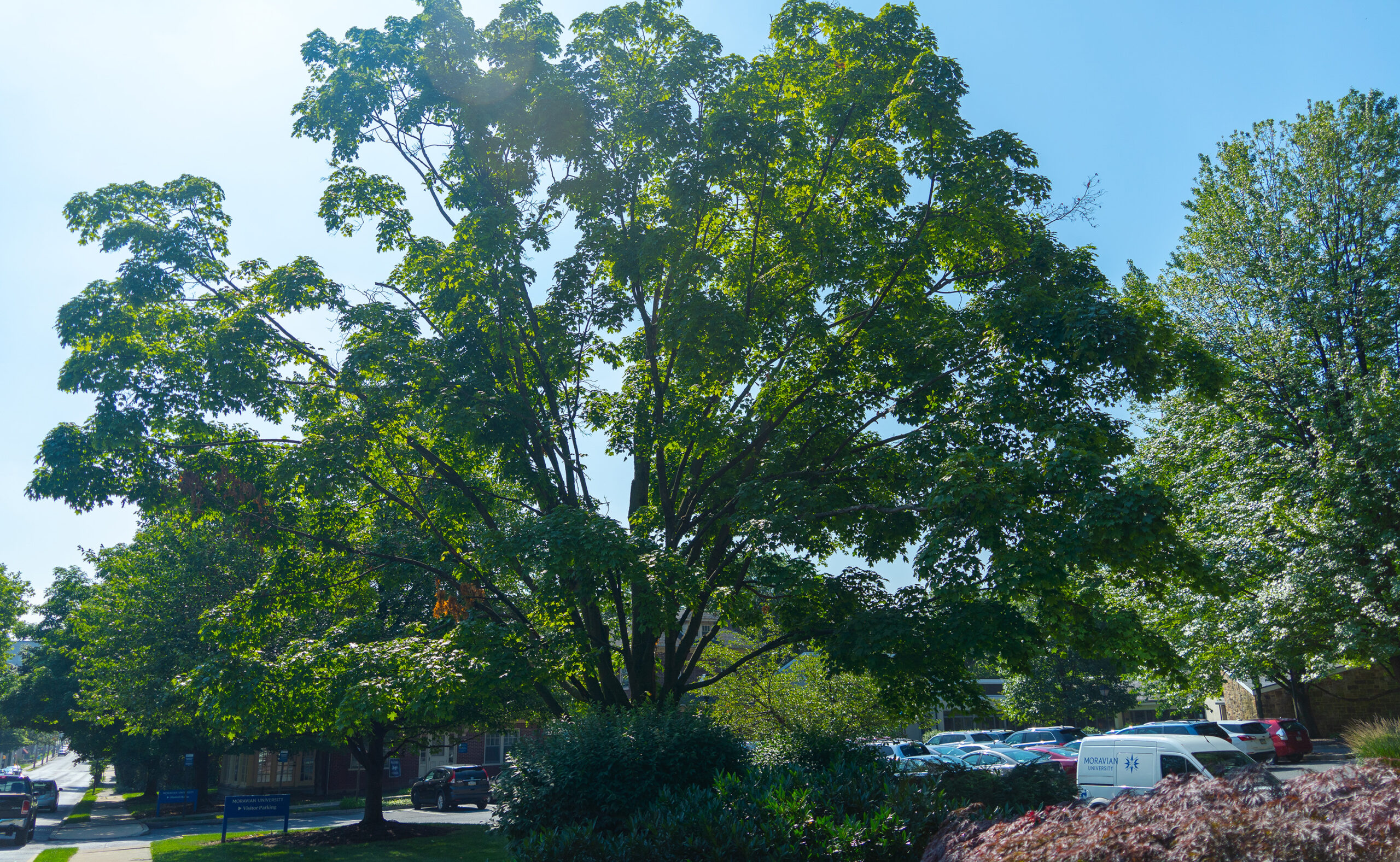 Trees provide shade, beauty, a place to lean against when you're sitting on the ground. They are home to birds, squirrels, and tree frogs. They also do their part to slow climate change by absorbing carbon dioxide from the air. But this just skims the surface of their superpowers. Visit the website of the Arbor Day Foundation, and you'll discover lots of information about identifying, buying, planting, and caring for trees as well as some remarkable facts about trees like these:
The huge English Elm on South Campus is estimated to be more than 250 years old, making it the oldest known English Elm in the country and a designated national champion.
Moravian University is home to more than 1,200 trees with an asset value totaling almost $9 million, and we plant a new tree every year on Arbor Day. This year's tree planting will take place at 12:20 p.m. on North Campus by the university sign in front of Comenius Hall. The tree—a cockspur hawthorn, chosen by sustainability intern Connor Cavey '23.
Trees growing along a road can reduce indoor air pollution of nearby buildings and homes by more than half.
Researchers collecting data from 10 cities found that community forests save an average of one life each year. In New York City the average rises to eight.
A Korean study of 931 office workers reported significantly less stress and more job satisfaction among workers who had a view of trees from their office.
The way trees are positioned around a house can reduce energy consumption for heating and cooling by up to 25%. In fact, computer models developed by the U.S. Department of Energy suggest that the proper placement of only three trees can save an average household between $100 and $250 in energy costs annually.
Trees absorb and store carbon dioxide and release the oxygen back into the air. Scientists have calculated that in one year, an acre of mature trees absorbs the amount of CO2 produced by a car driven 26,000 miles.
A study looking at crime in Baltimore City and Baltimore County found a 12% drop in crime in areas that had 10% more tree canopy.
Scientists with the USDA Forest Service Pacific Southwest Research Station found that for every dollar spent on planting and caring for a tree yields two to five times that investment in benefits—including cleaner air, lower energy costs, improved water quality and storm water control, and increased property values.
Forested lands capture and filter fresh water, providing quality drinking water to roughly 180 million people in the United States.
The Moravian University Tree Fund supports the care and preservation of our trees. You can show your support and love for our campus by making a gift to this fund today.