Aidan Malloy, Class of 2024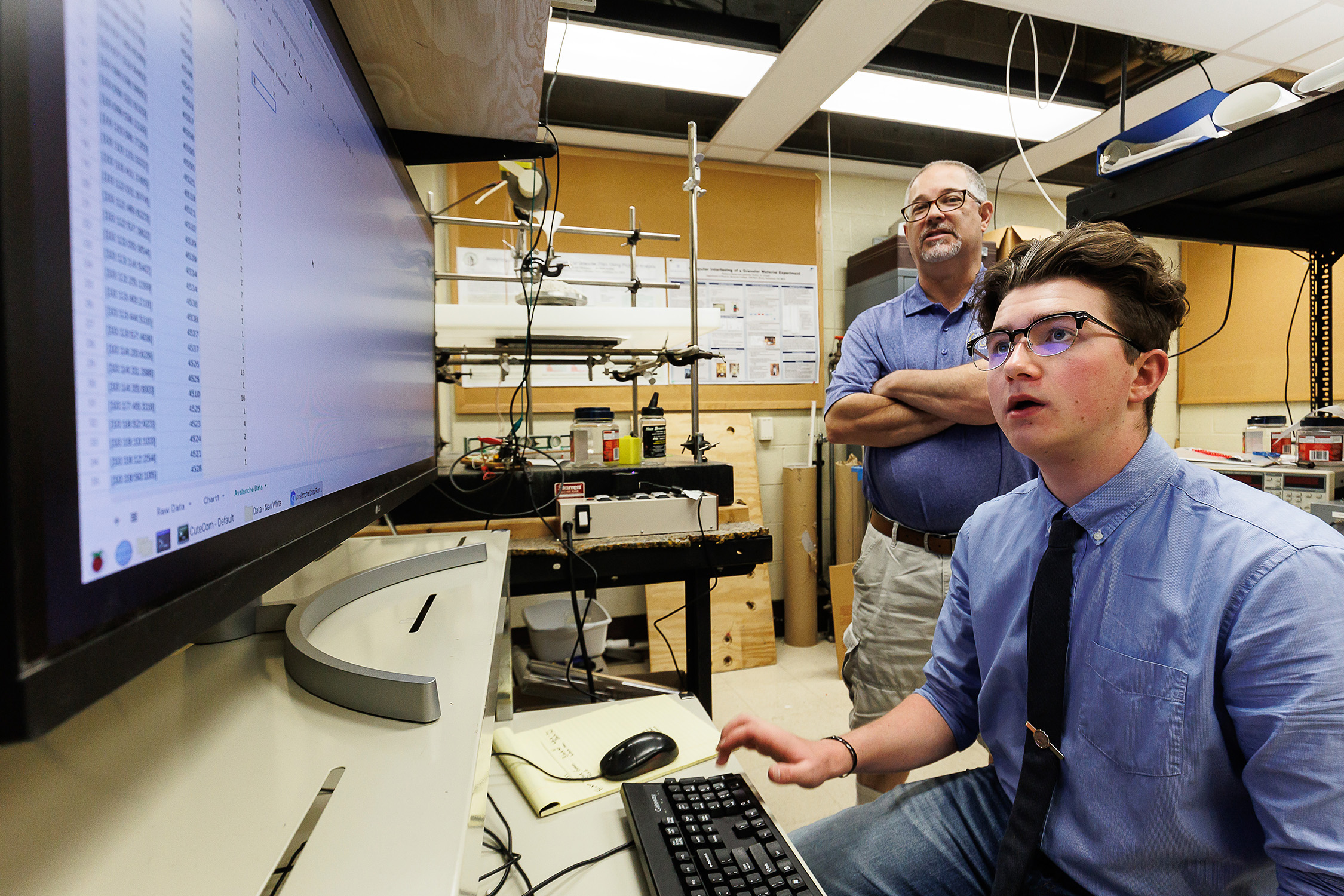 Coming to Moravian from Lehighton, Pennsylvania, Aidan Malloy '24 loves physics and mathematics, so much so that he has chosen a double major in those two disciplines.
Why did you choose to major in both physics and mathematics?
I love that math finds a way to explain in a practical fashion what we ask philosophically. The arguments it creates to describe anything we can see, perceive, or even think of fascinate me and have a certain elegance to them that is hard not to admire.
And as for physics, being able to get such an accurate and descriptive look into the world we live in is incredible. As kids, we all went through a phase of asking "Why?" about everything we saw and heard. My job in physics is to do that and find answers that make sense and, more importantly, tell us more about the universe around us.
What activities are you involved in?
Aside from my classes, I am on the executive boards of Moravian's Society of Physics Students, Mathematics Society, and our local chapter of Delta Tau Delta fraternity. Additionally, I run the PASS sessions for tutoring the introductory physics courses and work in the Quantitative Resource Center to tutor all the calculus courses here at Moravian. I also work at the HUB desk, so I can often be found there. During the summer, I'm on campus as a peer mentor for the AIM (Advance into Moravian) program and as an orientation leader.
Do you know what's next after you graduate?
I plan to go on to graduate school to work towards a PhD in theoretical physics.
Tell us about one of the best experiences you've had at Moravian University?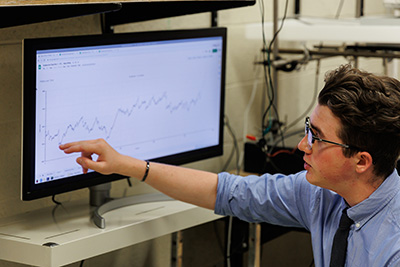 Over the summer of 2022, I spent 10 weeks here on campus doing hands-on physics research through SOAR (Student Opportunities for the Advancement of Research). During this time, I had the opportunity to work with Physics Department Chair Dr. Kelly Krieble to study the effects of particle mass and friction on avalanches of granular piles. For those 10 weeks, I came in for eight-plus hours a day, five days a week, to be a full-time researcher spearheading a project. I worked closely with Dr. Krieble and learned so much, not only about physics, but about life as a researcher. The overall experience was incredible, as I was part of a close-knit community of faculty and students, all dedicated to advancing knowledge in our fields as well as our personal and professional development. And as if that wasn't enough, participating in this program has opened the door to so many possibilities. I've had amazing opportunities to present my research at local, state, and national levels at several different conferences. I could not ask for a better experience during my college years.
What have you discovered about yourself since you've been at Moravian?
I've discovered how passionate I am about education and learning. As an incoming freshman, I didn't expect to become involved with academic support or teaching, but having been involved in tutoring and the academic support center here at Moravian, I look forward to the prospect of teaching physics and math in a collegiate setting in the future.
Share something about yourself that may surprise people.
When first looking at colleges, I was drawn to Moravian because of the neuroscience program. At the time, this was my intended major, and I hoped to do research in cognitive neuroscience. It wasn't until just before the year started that I switched to physics. Later I picked up my mathematics major.
What is your favorite place on campus?
My favorite place on campus is the library. Whether it's using the whiteboards in the academic support room, studying in one of the study spaces on the second or third floors, or getting a coffee from the Afterwords Cafe, I find myself in Reeves once a day or more.
What is your favorite college tradition?
Definitely Greek Week. Participating in all the events with so many active and engaged students is such a great way to get involved in the Moravian community, and I look forward to it every year.
What is your favorite thing to do with your free time?
I like to read, especially outdoors if I can. I love getting the chance to disconnect from all the technology and fast-paced atmosphere of normal life and learn something new without a screen.
What book, film, song, or piece of art do you find unforgettable?
I'd have to go with the book Speaker for the Dead by Orson Scott Card. While I typically choose nonfiction over fiction, the subtleties in this book had a strong impact. I loved how a science fiction scenario became a way of communicating complex questions such as How do we deal with the mistakes we've made? Is there such a thing as too much restraint, and What should come first: Family, Ambition, or Allegiance? Reading this book really helped me be more receptive to and aware of different perspectives, and it has stuck with me ever since.
What is the best advice you have ever received or a quote that stays with you?
"The truth of the matter is that you always know the right thing to do. The hard part is doing it."—Norman Schwarzkopf