Marketing Department Takes Three CUPRAP Awards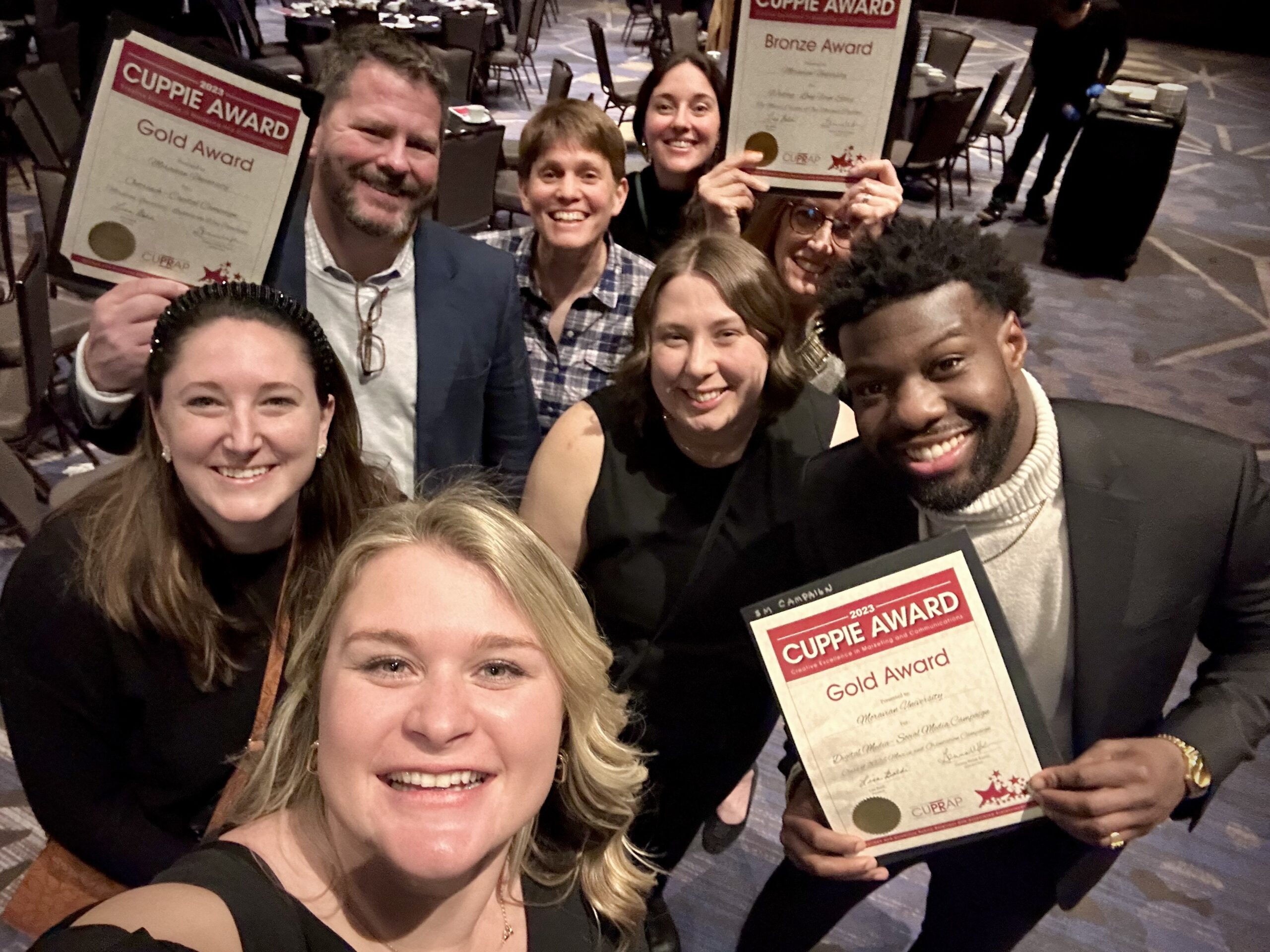 Moravian University's marketing and communications team received three awards from the College & University Public Relations and Associated Professionals (CUPRAP) organization at their annual Spring Professional Development Conference held from March 8–10. Since 2005, CUPRAP has been awarding CUPPIES for excellence in marketing and communications to the work of member institutions in the categories of advertising, electronic media, print, public relations and marketing, writing, and photography. Congratulations on the following wins!
GOLD: Social Media Campaign
Class of 2026 Move-In and Orientation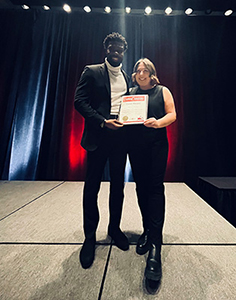 College move-in and orientation is a time of mixed emotions and an array of moments not to miss! For Moravian University, our social media strategy on this weekend was to highlight the energy that was felt throughout campus. Our goal was to engage with our newest students and families but also have content that is memorable and nostalgic for upperclassmen and even alumni. We focused specifically on creating on-the-spot content and interacting directly with our new students and their families.
The result? Viral videos, original TikTok audios, an overload of tags and direct mentions and interactions with leading social media apps (ex: Dispo and BeReal) that continue to have a strong presence on campus. Our engagement rate will probably never be as high as that weekend created.
Platforms used: Facebook, Twitter, Instagram, Instagram stories, Instagram Reels, TikTok, YouTube, Dispo, BeReal
GOLD: Capital Campaign
Lighting the Way
The Campaign for Moravian University supports our students with scholarships, provides experiential learning opportunities, and invests in leading-edge learning spaces and tools.
Throughout the development of all the campaign deliverables, branding and messaging consistency was a top priority. The marketing team worked seamlessly with our partners in the office of advancement to deliver a campaign that maintained strong branding and a distinct look for all campaign-related items: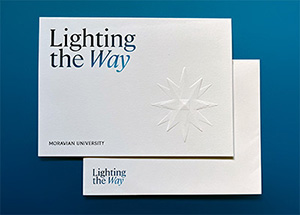 Invitations, envelopes, and RSVP cards and a campaign folder
Campaign Magazine
Celebrating the public launch of Moravian University's comprehensive campaign, the fall 2022 issue of Moravian University Magazine illustrates how alumni giving makes a difference in students' lives through scholarships, research opportunities, global experiences, internships, athletics, and campus facilities that enrich student learning and living.
Micro Website
This is a custom-developed website to tie in specific campaign elements, such as the giving thermometer and animated star. We made sure to incorporate design elements of our main website template so that it still visually connected with the Moravian brand and created a consistent user experience across the two sites.
Campaign Video
The juxtaposition of black and white images against high-resolution photos of today serves to educate the viewer on Moravian's long-standing history. Moravian has been "lighting the way" for students since 1742, which is the driving inspiration behind our capital campaign. The female narrator was specifically chosen for her strong and meaningful tone that also pays homage Moravian's history as being founded by a woman and the first college to offer formal education to women. The background music ebbs and flows throughout the video to drive home the emotion behind the strong narrative and create a deep connection with the viewer.
BRONZE: Long-Form Story
"The Master Curator of Our National Pastime"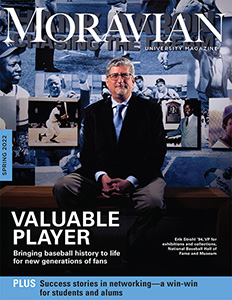 Spring shouts baseball. What better story for the spring 2022 issue of Moravian University Magazine than one about alumnus Erik Strohl '94, vice president for exhibitions and chief curator of the National Baseball Hall of Fame and Museum. With his delightful and engaging prose, veteran writer Jeff Csatari delivers on the first line of his story, putting readers "in Erik Strohl's sneakers" as a baseball fan, a kid enthralled with history and museums, and chief curator of the celebrated Baseball Hall of Fame in Cooperstown, New York.