Woods Awarded $503,000 Research Grant from NSF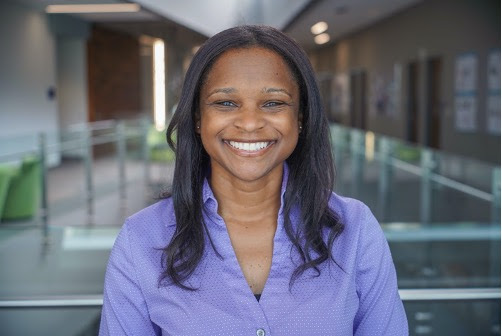 Assistant Professor of Biology Natasha Woods has received a three-year grant from the National Science Foundation for $503,000 through their competitive and prestigious Building Research Capacity of New Faculty in Biology program. Wood's program, Diverse Undergraduate Research Students in Ecology (DURSiE), will support faculty-student field research investigating the impact of storm events on the distribution and physical traits (symbiotic fungi, root/shoot growth, etc.) of important grasses and shrubs at the Virginia Coast Reserve, a Long-Term Ecological Research site.
"Earning this grant from the National Science Foundation is a huge accomplishment, and Natasha should be extremely proud of this recognition for the program she's developed," says Bryon L. Grigsby, president of Moravian University. "I know it will provide amazing research opportunities not only for Moravian students but local high school students as well."
As part of this program, Woods will be able to provide valuable research experiences for Moravian University students in her courses and include students from schools in the Lehigh Valley studying climate change.
"I am really excited to work with the students on this project. It really is a testament that the field of ecology is for everyone," says Woods. "Many students say they do not go into ecology because they don't see themselves represented in this field. I'm hoping that we can change this narrative with a cohort of students coming from different ethnicities, genders, and experiences. Moravian University provides an open environment where students can explore their interests and get the necessary hands-on experience they need, whether they are headed for the job market or graduate school. At Moravian we are committed to the success of each student."
The grant period for the National Science Foundation award is February 1, 2023, through January 31, 2026.
A summary of the Diverse Undergraduate Research Students in Ecology (DURSiE) program:
Barrier islands are vulnerable to storm erosion, sediment loss, and sea level rise, which have all increased during the past decades. Sand naturally moves on islands from wind, waves, and tides, while plants hold sand in place. Typically, grasses have higher tolerance to salt and sand burial whereas many trees and shrubs are more likely to die with exposure. Recently, however, salt sensitive shrubs have expanded into coastal grasslands and may be benefiting from a relationship with a fungus that minimizes salt uptake in some conditions. Islands become more vulnerable when shrubs replace grasses because shrubs resist erosion and thus impede the natural migration of islands leading to island fragmentation. Without barrier islands, the mainland would be at the forefront of coastal storms potentially leading to greater loss of people and property. In this study, storm events will be simulated through exposing shrubs to salty conditions and burial. Shrub roots will be analyzed for the presence and extent of fungus infection and root and shoot growth will be measured. Determining the constraints on shrub expansion into grasslands is necessary to predict and manage the future of barrier islands. Broader impacts of the research include training a diverse cadre of students via field research experiences and through course-based research in a botany course. Research students will also serve as role models while engaging younger students at local middle schools in Pennsylvania in learning about the impacts of climate change.