Graphic Design Alums Discuss Fashion Industry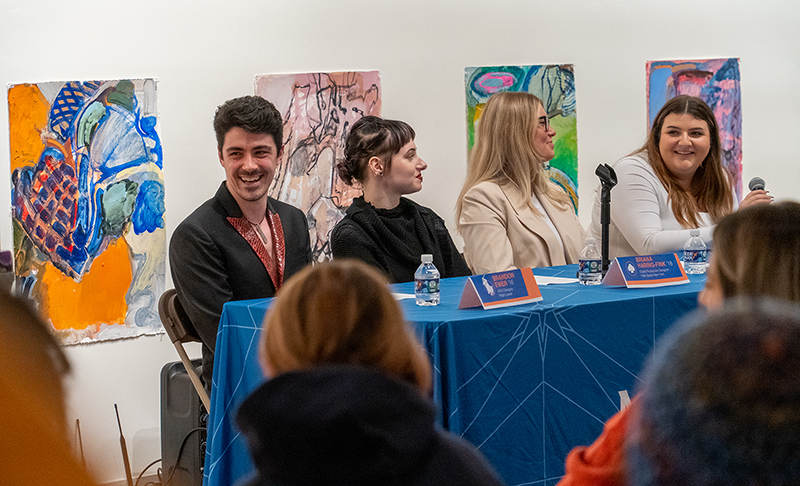 On Thursday, October 13, 2022, Moravian hosted the event "From the Lehigh Valley to the Fashion World." Held in Payne Gallery, the event featured a panel of four recent graphic and interactive design alumni who are working in the fashion industry. Brandon Ewer '16 is a UI/UX designer atRalph Lauren. Becca Zabel '16 has worked at T.J. Maxx and is a senior digital designer at Sorel. Briana Haring-Fink '18 has worked at Revlon, Tarte, and Victoria's Secret and currently works as a digital production designer at Kate Spade. And Amber Fanning '16 is a digital designer at Crocs; she's also worked at Michael Kors, Chicos, and David's Bridal.
The panel was moderated by Angela Kilburg '18, lead graphic designer at Alloy5 Architecture and adjunct professor at Moravian University, and Bill Childs, advertising design instructor at Lehigh Career & Technical Institute. The alumni answered questions from the moderators and the audience about their careers and their advice for students interested in pursuing a career in graphic design. Inside Moravian reached out to Zabel and Ewer with a few questions of our own.

How did you come to work in the fashion industry?
Becca Zabel '16: I worked at a retail technology company after college and was exposed to working with brands like Untuckit, Adidas, and Outdoor Voices. This exposure gave me insight into the behind-the-scenes technology in the retail space. I found the whole industry to be fascinating and was focused on entering the fashion world after that.
Brandon Ewer '16: In my second job after graduating from Moravian, I worked at an agency, and I did design work for a huge variety of brands across a plethora of industries. By this point, I had grown to love fashion in my personal life. Dressing in my own style to meet clients and work at events was so much fun to explore. As I fell deeper and deeper into my fascination with fashion, I started toying with the idea of switching industries. When I started looking for a new job, I targeted positions in the fashion industry that would use my interactive design skills. It was super intimidating because I didn't really have any experience working in fashion; my goal was to make a parallel shift to a mid-level/senior position instead of starting over at entry level.
In your words, what is your job description?
BZ: Design assets that stay consistent with brand guidelines across all digital channels. Own ongoing daily design projects and lead seasonal campaigns. Plan and art direct photoshoots. Work closely with copywriters, the creative director, and other cross-functional partners to leverage customer insights and translate them into design solutions. Play a key role in strategy, concepting, and design of larger brand projects. Mentor and provide design input and guidance to designers across the team. Research and report on upcoming design trends.
BE: I spend a lot of my time designing (shocker!), but I also spend a good chunk of time documenting designs for development. Working seamlessly with development is crucial to the success of digital. Even after I hand off my designs to be coded, I am still very involved. It's important to maintain a great working relationship with developers. They are the team that brings our design visions to life. The more prep work that is done for your file handoff, the smoother the building and quality assurance processes will be.
Are you interested in working in another industry besides fashion?
BZ: I am really happy with where I'm at right now and don't foresee making any industry changes anytime soon. I love working for a company where I am a consumer myself and feel passionate about the products we are marketing and putting out into the world.
BE: I am happy where I am! Fashion is a great industry full of amazing and talented creatives. It's also really cool to be involved in an industry that I hold so near and dear to my heart! Clothes are a really powerful medium for self-expression that I have grown to really love. It was something that helped me find my inner confidence, so being able to engage with the industry is amazing. It was a powerful feeling to go from critiquing fashion apps and websites as I shop to actually creating them. All that said, oh my goodness, of course I am interested in other industries. There are so many things I would like to try. I love plants. I have 43 of them, so the obvious first choice would be horticulture (I actually did apply to a lot of plant retail websites when I was job hunting). Other industries that would be fun to experience would be video games, food/cooking, or even environmental work.
At this point in your life, what would be your dream job?
BZ: My dream job is to be a creative director. I imagine it is fun and fulfilling to bring a brand to life and have ownership of evolving its design vision.
BE: I've always been enamored by photography. I would love to be able to shoot for a brand like National Geographic. Being able to explore and photograph our beautiful and diverse planet is a dream I've already started on, so it would truly never feel like work.
Which of the pieces that you've worked on is your favorite?
BZ: The T.J. Max 2022 photoshoot. I conceptualized, designed, planned, and art directed the shoot. I had the creative freedom to play with light and shadows and use different textures to help tell the story for the season. This was my favorite project because I was able to see my vision come to life through the photography and then create designs across all channels using the assets from the photoshoot.
BE: I would say my favorite work pieces were my two activations at Google NEXT 2019 that showcased machine learning (ML) and AI.
One told the narrative of Google's partnership with the New York Times. For this project I had the opportunity to visit what The New York Times calls "The Morgue." This is essentially an extensive photo archive in a basement of NYC. Each photograph had scribbled notes and the associated newspaper clippings on the back. It was one of the coolest things I've ever seen. Coincidentally, they are developing a digital archive using Google's ML and AI to help organize these photos after they are scanned. Once it is all digitized, it will be an easy-to-navigate and—to an extent—searchable archive.
The other activation explored Google's collaboration with NASA and was just as interesting. Again I used Google ML and AI but this time to sort through light curves. Light curves are readings that depict the brightness of light over time on a planet. These readings are then reviewed and sorted based on the conditions of that planet, and can help identify planets that have the potential to sustain life. Manually sorting these light waves is a very slow, tedious task, but with ML/AI it takes a fraction of the time.
I love engaging with new technology. As designers we must keep up with it, because you never know how or what we will design in a year, let alone a decade!