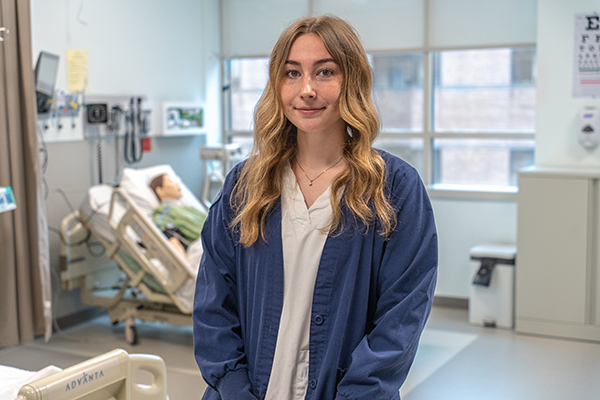 Ariadae Baettcher grew up in Warren County, New Jersey, which lies nestled alongside Eastern Pennsylvania from Riegelsville to the Delaware Water Gap. Its nearly 2,000 acres of beautiful forest, meadows, streams, and lakes provides vast opportunities to enjoy the outdoors. It comes as no surprise when Baettcher says, "I have always loved spending time outside." In her final year at Moravian, Baettcher will graduate in the spring with a bachelor's degree in nursing and a minor in public health.
What drew you to nursing?
I have wanted to be a nurse for as long as I can remember. Growing up, I always looked up to nurses because of their compassion and empathy. I love helping people and watching others overcome their greatest difficulties. Nursing will allow me to do this every day.
What activities are you involved in at Moravian?
I am currently working on an honors project that examines registered nurses' perceptions of their peers with mental illness. It has been a very interesting project so far!
Tell us about one of the best experiences you've had?
One of my best experiences has been being able to establish strong relationships with all my professors.
What have you discovered about yourself during your time at Moravian?
I have gained confidence through my experiences at clinical sites and in simulations, and that helped me find my voice and step into a role as a leader.
What is your favorite place on campus?
The Sally because it is the heart of the nursing department, and I have so many great memories in the simulation lab and in the classroom. My favorite memory is when Dr. Keeler asked us to walk in the shoes of those with disabilities. Our entire clinical group walked around with canes, walkers, and one eye covered.
What is your favorite thing to do when you're not studying?
I love to read and spend time with family and friends.
What book, film, song, or piece of art do you find unforgettable?
My favorite book is To Kill a Mockingbird. It is all about treating others with humanity, and it teaches morals. Scout learns important lessons about life, and the reader gets to see this happen.
Who inspires you?
My Dad is my biggest inspiration because he is so hardworking and cares for others so deeply.
What is the best advice you have ever received or a quote that stays with you?
Stay open; it is how the light gets in.
What's next after you graduate?
I plan on becoming a critical care nurse and eventually going back to school to become a nurse anesthetist. Critical care offers something new every day, and the environment constantly changes, which I find exciting. But I also look forward to pursuing my doctorate in nursing practice and becoming an advanced practitioner one day to better help patients.
Share something that makes you happy.
Helping others and putting a smile on someone else's face makes me happy!