Luke Smith '11, Leadership Gift Officer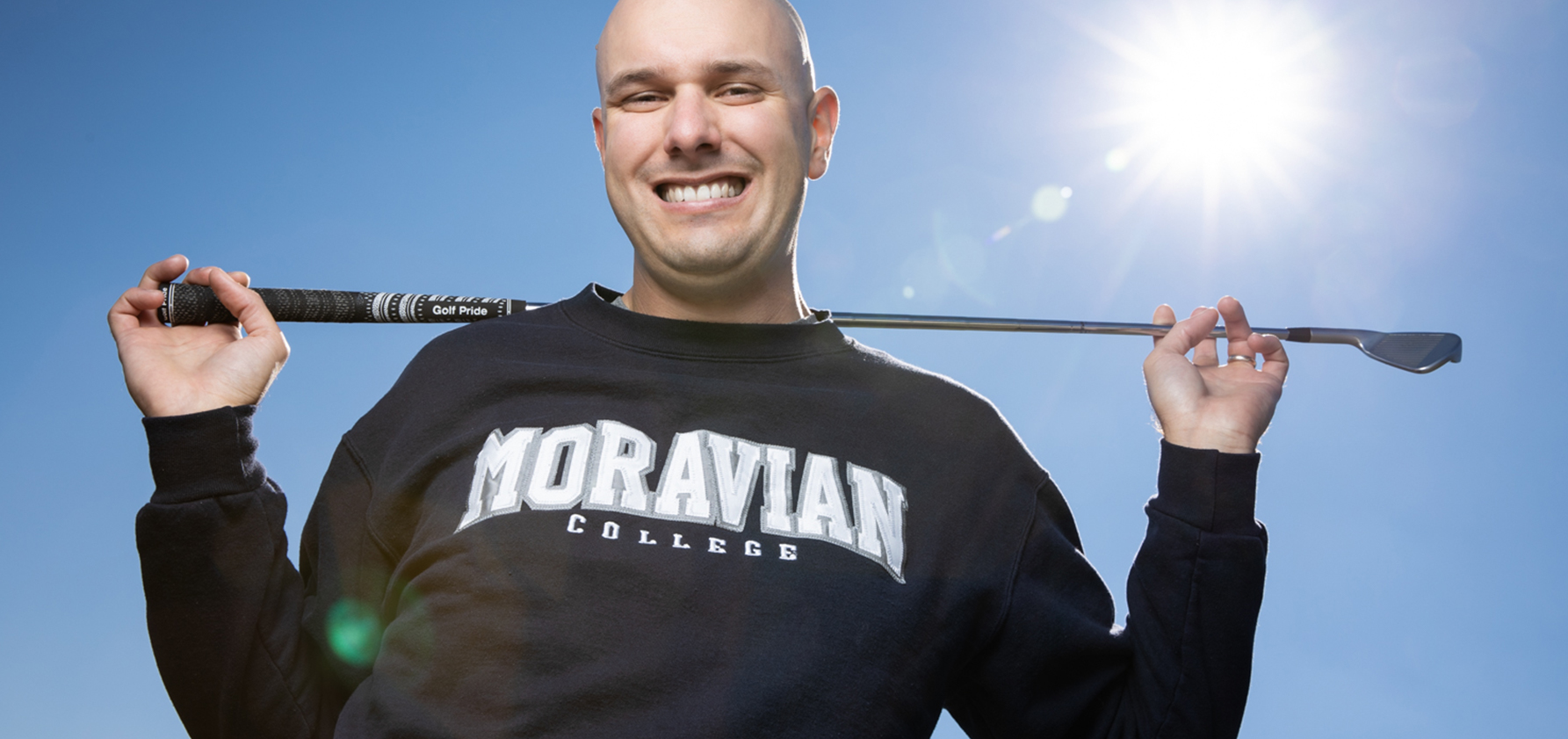 Where did you grow up?
I grew up in Wyomissing, Pennsylvania, likely most famous for being the home to Taylor Swift before she moved to Nashville. She and I actually had a gym class together because they organized classes by alphabetical order. I am still searching for my junior high yearbook; eBay tells me it's worth something to her fans. In all seriousness though, since I enrolled at Moravian in fall 2007, Bethlehem has been home. Both the city and the college were always familiar to me growing up. Scholl Orchards on Center Street is owned by my Mom's brother's family and my dad's brother is in the Moravian College Athletics Hall of Fame and coached here for a number of years.
What is your role at the college, and what is something many may not know about the work you do?
As a fundraiser I am responsible for the identification, cultivation, solicitation, and stewardship of donors resulting in long-term philanthropic relationships that help advance the mission of Moravian College. I get a front-row seat to some of the most special moments on campus between scholarship recipients and the caring people who help make their college experience happen.
My favorite spot on campus is _____ because ____.
Johnston Hall. It is home to many great memories as a student-athlete and countless hours spent playing pick-up hoops. Today I love seeing the spirit of campus packed into that intimate environment.
My favorite college tradition is _____ because ______.
Homecoming. The energy on campus surges for this special weekend. The students are living the moments that they will rekindle on that very weekend 10, 25, and even 50 years later with classmates and friends.
One thing many of my colleagues don't know about me outside of my Moravian College responsibilities is ______. I am sharing this with you because ______.
I'm a cancer survivor. I was diagnosed with Non-Hodgkin's Lymphoma on my 24th birthday, six months before my now wife and I were to get married. It's the hardest thing I've ever encountered in my life, but at the same time taught me so many lessons: humility, empathy, patience, perspective, the list could go on.
I went to St. Luke's Hospital for all of my care, and my family and I could not have had a better experience with the doctors, nurses, and staff. I was a proud Hound knowing how strong the connection is between St. Luke's and Moravian College. I am sure along the way a Moravian alum or student aided me in my journey back to health.
My favorite thing to do when I am away from campus is ______ because_______.
Golf. Sometimes it means I am spending time with people I love. Other times it means I'm exploring new places around the world. I still play competitively as well on the local and state level, which always presents new challenges. Whether I'm playing a casual nine holes with buddies at Bethlehem Muni, or I'm in South Pittsburg, Tennessee, checking out a new course, or I'm grinding over a 4-foot putt in a tournament, it's always fun.
What is your favorite book and why?
The Book of Basketball, by Bill Simmons. Reading it is like being at the bar with your buddies watching a game, debating who's the GOAT—MJ or LeBron? Bill's career arc as a writer is fascinating: a peon at the Boston Herald, independent sports blogger in the early dot com days, writer for the Jimmy Kimmel show, a superstar at ESPN, a fall from grace at ESPN, to a resurgence with the 2016 launch of his own website, The Ringer. His writing and the writing of people he's hired, changed the way I consumed sports and remain a large portion of what I read today. He and his staff are intelligent, nuanced, and funny; covering a wide breadth of topics in sports and pop culture.
Who is your hero and why?
Dad. He exemplifies the heights that hard work and a tremendous attitude can propel you to. He's earned the respect of so many in his community, both professionally and personally, and done so with great humility.
What is the best advice you have ever received?
My Grandma always said, "You're a nice boy…now stay that way!" I've tried, and hopefully she would still agree.
Make up your own question and answer it.
You met your wife Lexi while you were both students on Moravian's campus; tell us about that encounter.
We met through a mutual friend, and I invited her over later that week to watch the World Series in 2009, Yankees vs. Phillies. I was the lone Yankees fan in my house and could use some company. She said she loved baseball! In my mind, I was like—yes! Cute girl who loves baseball—score.
It was years later in our wedding vows that I and all of our guests discovered that she feigned her interest not only for baseball but for almost all sports in order to spend time with me during our early dating. We still laugh about this all the time!