Community Partner: Camel's Hump Farm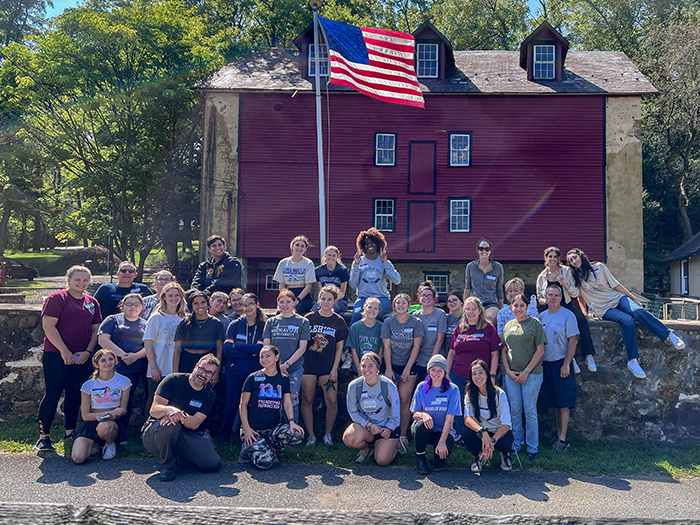 Moravian University partners with Friends of Johnston, Inc., Camel's Hump Farm Nature Education and Community Garden to provide service to Camel's Hump Farm and volunteer experience for our students. Inside Moravian asked Victoria Bastidas, self-described head shoveler, good-trouble maker, and tour guide, to tell us about the organization and its goals.
The story began one day not so long ago when my children asked me if I wanted to go jump off the trestle and swim in the creek. I had no idea what they were talking about but was grateful for being included, as well as concerned for their safety, and I went with them. On that day they brought me to a secret natural place hidden on the outskirts of Bethlehem—beautiful and overgrown but with an amazing magical potential to take children going through rough times and turn them back into carefree happy kids. I must admit, the place worked its magic on me, too, and I have watched it weave its spell of happiness and peace on everyone who visits and is open to the wonders of nature. I was hooked. This place needed to be shared with everyone. After a little digging, I discovered that we were on the estate of the first mayor of Bethlehem and President of Bethlehem Steel Company, Archibald Johnston.
Archibald Johnston also saw the charm of this beautiful place and, in 1917 after traveling the world, chose it to be his forever home. He designed the land under the guidance of Frederick Law Olmstead and worked it with his own hands and the hands of many other craftsmen to create an estate that seamlessly melds farms with a mansion and is protected by Camel's Hump Mountain along the banks of the beautiful Monocacy Creek. When I heard that it was going to be bulldozed into a strip mall and 420 high-rise apartments, I felt I had to save it. I told a friend in the Sierra Club. She told friends on the South Bethlehem Historic Society and the Audubon Society, and they helped us form a 501c3 charitable organization, the Friends of Johnston. This small-volunteer group of community members all saw the value of this beautiful place. Together with the children who swam in the creek and their friends, we spoke to our government officials and raised the awareness of the estate's value to our community and the funds to save 47 acres that is today Camel's Hump Farm Nature Education Center and Community Gardens.
Along the way I found the first Annual Mayoral Address of Archibald Johnston. His vison for the city is the foundation upon which we base our mission and values. Archibald Johnston believed that the role of government was fundamentally that of securing the well-being of all its members, especially children. Our mission is to preserve and restore the 300-year-old historic farmstead as a nature education center.
What do you love most about your job/organization
I love working with the community—introducing them to the beauty of the place, sharing some of its secrets, working with them when they are willing to get their hands dirty, making the place a little better each time, and laughing a lot.
How does Moravian University support your mission?
The students and faculty of Moravian University have been a wonderful asset, providing volunteers eager to help care for the place from planting trees and redesigning the children's playscape to helping with bookkeeping, marketing, and scientific research.
How can Moravian University—and the greater community—be more involved with your organization?
This is a many-faceted project that offers opportunities for people with all abilities to contribute in a meaningful way. We are always looking for volunteers to share their time, talent, and treasure. Land restoration and historic-building maintenance require lots of hands-on care. We have been fortunate that schools like Moravian University, local businesses, and the Scouts have provided both the people power and the materials that we need for restoration. In addition, we are always looking for a brain trust for the business side to help with daily operations but also to help guide us into the future since climate change and the needs of the community affect the programming that we offer
What is the biggest challenge your organization faces?
Financial. What nonprofit is not feeling the effects of the economy? We have always felt it is better to work for your supper than to ask for a handout. Unfortunately, no endowment came with the property; however, a local bank gave us a very large loan to purchase the farm. We were able to fund the care of the farm through educational programming and events but then the pandemic cut us off from our revenue sources since all the schools were closed. On the upside, we took advantage of the quarantine to do some much-needed upkeep on the property, including replacing a failing bridge, installing a stormwater management marsh, and planting an agroforestry buffer orchard.
What do you hope for the future of your organization?
To grow and serve in a way that honors the vison of Archibald Johnston, protects our natural environment, and helps future generations to adapt, thrive, and feel the joy of this special place that we all helped to save.
To learn more about how you can get involved, visit thefriendsofjohnston.org, or call 484-241-6117.